State: Maryland
Diagnosis: atypical spasticparaparesis
Date of diagnosis: 1960's
They didn't say, "You can't do that."
At the age of 4, I was struck by a car. Shortly afterward, I started to develop a weakening and stiffening of my legs. For many years, I was in and out of the hospital and doctors' offices, only to be told that by the time I was a teenager, I would be in a wheelchair.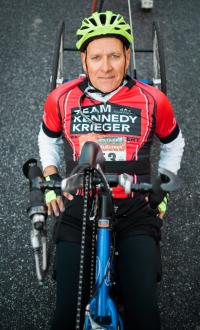 Determined not to let this happen, I did everything I could to stay active and lead a normal kid's life. At the age of 50, still on my feet and no wheelchair in sight, I started to notice things were changing. Hips, knees and ankles were all starting to ache and getting stiffer every day. I got to the point where I was stumbling and falling a lot. Walking any distance over 100 yards without falling was almost impossible. After seeing an orthopedic knee specialist, he said: "Your joints are going bad because your mechanics are all wrong. I know just the people you need to see, the doctors and therapists at Kennedy Krieger."
For over 40 years, no one could ever tell me what was wrong with my legs, and that I just had to learn to live with it. That was until 2008, when I met the life-changing angels at Kennedy Krieger. They, too, could not say what was causing my condition, but they said: "We can make things better. We can change the mechanics of your stride and gait and get you walking with less pain and destruction of the joints."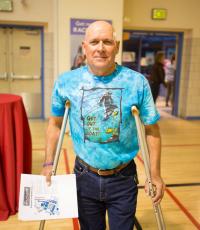 My whole life, I was told, "You can't do that." The Kennedy Krieger therapists said: "Why not? You might do it a little differently, but you can do it." It was hard to change what I had been doing for many years. With lots of hard work and therapists who don't know the words "can't" or "quit," changes were happening.
In 2011, I overheard Erin Michael talking to my therapist Nia Wallace about a 5K walk Kennedy Krieger was having as a fundraiser for adaptive sports therapy. I asked them if they thought I could do this, and they didn't say, "You can't do that." They both said together, "Why not?"
At the 2012 Baltimore Running Festival, I completed my first 5K (3.2 miles) walk. As I approached the finish line with thousands of people I didn't even know cheering me on, I was walking on air. About a 100 feet from the finish line, I dropped my walking sticks and finished the race unaided. No, I didn't finish in first place, but I finished. On that cold morning in October, Kennedy Krieger and I showed all those who said, "You can't do that" to "Yes I can."
After walking a few more 5Ks, arthritis took control of my knees and long walks became too hard to do. Dejected, because I had told Erin and Nia that I would take my last breath raising money for and speaking to the world about what Kennedy Krieger had accomplished with me and so many others. Erin came to me and said, "OK, Walking a 5K is too painful, so how about riding a full marathon on a hand-crank bike?" As a child, I loved to ride a bike. This opportunity opened up a whole new world for me. Three years into hand-crank biking at the age of 65, I am in the best shape of my life. Blood pressure and heart rate down; stamina up; gained 13 pounds and the only thing that changed was my shirt size. When I go for a ride, my wife has to call to remind me to come home. I'm like a little kid when I get on my bike.
Kennedy Krieger has changed my life, both mentally and physically. There is no doubt in my mind that if I hadn't been introduced to Kennedy Krieger in 2008, I would have been in a wheelchair years ago. I now need leg braces and a walking stick, but I am still on my feet! God bless the miracles at Kennedy Krieger.
Gerard (Jerry) Sersen
OGR