State: Maryland
Diagnosis: traumatic spinal cord injury
Date of injury: 2005
Before I was injured in 2004, I was a 45-year-old single mother of two teenage children, one in college and one that was home-schooled due to chronic daily migraines. I earned a living as the self-employed owner of an equine boarding, training and breeding facility.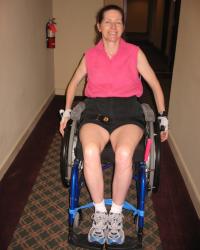 After my injury (a cervical spine injury of vertebrae 3–6 resulting in quadriplegia), I spent one month in the Critical Care Resuscitation Unit at UMMC's Shock Trauma Center, three months in the spinal cord injury unit at the University of Maryland Rehabilitation and Orthopaedic Institute, then called Kernan Orthopaedics and Rehabilitation, and another three months in the skilled nursing portion of a nursing home.
Kernan's purpose was to assess my physical limitations/abilities and create a boot camp-type program to prepare me for life as a totally dependent quadriplegic. The take-home message of utmost importance there was that I must learn to direct my own daily care and physical therapy programs in order to remain healthy. At this time, I had movement in my left bicep only. I was incapable of any movement of my right arm or any other muscles below my shoulders.
I also learned that my condition significantly lowered my life expectancy due to my susceptibility primarily to pressure wounds (septicemia), heart disease and respiratory infection. I was determined to do everything in my power to combat those three main culprits through exercise, since they are the result of a sedentary lifestyle. It became my "job."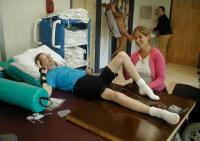 My time in the nursing home was spent continuing a physical and occupational therapy program while awaiting my acceptance into what was then the Living at Home Waiver program in order to return home with the attendant caregivers necessary. This wait time was utilized to arrange all of the services and accommodations necessary prior to me returning to my home. At that time, I was granted 63 hours of personal care attendant time per week by Maryland's Department of Health and Mental Hygiene. Shortly thereafter, in August of 2005, I was forced to give up my farm and move to the apartment in which I now reside.
At the time I went home from the nursing home, I enrolled in the outpatient physical and occupational therapy program at Kernan. I had recovered a little bit of movement in my right hand but nothing else. I could not even feed myself. Through the use of neuromuscular electrical stimulation at home and range-of-motion exercises, I was able to recover use of my right arm nine months after my injury. That enabled me to scratch my nose and even feed myself a potato chip. That was a huge accomplishment!
That same time, I learned of a new spinal cord injury program opened by Kennedy Krieger Institute headed by Dr. John McDonald, Christopher Reeve's doctor. Patrick Rummerfeld, a recovered quadriplegic, reached out to me on behalf of Kennedy Krieger. I eagerly jumped in!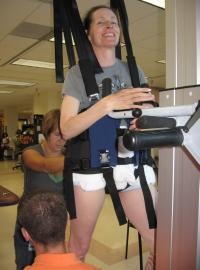 They arranged for a physical evaluation in order to assess my physical deficiencies. At that time, one year after my injury, I was given a score of 17 on the American Spinal Injury Association (ASIA) scale. This assessment protocol grades 20 different muscle groups in the extremities from a score of 0 (total paralysis) to 5 (normal muscle strength against resistance and against gravity) for a total possible score of 100.
Seventeen was a sobering number—Kernan had told me that after six months post-injury, recovery would not change for the better. But Kennedy Krieger insisted that I was perfect for their ground-breaking activity-based recovery program and wanted me to enroll. I started going three days per week for three hours of physical and occupational therapy each day. (Kernan had been only 40 minutes twice per week.) My therapists set goals for my improvement (per my insurance company's requirements for coverage), which I met and exceeded. In the period of six months, I was assessed as a 54 on the ASIA scale. Within one year, I was a 71.
The program at Kennedy Krieger consisted of:
Neuromuscular electrical stimulation for reeducation of muscles, assistance in building muscle bulk to reduce pressure wounds on bony protruberances, decrease spasticity, and recovery of function.

Use of partial weight support system to walk with assistance on treadmill in order to reestablish nerve pathways to extremities, help maintain bone density and stretch out contracted muscles and joints, decrease spasticity, and stimulate lower spine's central pattern generator through repetitive motion exercise.

Use of functional electrical stimulation ergometer (bicycle) to reestablish mind-body nerve connections and communication, stimulate lower spine's central pattern generator through repetitive motion, provide aerobic exercise to improve respiration, muscle strength and endurance, improve heart health, lower cholesterol, build muscle bulk to prevent pressure wounds and skin breakdown, burn calories, reverse the aging process and improve digestion.

Use of standing frame to combat bone density loss, strengthen muscles, combat spasticity, prevent joint contractures, assist with digestion and bladder/bowel function, and relieve pressure on seat bones.

Walking over ground using a platform walker with assistance advancing my left leg. (Same advantages/benefits as treadmill use.)

Use of an underwater treadmill for walking and other aquatherapy. (I was allotted extra hours to accommodate this additional therapy at the time, as I required dressing/undressing assistance.)

Use of various modalities, such as arm bike, to build muscles, combat spasticity, prevent contractures and provide function despite lack of ennervation.
In addition to the above, I made use of my manual wheelchair with push-assist wheels to build up my arm strength by pushing myself around the halls of my building each day.
As my time at Kennedy Krieger wound down, I acquired the training and equipment I needed (standing frame and FES bike) in order to continue my recovery and maintain my health and function at home.
I have been able to sustain an ASIA score in the 60s, and stave off the usual detrimental afflictions associated with a spinal cord injury by religiously following this program daily. I have no doubt that without these ongoing exercises, I would not enjoy the excellent health benefits they produce and would ultimately deteriorate physically. As the aging process affects normal people, it has a more pronounced effect on spinal cord injury patients due to their decreased strength to begin with.
I am so appreciative of the knowledge, compassion, assistance, caring and hard work Kennedy Krieger and Dr. Cristina Sadowsky have invested in me. They helped me not just survive but continue to THRIVE, even after 15 years!