State: Maryland
Diagnosis: primary progressiv multiple sclerosis
Date of diagnosis: 2008
My name is Helen Eastman and I have primary progressive multiple sclerosis. I was diagnosed in 2008. On the recommendation of my neurologist at Johns Hopkins Medical Center, I began attending the International Center for Spinal Cord Injury at Kennedy Krieger Institute in 2010. I was told Kennedy Krieger was a place that could provide the type of therapy and wellness programs most appropriate for my disease. Since that time, I have been a regular attendee at the Institute for formal physical and occupational therapy. Additionally, I use the sixth-floor Wellness Center. I have also participated in exercise programs such as boot camp and personal training.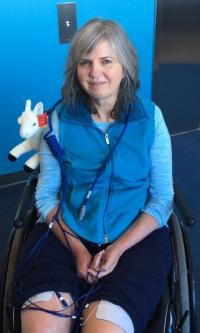 Kennedy Krieger is an amazing place. From the attentive valet parking attendants, who ensure safe and easy access into the building; the security staff; the therapists, who put their hearts into their work; to the doctors and staff, patient care is priority one. Likewise, the administration seems committed to continued improvement and enhancement of patient opportunities.
The best part of my therapy at Kennedy Krieger is that as a regular attendee for so many years, I have developed tremendous relationships with staff and fellow patients and met many amazing people. Everyone at Kennedy Krieger is committed to one thing—improving the lives of people with disabilities. Despite the traumatic and difficult situations that bring people to Kennedy Krieger, the environment is one of joy and support.
The hardest part about my therapy has been seeing that I am not able to do things I could do in the past. When I first came to Kennedy Krieger, I was walking with a cane. Then I moved to a walker, next a manual wheelchair, and now I use a power chair. I have also lost a lot of functioning in my upper extremities. The therapists have been very helpful by showing me alternative ways to continue doing the things that I love, such as working, exercising and enjoying nature.
Through Kennedy Krieger, I have become aware of many adaptive sports opportunities. Through BARS, I have been able to water ski, snow ski, kayak and zip line. I have gone sailing with the Downtown Sailing Center and Chesapeake Region Accessible Boating. My favorite, by far, has been surfing with Life Rolls On. I had not been able to get into the ocean for at least 10 years until I found this program. This year, I am trying to go surfing three times to Wildwood, Virginia Beach and Carolina Beach! In the future, I hope to be able to go scuba diving and skydiving.
I plan to continue my participation at Kennedy Krieger. I could not imagine going to or finding a better facility to meet my needs. I am excited that the ICSCI is opening a new facility in Howard County, Maryland. This will provide greater opportunity and flexibility for me and a host of other people to continue our wellness programs. Thank you, Kennedy Krieger, for all you have done for me.