State: Missouri
Diagnosis: spinal cord tumor
Date of injury: December 11, 2005
In December 2005, our daughter, Morgan Dunnigan, was paralyzed by a spinal cord tumor the night before surgery to remove it. The tumor was discovered on December 8, with surgery scheduled for December 12. She went to bed on the night of the 11th in pain, but with a plan to remove the tumor the next day. Surgery to remove it was successful, but our journey with spinal cord injury had just begun.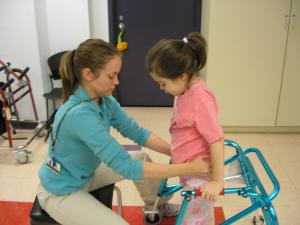 Through fear, doubt and disbelief, we had to make a plan for rehabilitation. Because we lived in Martinsville, Virginia, we were immediately attracted to facilities in Charlotte and Charlottesville, locations where we knew we would be comfortable and have family and friends ready to support us in our darkest times. Unfortunately, we soon discovered that the breadth of rehabilitative services for a 6-year-old was extremely limited. She was too young for the places we had heard of, including the Shepherd Center in Atlanta.
My wife and her dad visited three facilities that were identified as potential locations for her: Shriners in Philadelphia, Pennsylvania; DuPont in Wilmington, Delaware; and the newest facility, the International Center for Spinal Cord Injury at Kennedy Krieger Institute. Laura and her dad traveled to each facility, with the International Center for Spinal Cord Injury being last, and there was no question in their minds about where she would ultimately be: Baltimore.
Morgan arrived in Baltimore on January 10 with only the faintest of motor capabilities, none of which were sufficient to do anything beyond barely twitching her arms or legs. Dr. John McDonald gave us what we most needed—hope—and it is what saw us through the next 16 weeks in Baltimore. Morgan had an amazing support system, including grandparents, uncles and aunts, and friends from Virginia and beyond who kept her and her parents sane and connected to the world outside of the walls of Kennedy Krieger and Johns Hopkins. She rode Dr. McDonald's FES bike exactly as instructed, including one memorable time when she was suffering from an infection and kept vomiting in a yellow bucket while the electrodes on her legs kept them in the incessant circular motion on the bike. She followed instructions from occupational therapist Becca Martin as she worked to recover use of her hands and arms, relearning how to brush her teeth, hold a fork, wash her own face and hold a book in her own hands. We were inspired by what we saw happening in the "adult" gym at Kennedy Krieger, where older patients worked to regain mobility and independence under the watchful eye of their physical and occupational therapists.
The days were long but uncomplicated: wake up, eat, get dressed, and start the regime of therapies, recreation, speech, 30 minutes of "school" time, and other activities designed to make rehab as tolerable as it could be for a 6-year-old girl dropped in a seemingly foreign land with unfathomable challenges. The glue that held it all together for us was the greatest physical therapist we could ever have imagined, Elena Bradley, a woman whose focus and attention to detail were matched only by Morgan and her mother. Elena was the best part of every day at Kennedy Krieger, our conduit to a better life for Morgan, the person who made Dr. McDonald's promise of walking out of Kennedy Krieger a reality.
On May 4, 2006, Morgan did exactly that—walked out of Kennedy Krieger with Elena on a stool following Morgan with every step while her parents, doctors, nurses and others looked on with amazement and tears as she fulfilled the promise made when Laura visited just over four months earlier. It is a day and feeling we will never forget, a sense of incredible pride in her accomplishment and the reality that we were starting a new life, just as we had when we left the hospital with Morgan almost seven years earlier, when she was born.
There is no question in our minds that Kennedy Krieger was the place capable of making this happen, capable of taking her dogged determination, coupling it with Dr. McDonald's captivating vision of hope, and using Elena Bradley as the vehicle to put these dreams into motion. Those dreams continue today as Morgan continues to thrive in her third year at Davidson College, majoring in economics and computer science, living a life of immense purpose and serving as an example through her persistence and perseverance. Thank you to the International Center for Spinal Cord Injury and Kennedy Krieger Institute for making our dreams a reality.
– Colin Dunnigan, Morgan's father