State: Maryland
Diagnosis: transverse myelitis
Date of diagnosis: April 2000
Hello, my name is Giselle Jones. I am 42 years old. I am a mom of two boys— one in heaven (Wink) and one in college (Terry). I have been married since 2002 to Terry Jones (met in 1997). We currently live in Rosedale, and I am an ordained reverend.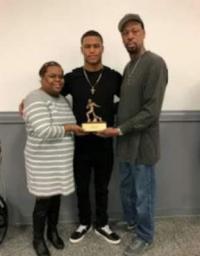 In April of 2000, I was diagnosed with transverse myelitis. I became a patient at the International Center for Spinal Cord Injury in 2008/2009 and still remain there today.
Being a patient here is like being surrounded by family that push and encourage you to do and be your very best in and outside of therapy. The love that comes along with being a patient here is outspoken and unmatched in my book. From valet to security to check-in to doctors' visits or therapy itself—it's a great place to be.
When I first started here, I really wasn't too sure of what the outcome was going to be, but from day one, it was on and popping. Hard work pays off is all I have to say. Through the ups and downs of life, I have lost and gained but have never given up.
My biggest goal has been to increase my ability to walk greater distances, and during my last round of therapy, I met that goal, but I'm still pushing. The hardest part for me is discharge day, because I just want to keep on working. I really need to work on committing to personal training to keep me built up. New goal: Commit to personal training! ICSCI is my family, and I love them. Y'ALL ROCK!!