These resources will help you prepare for an appointment at the International Center for Spinal Cord Injury at Kennedy Krieger Institute. For more information, you may also view our admissions flyer.
NEW: White Marsh Location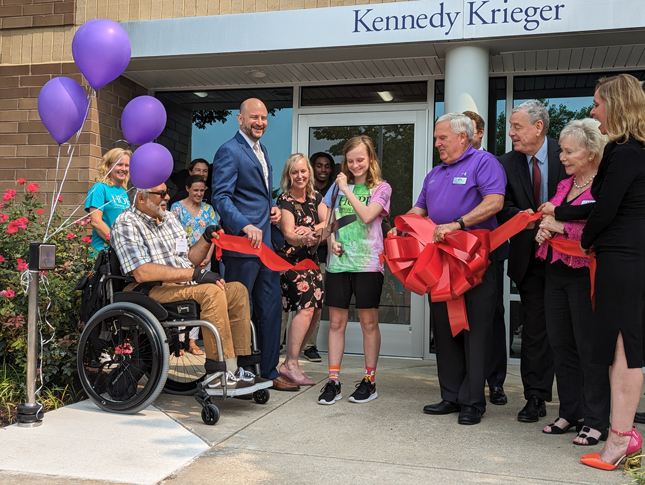 425 Williams Court
Suite 116
Middle River, MD 21220
Maple Lawn Location
11830 West Market Place
Suite P
Fulton, MD 20759
The Outpatient Clinical Program
801 North Broadway
Baltimore, MD 21205
The Inpatient Clinical Program
707 North Broadway
Baltimore, MD 21205
Accommodations:
For hotel recommendations and general assistance with your stay, please contact a care coordinator at (443) 923-9222.
Transportation:
Parking at the North Broadway Campus
Families and visitors may park in the Kennedy Krieger Parking Garage for free. To enter the garage, pass the Institute on North Broadway, cross Madison Street, turn right on Ashland, and turn right into the garage. Validate your parking ticket at the front security desk.
The Metro
The metro subway system has a stop on North Broadway directly across the street from Kennedy Krieger Institute. Convenient destinations from the metro include Penn Station, Baltimore's major train station; Charles Center, in Baltimore's downtown business district; the world-famous Lexington Market; and Hunt Valley and Owings Mills, suburbs in Northern Baltimore County.
Airport
BWI Airport: (410) 859-7111
Buses
Greyhound/Trailways Bus Lines: (800) 231-2222
MTA (bus and metro schedules): (410) 539-5000
Taxi Services
Red Ball Cab: (410) 675-2220
Arrow Cab and County Cab: (410) 327-0330
Yellow Transportation: (410) 685-1212
Trains
Marc Commuter Train: (800) 325-7245
Penn Station Amtrak: (800) USA-RAIL