The latest news stories about the International Center for Spinal Cord Injury.
White Marsh Location Opens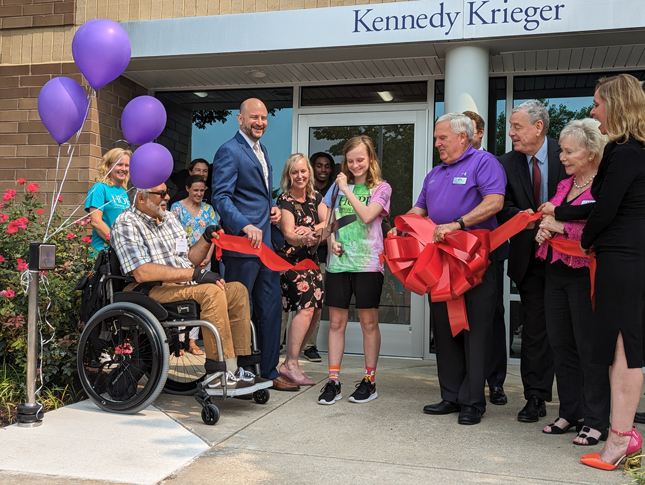 ICSCI recently opened the doors to its third location—this time in White Marsh, Maryland. The new center will greatly extend ICSCI's patient reach. The new location is conveniently located off of I-95 and is easily accessible for our patients coming to us from the north of Baltimore.
News Stories
Perry Hall Patch: Kennedy Krieger Institute to Open Spinal Cord Injury Facility in Baltimore County, 2/26/23
---
Baltimore Fishbowl: Kennedy Krieger to Open Spinal Cord Injury Facility in White Marsh, 2/24/23
---
Baltimore Business Journal: Kennedy Krieger to Expand with Third Suburban Clinic, 2/23/23
---
The Daily Record: Kennedy Krieger Institute Give Spinal Cord Injury Patients More Access to Care, 2/21/23
---
CityBiz: Kennedy Krieger Institute Will Open a White Marsh Location for Its Innovative International Center for Spinal Cord Injury, 2/21/23
---
The AFRO: Project SEARCH at Kennedy Krieger Aims to Break Down Employment Barriers for People with Disabilities, 6/26/22  
---
FOX Baltimore, Spinal Cord Injuries, 6/8/21
---
Fox Baltimore: Hats and Horses, 9/22/2020
---
Baltimore Business Journal, Kennedy Krieger Opens Spinal Cord Injury Center in Howard County, 9/15/2020
---
ABC Nightline, ABC Nightline: Doctors race to find out more about polio-like disorder AFM before next wave of illnesses, 2/7/2019
---
Baltimore Sun, The Baltimore Sun: After a rare disease partially paralyzed a Taneytown boy, his family shares his story to help others, 2/10/2019
---
WJZ-TV, Kennedy Krieger Aquatic Therapy Helps Patients with Spinal Cord Injuries, 6/28/2017
---
WBFF-TV, Brain and Spine Injury Awareness, 6/23/2017