State: Pennsylvania
Diagnosis: acute flaccid myelitis
Date of diagnosis: August 2016
Sebastian Bottomley was admitted to Kennedy Krieger's inpatient spinal cord injury program August 2016 after becoming paralyzed with acute flaccid myelitis. When he initially was admitted, he was unable to sit upright, stand and walk, and had no movement in his right arm/hand. He has remained a patient at Kennedy Krieger in both the inpatient and outpatient programs since that time, for more than 400 days, and has received more than 2,000 hours of therapy. In addition, he has benefited from many of the other treatment programs that have helped him, including bracing, seating, durable medical equipment, bone density treatments and more. We've received excellent advice about numerous ground-breaking treatments, most notably about nerve transfers, which have been crucial for his recovery.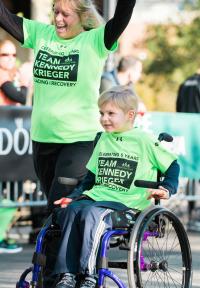 Kennedy Krieger has been the hub for all major decisions regarding Sebastian's recovery, and the team at Kennedy Krieger has never hesitated to direct us to other programs or treatments when they felt it was in Sebastian's best interest. But we have always found that the best and most comprehensive care was always centered here.
The team at Kennedy Krieger has become like a family to us, as we have had to bring all four of our children along for Sebastian's treatments at one time or another. Because of this, they have benefited greatly from the Child Life program, which has been such a lifesaver! Therapists have always been great about including his siblings in his therapy, even though they can get a little rowdy at times! His youngest brother has been coming along to appointments since he was 2 weeks old and has come to see the ICCSI as his playroom.
Since first coming to Kennedy Krieger, Sebastian has gradually learned to sit up, use his right arm and hand, stand, and use a walker. He is even beginning to use Lofstrands to walk! When he first came to Kennedy Krieger, he was fully dependent on a wheelchair. Now, Sebastian almost exclusively uses his walker and seldom uses the wheelchair, except for long distances. His next goal is to be using Lofstrands independently.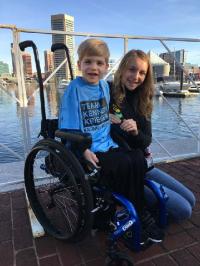 Sebastian loves walking to music during therapy (especially epic "adventure" music with a Celtic flair), which keeps him motivated. He likes learning about heroes, listening to inspiring stories (from Wilma Rudolph to "The Lord of the Rings"), playing board games and doing messy crafts. He can be both grave and sober-minded but then wild and silly moments later. The therapists have always been patient and resourceful at working with him at his age level while encouraging him to grow and mature through his situation. While I would have never chosen this life for my son, I have come to be enormously grateful to Kennedy Krieger for the character that they have helped develop in Sebastian through this experience. They have given our family a home away from home and a family that understands Sebastian's journey like no one else can.
– Christa Bottomley, Sebastian's mother