State: New York
Diagnosis: spinal cord infarct
Date of injury: March 17, 2006
We came to Kennedy Krieger because there was nothing else like it where we're from. I was looking for answers and assistance on how to help Kira become independent and someday walk, whether it was with or without orthotics.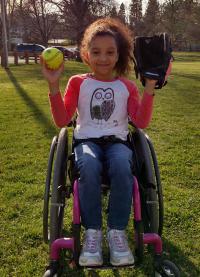 Since Kira has been at Kennedy Krieger, I have seen huge improvements. She went from not being able to roll over at 9 months to being able to walk with the use of orthotics and a walker by age 3.
Our experience at Kennedy Krieger has been wonderful from day one. The staff and therapists have been nothing short of great, and we look forward to our now-yearly visits.
The hardest part about Kira's therapy at Kennedy Krieger has been maintaining that high level of work that goes into making her independent at home.
The best part about Kira's therapy at Kennedy Krieger is the help that she continues to receive from her Kennedy Krieger therapist, even though we live in another state.
The one thing that Kira can now do that I could never imagine her doing prior to attending Kennedy Krieger is rolling over, kneeling on all fours, etc.
My future goal for Kira is to hopefully be able to walk or as close as she can possibly get to walking.
– Shakeyas York, MS, Kira's mother