State: South Dakota
Diagnosis: transverse myelitis
Date of iIlness: February 17, 2011
On Thursday, February 17, 2011, my world was turned upside down during an undergraduate biology lecture held in the campus library at my college in Sioux City, Iowa. Following the rapid loss of being able to feel and move my legs, I was rushed to the hospital. A week later, the diagnosis was confirmed. I was told that I had transverse myelitis, and that my hospital stay would be longer than my family and I had previously expected.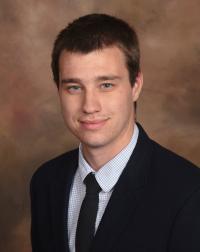 A year after my diagnosis, my mother and I flew to Baltimore, Maryland, to meet with physicians who frequently see patients with transverse myelitis. Little did we know at that time, this would become a routine. For the next three years, during my winter and summer breaks, my mother and I would spend two weeks in Baltimore so that I could continue to receive treatment at the International Center for Spinal Cord Injury. Although it was hard spending multiple Christmases away from family, the decision was an easy one. The staff working at Kennedy Krieger are some of the best in the world, and I wanted to leave no stone unturned in maximizing my recovery. After each two-week period, I noticed improvements in my strength, my coordination, my gait and my stamina. In addition to this, I was blessed to make several friends among the patients who were there at the same time I was.
None of this improvement would have been possible without Kennedy Krieger's approach to therapy. The staff worked hard to come up with new exercises, push me to my limits, and keep everyone laughing and smiling during a period in their lives where laughter and smiles can be few and far between.
By 2015, I had made enough recovery to enroll in medical school full-time, without any significant limitations. Today, I am a first-year psychiatry resident living in Grand Rapids, Michigan. I do not think this would have been possible without the amazing individuals at the International Center for Spinal Cord Injury. Although I have not been a patient for five years, I remain forever indebted to all of the staff who make Kennedy Krieger the best place in the world to receive physical therapy.