State: Washington, D.C.
Diagnosis: traumatic spinal cord injury
Date of injury: April 25, 2010
On April 25, 2010, I fell on my stairs at home and sustained a C6 injury. After initial recovery from neck surgery at The George Washington University Hospital, I spent nine months doing inpatient physical and occupational therapy at the Shepherd Center in Atlanta. I left the Shepherd Center and returned to my home in Washington, D.C., in January 2011 using a power wheelchair alternating with a manual chair.
My house in D.C. had three stories, so I lived with my then-girlfriend, now wife, who had a condominium in a building that had an elevator, which made it accessible for the power chair. Once back in D.C., I looked into outpatient physical and occupational therapy options and did one bout of therapy at National Rehab Center, convenient to our home. I started transitioning to a rolling walker there but was only able to schedule one-hour sessions.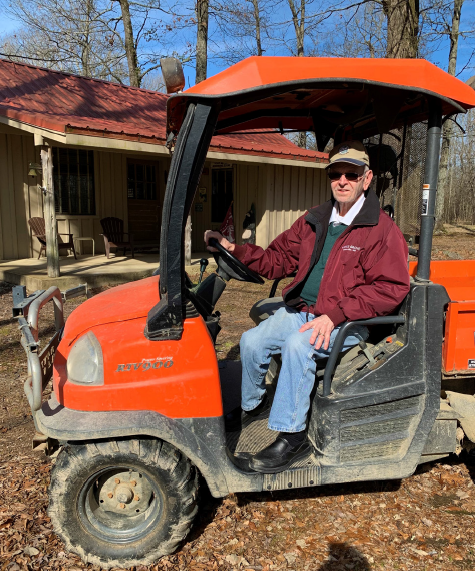 Once I was able to drive myself, I began to look for a place that would provide the opportunity to do more concentrated and specialized spinal cord rehabilitation than was available at National Rehab Center. We had been told wonderful things about Kennedy Krieger when we were leaving the Shepherd Center and made an appointment for an evaluation with Dr. Albert Recio. We were extremely impressed by Dr. Recio's approach, by the facility, the personnel, and the opportunity to schedule multiple hour-long therapy sessions that would make the drive to Baltimore well worthwhile.
When I began at Kennedy Krieger, I was using a rolling walker, but in the first bout of therapy, I was able to transition to a single-point cane and begin to climb stairs. I gained significantly better balance and greater confidence and strength. The therapists were very conscientious, dedicated and compassionate. I have continued to schedule as much therapy as possible at Kennedy Krieger from 2012 to today.
Through the years I have had many therapists, from those just beginning their career who had me as their first patient, to senior therapists with years of experience. I have been very pleased with each one. They all exhibit a high level of interest in all of their patients, which is a great testament to the culture of Kennedy Krieger.
In addition to the physical improvements I have made under the care of Dr. Recio and the therapists, the continued physical therapy has been a significant factor in reducing my pain levels and general well-being. The facilities are excellent, and the therapy pool with the treadmill has been an important part of improving my strength and endurance. The hardest part of my therapy at Kennedy Krieger has been the drive from Washington, D.C., and also scheduling enough sessions to maintain my progress.
As a result of gaining strength and mobility at Kennedy Krieger, we are living in my original three-level home, where I am completely independent and share all the usual household responsibilities with my wife. I get around the house without my cane and otherwise use only a cane when outside the house. I can pick up my grandchildren, which was one of my original therapy goals, and enjoy travelling. I have continued my consulting work, and with the confidence I have gained as a result of my therapy at Kennedy Krieger, I have travelled for work to England, France, Mexico, Chili, Columbia and in the U.S. on my own.
For the future, I plan to continue to improve my balance and mobility through continued physical therapy and personal training.