State: New Mexico
Diagnosis: transverse myelitis
Date of injury: February 2008
We heard about Kennedy Krieger when Mica first contracted transverse myelitis at 8 months, but thought we should wait for intensive therapy until she had words to describe her sensation. Then it took many years to convince our insurance that therapy was still a worthy investment.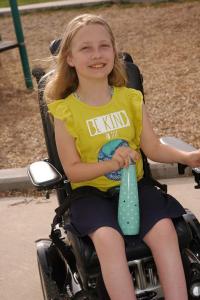 In 2017, we started driving across the country three times a year so that Mica could participate in this therapy experience that allows her to see her mobility goals as a potential reality.
Not only has Kennedy Krieger filled our world with extra hope and positivity, it has given us tools and an understanding community that validate our lifestyle.
The best part of Kennedy Krieger is the awesome people that make such a great team: from the moment we walk through the sliding doors, to our fabulous feasts at the cafe, to each and every therapeutic brain we encounter, to the families we witness growth with.
– Gabrielle Graham, Mica's mother