Letter From the Director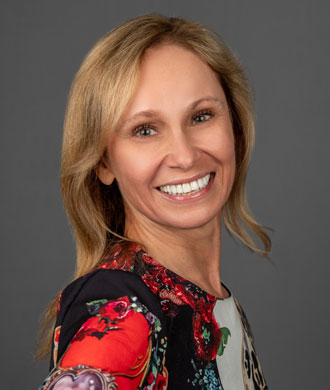 Happy spring! It has been a very busy few months at the International Center for Spinal Cord Injury (ICSCI). We have such exciting news to share! Our third location is about to open in White Marsh—we hope to begin seeing patients there in July. This new location, north of Baltimore, is close to Interstate 95 for easy access. And we're partnering with a nearby hotel for easy accommodations for patients and families that need them. See the photos below to view our progress. We are especially excited about the hole for the pool!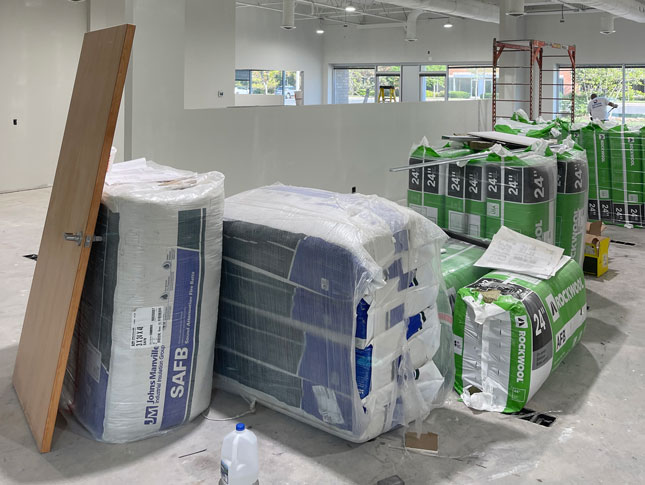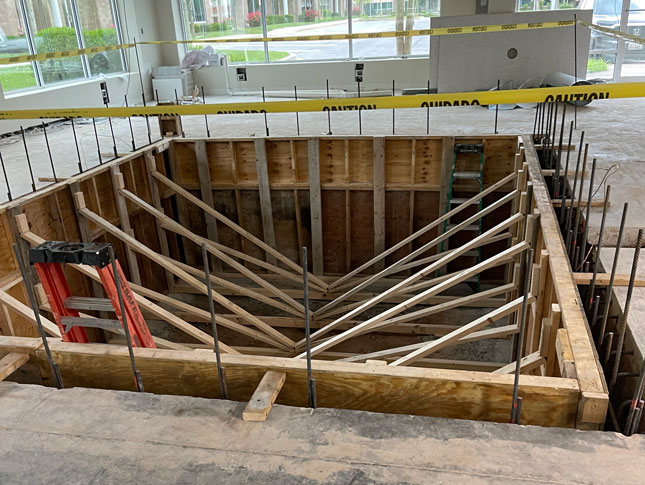 Be sure to save October 14 for the 2023 Baltimore Running Festival! This will be the 12th year of participation for Team Kennedy Krieger. Registration will open up shortly. Funds raised from the event provide scholarships for the Wellness Center, new equipment for Kennedy Krieger Institute and the ICSCI, and support opportunities for adaptive sports.
Please take some time to read about the activities and opportunities in this newsletter. We appreciate the confidence that all our patients, families, donors and supporters have placed in us and our work. We strive to be better each day and look forward to advancing care and research for individuals with spinal cord injuries and disorders.
Enjoy the spring weather, and we hope to see you in the next few months at one of our upcoming events.
All the best,
Cristina L. Sadowsky, MD
Clinical Director
International Center for Spinal Cord Injury

Go, Baby, Go!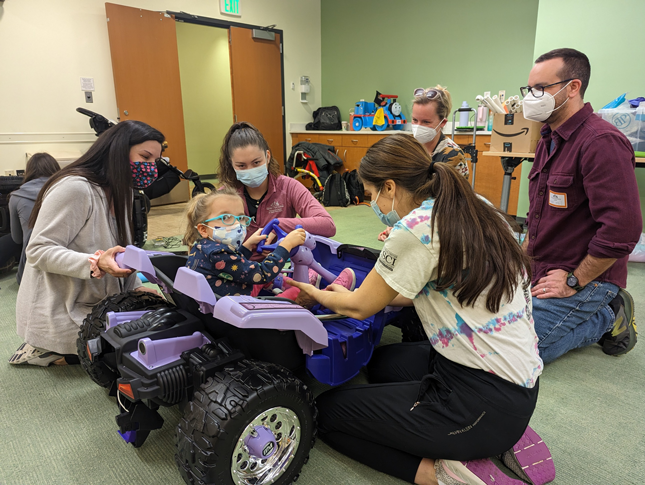 Recently, the ICSCI had its first Go Baby Go Powered Mobility Program build day since before the pandemic! Go Baby Go is a national, community-based design and outreach program with which Kennedy Krieger Institute and the ICSCI have partnered to modify ride-on toys (free of charge) so children with disabilities can enjoy them, too! Common modifications include adding trunk support with pool noodles and PVC piping, and overriding the foot pedal with a large button that can be placed anywhere a child has movement, so they can press it and make the toy move. Allowing children with disabilities to initiate and control their own mobility has so many benefits!
On build day, seven Institute staff members modified ride-on toys (modeled after a police car, a Lamborghini, a Toyota Tacoma, a dune racer and a Mercedes-Benz) for five patient families. Children who can't crawl or walk can miss out on important developmental play and learning, as well as opportunities for socialization. Modified ride-on toys can provide children with freedom, independence and mobility.
Adaptive Sports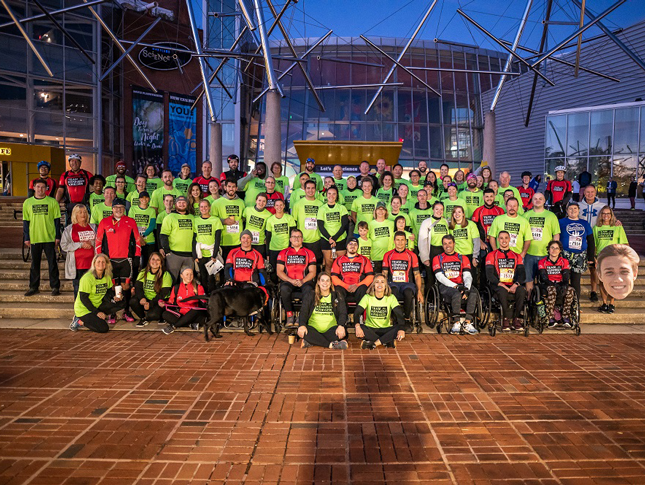 In March, six members of Team Kennedy Krieger traveled to Myrtle Beach, S.C., to take on the Myrtle Beach Marathon. This was the team's first travel race in over three years! The weather was perfect for racing. The course was mostly flat, and the finishing times were almost all personal bests!
Later that month, Team Kennedy Krieger hosted a very successful Adaptive Sports and Recreation Resource Fair. This free event brought together over a dozen local organizations and vendors to provide resources for various adaptive sports and recreational activities for individuals of all ages with physical disabilities in the greater Baltimore area. Attendees could learn about available activities, observe and interact with demonstrations, and even try out different activities. This event was a huge success, despite the rain, with nearly a dozen organizations and vendors from outside Kennedy Krieger in attendance. Stay tuned for next year's date!
In April, we teamed up with the Bennett Blazers and wheelchair lacrosse team Maryland Thunder to host our second free wheelchair lacrosse clinic. Maryland Thunder team members taught the fundamentals of the sports to children ages 9 to 17. A clinic for ages 18 and up will be held at a later date.
Adaptive programming has officially taken off at Patapsco Valley State Park. Through our partnership with Friends of Patapsco Valley State Park, we are able to offer several adaptive programming events.
Upcoming events—save the dates!
June 17: Adaptive paddling
June 17 and 18: Sailing with the Impossible Dream Catamaran
June 24: Adaptive playground
July 11: Sailing with Chesapeake Region Accessible Boating (CRAB)
Mid-July: Bowling
TBD: Topgolf
October 14: Baltimore Running Festival (registration to open soon)
Follow us! Join our Adaptive Sports Facebook Group. To join, simply search for "Team Kennedy Krieger Adaptive Sports" on Facebook. Request to join the group by answering the questions and acknowledging the group's rules.
NEW: Follow us on Instagram! Find us @TeamKennedyKrieger. Ours is a private page, so you will need to request to follow us.
Not interested in competitive adaptive sports? Join anyway! We offer noncompetitive adapted recreational activities such as the ones described above. Through our social media channels, you can learn about what Team Kennedy Krieger is up to and how to get involved.
Progress in Practice: Activity-Based Restorative Therapy Workshop
On January 28 and 29, ICSCI employees Rebecca Martin, OTR/L, OTD; Beth Myers, PT, DPT, NCS; Beth Farrell, PT, DPT, PCS, ATP/SMS; and Quyen Catania, PT, DPT, NCS, CWS, CLT, hosted "Progress in Practice: Activity-Based Restorative Therapy," a workshop for therapists at the UT Health Austin Pediatric Neurosciences at Dell Children's. This intensive two-day workshop is a premier educational event geared toward physical therapists, occupational therapists, nurses, physicians and rehabilitation professionals who regularly care for individuals with paralysis.
"Progress in Practice" gives participants the opportunity to gain skills to advance their practice in neurorehabilitation and activity-based restorative therapy (ABRT). The course includes sessions on functional electrical stimulation, locomotor training, functional mobility, aquatics, seating and positioning, as well as the research and history behind ABRT. The January workshop was so well received by all participants that we hosted a local workshop on April 30 and May 1 for our newest employees.
Trends in Spinal Cord Injury Rehabilitation
The ICSCI hosted its 13th annual Trends in Spinal Cord Rehabilitation Symposium on March 13. The symposium featured two speakers: Thomas N. Bryce, MD, who presented "Spinal Cord Injury Pain—A Medical Perspective," and Isa McClure, PT, MAPT, who presented "Talking Spinal Cord Injury Pain—A Therapeutic Perspective." Over 140 people attended in person and virtually and engaged in riveting discussions on pain management.
Additionally, the ICSCI awarded its annual service awards to Lia Brunn, OTD, OT-RL, and Kevin Hentz, CSCS, USAW.
Lia Brunn received the Leadership in Spinal Cord Research and Education Award, given each year to an outstanding individual who has made significant contributions in the areas of spinal cord-related paralysis research and/or education. Nominees are dedicated to improving scientific or educational knowledge within the spinal cord injury community.
Over the last few years, Lia has taken on the team-leadership role for multiple research projects. She has become integral to the research team, assisting with writing protocols, training, quality improvement projects, recruitment, scheduling, assessments and anything else the research team needs. She completes these tasks without complaint or hesitation and is a consummate team player. She is very proactive with our projects and goes above and beyond for our patients and participants, and their families. The dedication and commitment she has shown to our research program and the team are a large part of why we run so smoothly.
Kevin Hentz received the Dedication for Improving Lives Award, given each year to a Kennedy Krieger employee who demonstrates consistent dedication to the ICSCI's mission of improving lives. Nominees are strong supporters of the ICSCI, and its mission and patients, and have made valued contributions in direct patient care, mentorship and/or operational support.
Kevin joined our team in 2015 and has, since then, played an integral role in our personal training and Team Kennedy Krieger programs. Kevin is a very passionate and team-oriented leader and cares deeply about his clients and fellow team members, while always keeping up with the latest trends in fitness to improve the well-being of his clients. He has a genuine enthusiasm for helping others and sharing his expertise. He empowers our athletes through training, showing them their true abilities and supporting their sports and fitness goals. He is a hands-on collaborator with therapies and extracurricular activities, like adaptive sports, and never hesitates to go above and beyond by volunteering his time, wisdom and photography skills. Ultimately, Kevin is willing to help however and whenever he is needed.
Research Update
The goal of the ICSCI research group is to engage in clinically relevant research and position our staff for rapid clinical implementation of the science. We continue to be busy with studies related to transcutaneous spinal cord stimulation (TSS). Our adult and pediatric walking studies continue. In May, we joined a large multisite trial to investigate the impact of TSS on arm and hand functioning.
We're also recruiting for the second wave of the International Spinal Cord Injury (InSCI) Survey of community-dwelling individuals with spinal cord injury. Administered in more than 40 countries around the world, the survey aims to describe the experience of living with spinal cord injury.
Soon, we'll begin recruiting adult individuals with spinal cord injury for a multicenter validation-of-outcomes study. And we continue to engage in retrospective reviews to validate activity-based therapies and population surveys to better understand the course and needs of our patients.
We are actively recruiting for all studies—please contact Shannon Inches at Inches@KennedyKrieger.org for more information.
Honors and Awards
Congratulations to Cristina Sadowsky, MD, clinical director of the ICSCI, on being named to The Maryland Daily Record's list of Top 100 Women in Maryland! The newspaper recognized Dr. Sadowsky on May 8, joining a group of fellow high-achieving women who are making an impact through their leadership, community service and mentoring. We are so proud to have her on the Kennedy Krieger team.
Publications
Philippines Cabahug, MD; and Janet Dean, CRNP, presented their poster on "Ultrasound Evaluation of Diaphragm Function in Patients with Spinal Cord Injury: Lessons Learned, Future Directions" at the 2023 ASIA conference in Atlanta, GA., April 17-19.
Shannon Inches; Marjorie Morgan, LPTA; Cynthia Salorio, PhD; and Cristina Sadowsky, MD, presented their poster on the "Correlation Between Muscle Mass and Function in Individuals with Long Standing Spinal Cord Related Paralysis" at the 2023 ASIA conference in Atlanta, GA., April 17-19.
Lundine, J.P.; Huling, J.D.; Adelson, P.D.; Burd, R.S.; Fuentes, M.; Haarbauer-Krupa, J.; Hagen, K.; Iske, C.; Koterba, C.; Kurowski, B.G.; Petrucci, S.; Rose, S.C.; Sadowsky, C.L.; Westendorf, J.; Truelove, A.; & Leonard, J.C. (April 16, 2023). Using billing codes to create a pediatric functional status e-score for children receiving inpatient rehabilitation. Archives of Physical Medicine and Rehabilitation. Retrieved from https://doi.org/10.1016/j.apmr.2023.03.025.
Sadowsky, C.L. (April 29, 2023). Targeting sarcopenia as an objective clinical outcome in the care of children with spinal cord-related paralysis: a clinician's view. ISSB 2227-9067.
Presentations
Albert Recio, MD, PT; Courtney Porter, PT, DPT; and Kimberly Rotondo, PTA, presented the educational session "Safe Solutions for Aquatic Therapy of Patients with Spinal Cord Injury Requiring Invasive Ventilator Support" at the American Physical Therapy Association (APTA) Combined Sections Meeting in San Diego, Calif., February 23–25.
Cristina Sadowsky, MD, participated in the "Healthcare Professional Series with Nurse Linda," a webinar series offered by the Christopher and Dana Reeve Foundation, on March 8. Dr. Sadowsky discussed activity-based restorative therapy for both adults and children with Linda Schultz, PhD, CRRN.
Dr. Sadowsky also presented on spinal cord injury and neuroplasticity at the Pediatrics ICU Mercy Medical Center Grand Rounds on March 10.
Advocacy Spot
Welcome to the Advocacy Spot! Here, we aim to keep you abreast of legislation that impacts access to services, equipment and the community. By keeping you informed, we hope to motivate you to get directly involved with promoting change and protecting your rights. In this edition, we are revisiting access to airline travel. Keep reading!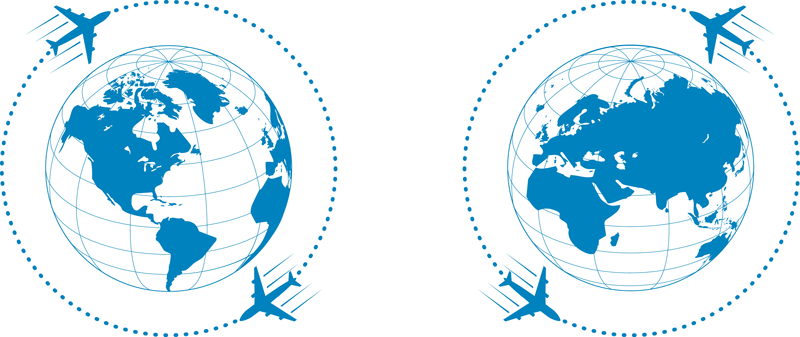 Air Travel Access
Every five years, Congress is required to renew authorization for the Federal Aviation Administration (FAA). This creates an opportunity for reassessing the airline industry and determining if any reforms or updates are necessary. The current authorization expires at the end of September 2023. Thus, Congress is preparing to write the new five-year authorization bill and vote on it in the coming months.
Now is the time for us to push for legislation that is more inclusive and which creates new protections for airline passengers with disabilities! Now is the time to aim for meaningful changes that will bring greater accountability to the airlines and improve the travel experience for wheelchair users!
The Air Carrier Access Amendments Act (Senate Bill 545 and House Bill 1267) has been introduced by Senator Tammy Baldwin (D-Wisc.) and Representatives Dina Titus (D-Nev.) and Steve Cohen (D-Tenn.).
It will address problems by:
Establishing a private right of action, allowing passengers with disabilities to sue airlines for damages in civil court
Requiring the secretary of transportation to create new standards for safe and effective boarding and deplaning, seating accommodations, accessible lavatories, and stowage for wheelchairs and assistive devices—airlines would have to comply with these new standards within five years of the standards being issued
Requiring the secretary of transportation to issue fines to airlines that violate the laws protecting people with disabilities in air travel, and to refer patterns of discrimination to the Department of Justice
Ensuring all covered gates, counters, ticketing areas and customer service desks are accessible to individuals with disabilities
Now is the time for us to take action!
Please use this link to draft a letter to your senators and representative asking for their support for this legislation: Link to Letter to Senators and Representative
If you have a story related to difficulties you have personally experienced while traveling, please modify the draft letter to include it (they provide a space for that). The personal stories have a far greater impact than the generic letters.
Thanks for reading! We encourage you to get involved! You can play a significant role simply by educating our legislators on how these issues impact your daily life or by making a personal connection with your Congressional offices. Stay tuned to the next Advocacy Spot for updates and ways to get involved.
Your Support
Thank you to all who have participated in our fundraising efforts this year! We are incredibly grateful for your support. Your gifts help us maintain the best equipment and technology possible, conduct groundbreaking research, expand our services to new locations and support our patients and their families with items not covered by insurance. Visit KennedyKrieger.org/ICSCIFund to make a tax-deductible gift. If you would like to learn more about how you can support ICSCI, contact Jen Doyle in the Office of Philanthropy at DoyleJ@KennedyKrieger.org or 443-923-4324. Thank you!