Letter From the Director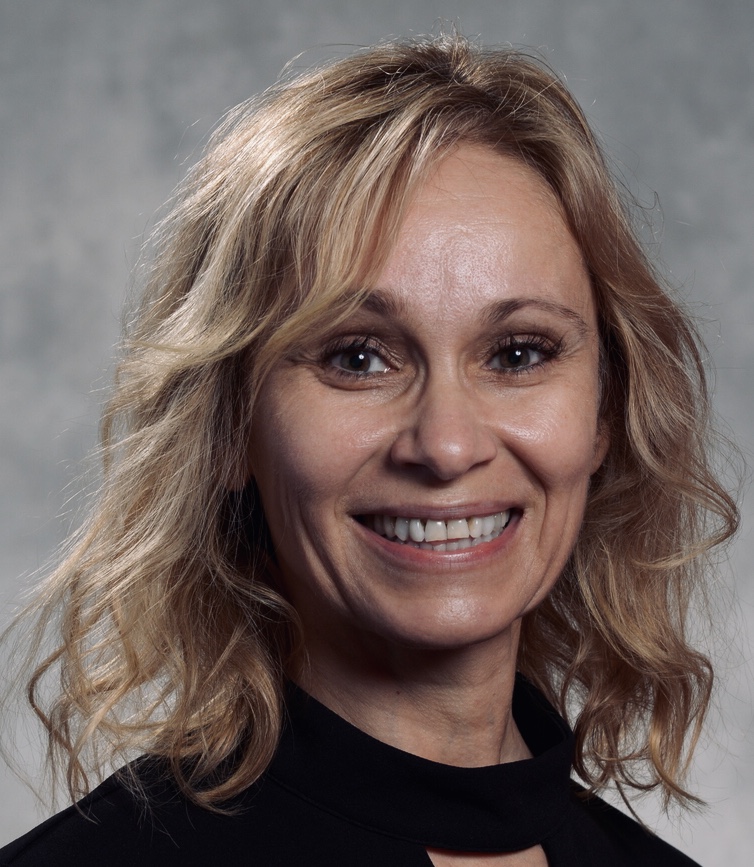 Happy 2022! I hope you and your family enjoyed a wonderful holiday season and a healthy start to the new year. Our staff continues to handle the challenges that the COVID-19 virus has brought us without major disruptions to patient care. As we have over the past two years, we will continue to put in hard work and do our best to help our International Center for Spinal Cord Injury community and each other.
I am humbled by the continual support of this amazing community and extremely proud of our team members who show up every day to provide the highest level of care to our patients and their families during these unusual and challenging times.
Throughout the pandemic, it has at times been hard to maintain a positive outlook. In these moments, I have tried to remind myself of how inspiring it is to work at a place that is making an incredible impact on patients' lives.
In this issue of the newsletter, we share information with you about the services we offer in addition to physical and occupational therapy. We are also pleased to bring back our Advocacy Spot! Learn more about proposed legislation related to air travel access and about a live online advocacy event that takes place every month. And be sure to check out what our Adaptive Sports Program has been up to!
All the best,
Cristina Sadowsky, MD
Clinical Director, International Center for Spinal Cord Injury

Trends in Spinal Cord Rehabilitation Symposium—Register Today!
Monday, March 21, 2022, 3–6 p.m.
Join us virtually this year, FREE of charge, at our annual premier educational event focusing on the latest treatments, groundbreaking research and emerging trends across the continuum of care for individuals with spinal cord injuries and spinal cord-related dysfunction.
Featured speakers and presentations:
Targeting Neurogenic Urinary Dysfunctions With Activity-Based Recovery Training
Charles Hubscher, PhD
Professor, Department of Anatomical Sciences and Neurobiology
University of Louisville School of Medicine
Autonomic Dysfunctions Following Spinal Cord Injury
Andrei Krassioukov, MD, PhD
Professor of Medicine, Division of Physical Medicine and Rehabilitation
University of British Columbia
Registration closes 3/14/22. Click here to register.
More Than Therapy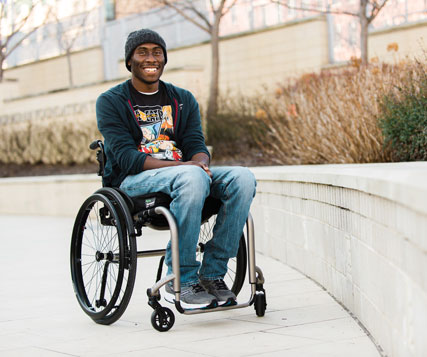 Did you know that the International Center for Spinal Corp Injury offers a wide variety of services designed to treat the whole person? Listed below are some of our key services. Call 888-923-9222 to learn more or to make an appointment for any of these services.
Acute intermittent hypoxia
Aquatic Therapy Program
Blood flow restriction therapy
Bone density measurements
Dry needling
Nursing care management
Nursing consultation
Orthotics services (including splint fabrication, serial casting, and our functional electrical stimulation [FES] clinic)
Robotic-Assisted Therapy
Seating Clinic
Visceral manipulation
Urodynamic studies
Wound care and healing
Social work and psychology services
Adaptive Sports Program
Life Through Motion Wellness Program including personal training and independent aquatics
Peer Mentoring Program
Regeneration Generation (a patient education group and program)
Advocacy Spot: Advocacy for Individuals With Spinal Cord Injuries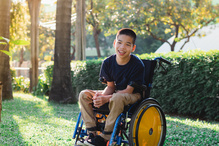 Welcome to the Advocacy Spot, where we aim to keep you abreast of today's hot topics in legislation that impacts access to services, equipment or the community. By keeping you informed, we hope to motivate you to get directly involved with promoting change and protecting your rights! On a daily basis, people are advocating for you, but your voices and your stories make the greatest impact. In this issue, we review proposed legislation related to air travel access and a live online advocacy event that takes place every month. Keep reading!
Air Travel Access
Within the next couple of years, Congress needs to extend the Federal Aviation Administration's (FAA) programs. They will be examining the programs and assessing current air travel protections (or lack thereof). NOW is the time to ask our Congress members to co-sponsor and support the Air Carrier Access Amendments Act (H.R. 1696/S. 642). This bill aims to add new protections that will make air travel more accessible to people with disabilities. It will establish the following:
Airline Passengers With Disabilities Bill of Rights
Advisory Committee on Disability at the Department of Transportation
Better stowage options for assistive devices on planes
Safe and effective boarding and deplaning processes
Increased penalties for damaged wheelchairs/mobility aids or bodily injuries, while also allowing air travelers to sue in court to recover damages
Higher standards for accessibility, safety, and airport and airline employee training
This bill is being championed by U.S. Senator Tammy Baldwin (D-Wisc.) and U.S. Representative Jim Langevin (D-R.I.). Rep. Langevin uses a power wheelchair for mobility and intimately understands access issues. The list above is pretty extensive, but also a long time in coming. Read United Spinal Association's letter about the proposed legislation.
Fly Safe Today Program
All Wheels Up is the only not-for-profit organization in the world funding research and development for the future of accessible air travel: a wheelchair spot on commercial airlines. To ensure safety and comfort on airplanes right now, All Wheels Up launched the Fly Safe Today program, providing important assistive equipment (the CARES harness and ADAPTS sling) to travelers with disabilities. The Fly Safe Today program provides crucial equipment, resources and tools to individuals with limited mobility and wheelchairs to help ensure their safety while traveling on commercial flights. Fly Safe Today supports a wide range of travelers with disabilities and/or limited mobility. Services provided include the following:
Provide education on ACAA (Air Carrier Access Act) rights and The Bill of  Rights for Flight for Passengers with a Disability.
Empower those with disabilities to be their own advocates when flying.
Offer vital equipment such as harnesses, slings, and other modification devices so that the flight is as safe and comfortable as possible. and ensure they have safe equipment to use.
Visit their website to learn more.
'Advocacy LIVE' with United Spinal Association
Join the #RollingRevolution! United Spinal Association hosts a live advocacy event the third Tuesday of every month. You can meet advocates from across the country, share experiences, ask questions and learn how you can get more involved! There is no commitment, just the chance to learn from others in your community! Register here today!
Thanks for reading—we encourage you to get involved! You can play a significant role just by educating someone on how these issues impact your daily life or by making a personal connection with your Congressional offices. Stay tuned for the next Advocacy Spot for additional updates on legislation that may affect access to care, services and the community and ways to get involved.
Adaptive Sports Recap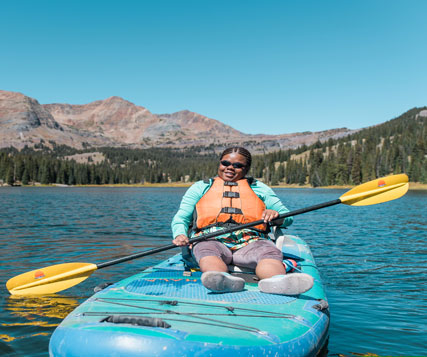 Despite the cold weather, Team Kennedy Krieger kept things moving throughout the winter months. Here's what they've been up to:
Through our partnership with Friends of Patapsco Valley State Park (FPVSP), we had our very first adaptive hike through Patapsco Valley State Park (PVSP), led by one of the park's rangers. This paved trail in the Avalon Area of PVSP is accessible to wheelchairs and provides an opportunity to explore this beautiful park.
We also worked with FPVSP to create the first trail designated for adaptive bikes in a Maryland state park. This 1.5-mile adaptive loop is located in the McKeldin Area of the park and features a wider trail surface with easily accessible parking and bathrooms that meet ADA standards. This trail is a bit less strenuous than the majority of trails at the park.
Last fall, Team Kennedy Krieger sponsored adaptive athlete Shane Horn in the WheelWOD Games, a functional fitness competition for adaptive CrossFit athletes. Shane competed in the Men's Seated 1 Division. In January, Team Kennedy Krieger sponsored Shane and two other adaptive athletes, Brian Owens and Reon Holloway, in Wodapalooza, the world's premier functional fitness festival in Miami, Florida, which includes adaptive divisions. Each athlete did a fantastic job, and Shane and Brian each came home with a first-place and a second-place medal.
In February, we hit the slopes with a Team Kennedy Krieger-sponsored ski day hosted by Two Top Mountain Adaptive Sports Foundation at Whitetail Resort.
What's next? Be sure to save these upcoming dates in 2022:
March 12: Adaptive Hike
March 27: Wheelchair Lacrosse Exhibition Game
April 9: Adaptive Playground
April 16: Adaptive Mountain Biking
May 14: Adaptive Paddling
October 15: Baltimore Running Festival
For any questions or more information on a specific program or opportunity, please email: AdaptiveSports@KennedyKrieger.org
Join our Facebook group! We currently have over 150 members—help us reach 200! To join, simply search for "Team Kennedy Krieger Adaptive Sports" on Facebook. Request to join the group by answering the questions and acknowledging the group's rules.
Recent Papers and Presentations by ICSCI Staff
The following papers were recently published by ICSCI staff members:
Curley, N., Yang, Y., Dean, J., Salorio, C., and Sadowsky, C. (Winter 2022). Description of Bone Health Changes in a Cohort of Children With Acute Flaccid Myelitis (AFM). Topics in Spinal Cord Injury Rehabilitation, 28(1), 42–52.
Dent, K., Zebracki, K., Sadowsky, C., Martin, R., Behrman, A., Lipa, B., Biering-Sørensen, F., Vogel, L.C., and Mulcahey, M.J. (Winter 2022). Evaluation of the International Spinal Cord Injury Bowel Function Basic Data Set Version 2.0 in Children and Youth With Spinal Cord Injury. Topics in Spinal Cord Injury Rehabilitation, 28(1), 21–33.
Edwards, D.J., Forrest, G., Cortes, M., Weightman, M.M., Sadowsky, C., Chang, S., Furman, K., Bialek, A., Prokup, S., Carlow, J., VanHiel, L., Kemp, L., Musick, D., Campo, M., and Jayaraman, A. (Jan. 29, 2022). Walking improvement in chronic incomplete spinal cord injury with exoskeleton robotic training (WISE): a randomized controlled trial. Spinal Cord. Retrieved from https://doi.org/10.1038/s41393-022-00751-8
Kelley, B., and Heavner, C. (Nov.–Dec. 2021). Pediatric Mobility for Leisure Engagement. Rehab Management Magazine, 34(6), 8–11.
Recio, A.C., Kakitis-Fawley, A., Mertins, R., Sachs, C., and Stiens, S.A. (Sept. 2021). A Specialized Program for Prevention and Surveillance of Skin Abrasions During Aquatic Therapy for Patients With Spinal Cord Injury: A Successful Quality Assurance Initiative With Sustained Impact. Journal of Aquatic Physical Therapy 29(3), 85–88.
Suresh, K.V., Karius, A., Wang, K.Y., Sadowsky, C., and Sponseller, P.D. (Winter 2022). Scoliosis in Pediatric Patients With Acute Flaccid Myelitis. Topics in Spinal Cord Injury Rehabilitation, 28(1), 34–41.
Presentations at the 2021 Howard H. Steel Conference:
Courtney Porter, PT, DPT, "Feasibility and Safety of Aquatic Therapy for Ventilator-Dependent Children with Spinal Cord Injury" (oral presentation; Porter also served as a pre-conference panel expert)
Courtney Porter, PT, DPT; Kim Rotondo, PTA; Alaena McCool, MS, OTR/L; and Courtney Heavner, PTA, "Aquatic Therapy for Ventilator-Dependent Children with Spinal Cord Injury" (platform presentation)
Justine Small, MS, OTR/L, and Rebecca Martin, OTR/L, OTD, "Activity Based Restorative Therapies for Spinal Cord Injury with Concurrent Brain and Cranial Nerve Involvement: A Case Report" (poster)
Presentation at the International Seating Symposium (February 2022):
Meredith Linden, PT, DPT, ATP/SMS, and Erin Michael, PT, ATP/SMS, "Virtual Reality as a Power Wheelchair Assessment and Training Tool" (course)