Letter from Dr. Sadowsky: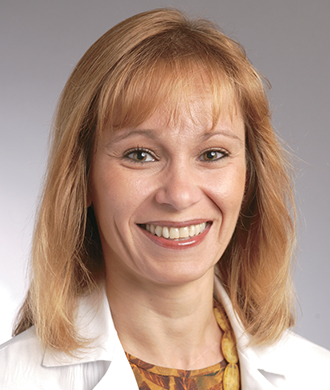 Happy spring! I hope that, wherever you live, the weather is starting to improve. As with every spring season, it has been a busy one for conferences and professional presentations. Participation in national conferences allows staff members to learn and network with colleagues from around the country and world who are in the field of spinal cord rehabilitation. It also allows us the opportunity to share our insights and therapeutic approaches with others in the field. Here are some of the conferences at which our staff members presented on a variety of topics:
American Occupational Therapy Association's annual conference
American Spinal Injury Association's annual scientific meeting
American Physical Therapy Association's combined sections meeting
International Seating Symposium
Additionally, articles by International Center for Spinal Cord Injury staff members appeared in the following publications:
At our annual Trends in Spinal Cord Rehabilitation event, we presented two of our staff members with achievement awards. In recognition of their dedication and passion toward working with the community of individuals affected by spinal cord injury, Kaitlin Hagen received the Leader in Spinal Cord Injury Care award, and Michelle Bebo received the Friend of Spinal Cord Injury Care award.
We hope you have a great summer, and we look forward to hearing from you. Live a happy life, and make it matter!

Baltimore Running Festival - How Can I Participate?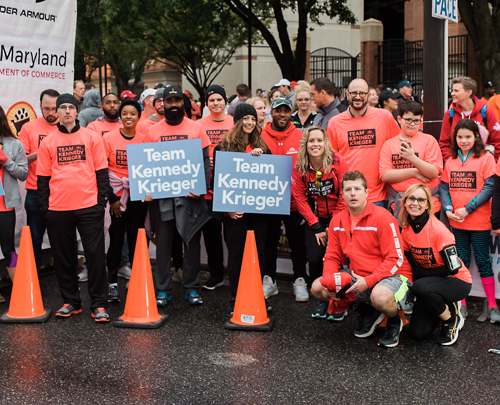 Registration is open for Kennedy Krieger's Baltimore Running Festival charity team. The Baltimore Running Festival takes place this year on October 19, and this will be our seventh year participating in the event. After six years, we've raised a significant amount of money. This year, we want to hit our fundraising goal of raising $1,000,000 in donations! We can do it with your help.
Do you want to support Team Kennedy Krieger in its efforts to raise funds for therapy equipment and support other programs, but you'll be out of town or unable to participate on race day, or you just don't wish to drag yourself out of bed that early on a Saturday? You can still help us reach our goal by participating as a virtual racer. By registering to race "virtually," you are agreeing to raise $100 for Kennedy Krieger, but you don't have to race! Virtual racer registrants will still get to feel they are making a difference! As a virtual racer, you get all the Kennedy Krieger Team benefits except those specific to race-day participation.

Upcoming Regeneration Generation Meetings:
Mark your calendars for the upcoming Regeneration Generation meetings:
May 28 – Community Accessibility
June 25 – Parent Group: Child Development and Coping
July 23 – Panel Discussion: Home Modifications and Technology
August 27 – Understanding Benefits and Finances
Meetings take place in conference room 202 in the Outpatient Center at 801 North Broadway. Lunch is provided with your RSVP, and meetings begin promptly at 12:15 p.m.
Email ICSCISupport@KennedyKrieger.org to RSVP.

Frequently Asked Questions About Dry Needling:
Dry needling is a treatment offered at the International Center for Spinal Cord Injury to provide a positive effect on spasticity, independence and pain in patients with an incomplete spinal cord injury. Learn more about this innovative treatment:
What is dry needling?
Dry needling uses a "dry" needle—one without medication—in which a thin needle is inserted into the skin and muscle at a trigger point (a knotted area of muscle). It is not a stand-alone therapy. Instead, it is part of a comprehensive therapy program.
How is dry needling different from acupuncture?
Both dry needling and acupuncture involve puncturing the skin with thin needles for therapeutic purposes. However, acupuncture is intended to alter the flow of Qi (or energy), while dry needling follows evidence-based guidelines, recommended "point" locations, and dosages for the treatment of specific conditions.
How does it work?
Trained therapists push the needles into the trigger points. The needles are used to stimulate the tissue. When the needle is placed into the trigger point, it can "reset" the muscle to reduce pain and restore function.
How can I learn more?
Talk with your therapist about dry needling to see if it is a therapeutic intervention that may be right for you.

Your Support Changes Lives:
Did you know you can support the International Center for Spinal Cord Injury with a philanthropic gift? We have two funds at the center: the Hope Fund and our research fund. The Hope Fund helps individuals with spinal cord injuries who qualify for need-based assistance to cover some of the costs associated with treatment (e.g. transportation, lodging, co-pays, etc.). The research fund supports start-up projects aimed at identifying mechanistic and therapeutic approaches targeting neurological, functional and quality-of-life changes in individuals with spinal cord-related paralysis. This research helps the team develop new and improved technologies and test new clinical interventions in order to provide the best care possible. It also jump-starts larger research projects by providing the pilot data needed to secure further funding.