2023 Hunter Nelson Sturge-Weber Center Annual Virtual Sturge-Weber Family Webinar: What is stroke and stroke-like episodes in Sturge-Weber syndrome and what can we do about them?
On Saturday, October 14, Dr. Anne Comi and Mrs. Ida Heck hosted the annual Sturge-Weber Family Webinar. The focus of the webinar was on strokes and stroke-like episodes in Sturge-Weber syndrome.
We are happy to share Dr. Comi's opening remarks, as well as a presentation from Dr. Stacy Suskauer. The conference was supported and promoted by the Celebrate Hope Foundation and the Vascular Birthmarks Foundation.
---
Your Child's Brain: Unraveling the Mysteries of Rare Childhood Diseases
Dr. Anne Comi, director of the Hunter Nelson Sturge-Weber Syndrome Center, joins Dr. Erika Augustine, Associate Chief Science Officer and Director of the Clinical Trials Unit, on Your Child's Brain. In this episode, they discuss the importance of how research plays a role in rare diseases. Your Child's Brain is a podcast series produced by Kennedy Krieger Institute with assistance from WYPR. Listen here. 
---
Buy a Home, Sell a Home, Do Good.
Real Estate Charities, founded by Mitch Ribak, broker associate at eXp Realty, LLC and the grandfather of Lola, a Kennedy Krieger patient with Sturge-Weber syndrome, adds greater purpose to buying and selling a home. Half of all referral fees collected by the company will support Kennedy Krieger with an additional amount of funds directly supporting the Institute's Hunter Nelson Sturge-Weber Syndrome Center.
Whether you are looking to buy or sell your home, you will have access to a network of more than 48,000 agents. The process is free, personalized and has the added benefit of raising funds for Kennedy Krieger. It's a win-win for all! Learn more. 
---
Sturge-Weber Syndrome FAQs
The new Sturge-Weber Syndrome Frequently Asked Questions booklet is here! To receive a free downloadable copy of the booklet, click on the link below.
Sturge-Weber Syndrome FAQs Booklet
---
NFL Legend Making a Difference in Lives of Children with Rare Disorders and Diseases
NFL Hall of Fame Inductee Alan Faneca is making a difference in the lives of children with rare disorders and diseases. Read about this former Pittsburgh Steeler and his impact on the Sturge-Weber community. Learn More. 
New book From Port Wine Stain to Angel Kisses 
This book shares a joyful story with a positive outlook about a young child with a Port Wine Stain. Leo is undergoing treatment and narrates his experience with colorful illustrations. The book teachers our differences are what make us special. For some children, things that make them unique may also make them look different.
A portion from the sales of this book supports research into advanced treatments and a cure for Sturge-Weber syndrome at Kennedy Krieger Institute.
Past Events:
 
Grand Canyon Rim-to-Rim Hike to benefit Sturge-Weber research at Kennedy Krieger Institute
Al DeCesaris is at it again!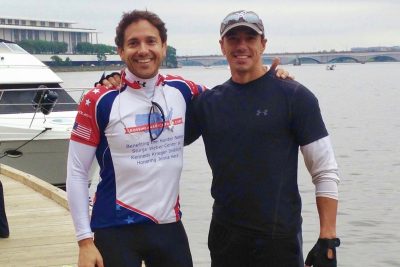 On June 15th, Al and his brother Joe DeCesaris will hike 23.9 miles from the Grand Canyon's north rim to south rim in honor of their niece Jenna. They're taking on this challenging adventure to raise funds for the research of Sturge-Weber syndrome, the rare and devastating neurological disorder that affects Jenna and thousands of others. Grand Canyon Rim-To-Rim Hike is an Adventure for Charity hosted by Difference Makers Global Community.
To make a difference for those in need, participants will use the adventure to raise funds and awareness for a charitable organization dear to them. Learn more.
Golf Tournament raises $30k+ for Sturge-Weber Syndrome research
On October 1st, more than 140 golfers participated in Tropical Realty's 12th Annual Charity Golf Tournament in Melbourne, Fla. Proceeds from the tournament benefit Sturge-Weber syndrome (SWS) research at Kennedy Krieger Institute. The weather was beautiful and golfers enjoyed the famous helicopter ball drop, fabulous door prizes, delicious food and great company. We are grateful to Mitch Ribak and his family and colleagues at Tropical Realty for all their efforts in raising funds for SWS. This year's tournament raised more than $30,000 bringing their overall donation total to over $200,000. For more event photos, visit 
tropicalrealtygolf.com
. 
Dr. Comi Q&A with the Vascular Birthmarks Foundation: 
Dr. Comi answers patient questions on Facebook and discusses topics including Epidiolex (now FDA approved!), having a newborn with a port wine stain, and stroke-like episodes.
Bands on the Bay Oktoberfest 2018:
On September 29th, the Heck and DeCesaris families hosted "Oktoberfest For A Cure," in Edgewater, Maryland. The weather was wonderful, and attendees enjoyed live music, beautiful views of the Chesapeake Bay, delicious food, and great company.
We are grateful to Ida Heck, Al DeCesaris, and the Celebrate Hope Foundation for their fundraising efforts that help make Sturge-Weber research possible.
Sturge-Weber Symposium:
On September 28th, the Sturge-Weber center hosted its first symposium.
Patients, friends and family of the Sturge-Weber community came together to hear about the hottest topics in Sturge-Weber syndrome, including adaptive technology, the genetic basis of Sturge-Weber syndrome, and current research.
With extended Friday clinic hours, a whopping eight patients were able to see Dr. Comi for a neurology appointment while in town for the conference.
Herbal drug brings hope
(Published in the Fall/Winter 2017 edition of Potential)
The seizures that are a constant reminder of the most severe effects of Sturge-Weber syndrome (SWS) often come on without warning. In their wake, they can leave children without mobility or language, depending on the degree of resulting brain injury or paralysis.
While some children find relief with anti-convulsant medications, many cannot tolerate the sedating effect of the medications or suffer from uncontrolled, severe seizures. Notably, SWS differs from other causes of epilepsy in that decreased blood flow to the brain can result in stroke, making seizure control an important priority.
Families like the Fanecas know this reality all too well. Not once, but four times, a seizure stole their daughter Anabelle's abilities. Collectively, Anabelle has spent nearly 32 months of her childhood in rehabilitation, regaining the ability to talk, walk, read, remember math facts, ride a bike—and even tell a joke.
Determined to help their daughter and all children with SWS, the Fanecas funded a study (led by Dr. Anne Comi, director of the Hunter Nelson Sturge-Weber Syndrome Center at Kennedy Krieger Institute) to determine if a well-known herb—administered orally, in a pilot study, as Epidiolex—could hold the key to seizure control. The Fanecas look forward to when Epidiolex is clinically available for the treatment of seizures in Sturge-Weber syndrome.
"The results offer hope," Dr. Comi says, "that children with SWS may soon have a future where a new and safer treatment is available to improve their quality of life."
Currently only available in clinical trials, Epidiolex is a pharmaceutical formulation of cannabidiol (CBD) oil provided as part of the FDA-approved expanded-access program for pediatric epilepsy. CBD is attracting growing interest from researchers studying a variety of neurological diseases. Pre-clinical studies show that CBD can have therapeutic effects on blood vessel function and possible neuroprotective properties.
To read the rest of this story, visit Potential.
Hiking Camino De Santiago for a Cure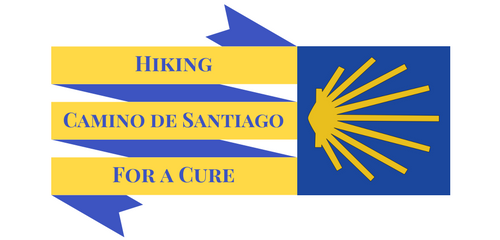 Throughout the month of August, Al DeCesaris will hike 555 miles in honor of his 13-year-old niece, Jenna Heck, and all those living with Sturge-Weber syndrome. Al will hike for 30 consecutive days, hiking in honor of a different child living with Sturge-Weber syndrome each day.
Al's journey will begin in Saint Jean Pied de Port, France, and will conclude in Finisterre, Spain. He is expected to walk an average of 18.5 miles a day.
Al hopes his hike will create awareness about Sturge-Weber syndrome and raise funds for medical research to help further the efforts the find a cure. All proceeds raised will be donated to the Hunter Nelson Sturge-Weber Syndrome Center at Kennedy Krieger Institute.
Since 2006, Al and his family have raised over $1,300,000 for Sturge-Weber syndrome research through various charitable events hosted by the Celebrate Hope Foundation, Inc., their non-profit organization.
For more information about the Hiking Camino de Santiago for a Cure charity event, please visit the Celebrate Hope Foundation page.
Running the coast for a cure book launched!
In 2014, fundraiser and advocate Al DeCesaris set out on a three month, 1,935-mile solo run from Maine to Florida. He ran nearly a marathon a day to create awareness and raise funds for Sturge-Weber syndrome, a rare and devastating neurological disorder that affects his 10-year-old niece Jenna.
In his new book, Running the Coast for the Cure, Al chronicles his harrowing journey facing the rigors of the road, numerous injuries and encounters with wild animals. He also shares his experiences with generous strangers and heartwarming interactions with families affected by Sturge-Weber syndrome.
All proceeds from Al's book will directly support Dr. Anne Comi's research in Sturge-Weber syndrome at Kennedy Krieger Institute. His journey of love and hope will leave you inspired. Get your copy of Running the Coast for a Cure today!
Researchers gather to discuss SWS
Following our 2013 of the gene GNAQ that causes Sturge-Weber syndrome, we received a grant from The National Institutes of Health to plan a workshop on SWS. We brought clinical and translational researchers together in Bethesda, Maryland in April 2015 to present and discuss current knowledge of SWS and to create future research plans.  We came up with four main priorities for future research, and we have been working since the workshop to further these goals:
Establishing clinical consensus for screening and diagnosis: We are working to bring together the opinions of experts on SWS from across the globe to determine the best approach to questions such as how pediatricians  should be screening and making referrals for SWS.
 
Developing a clinical trial network: We are connecting to develop multi-center clinical trials, which will allow us to combine the knowledge and resources of multiple researchers and extend our reach to patients who might not otherwise be able to participate in a clinical trial at a particular center center.
 
Creating a centralized tissue banking system: We are discussing the possibilities for a single tissue bank that can serve the needs of all the researchers who want to use SWS tissue for their studies.
 
Collaborating to create and improve upon animal and cell culture models of SWS: Here at Kennedy Krieger, we have recently received a grant to develop a mouse model for SWS and Port-wine birthmarks. We hope to share this work with other researchers and learn from other models that are in development.
Game-changing discovery of gene mutation that causes Spurge-Weber Syndrome, port-wine stain birthmarks offer new hope
Kennedy Krieger Researchers Pinpoint Genetic Cause of Rare Disease and Common Birthmark 
BALTIMORE, MD -- In new findings published today in the New England Journal of Medicine (Epub ahead of print), researchers from the Kennedy Krieger Institute reveal the discovery of the cause – a genetic mutation that occurs before birth – of Sturge-Weber syndrome (SWS) and port-wine stain birthmarks. SWS is a rare disorder affecting approximately one in 20,000 births, while port-wine birthmarks are more common, affecting approximately one million individuals in the United States.
"This is a complete game changer for those with Sturge-Weber syndrome and the millions born with port-wine birthmarks," said co-senior study author, Anne Comi, M.D., Director of the Kennedy Krieger Institute's Hunter Nelson Sturge-Weber Center. "Now that we know the underlying genetic mutation responsible for both conditions, we're hopeful that we can move quickly towards targeted therapies, offering families the promise of new treatments for the first time."
Additional Coverage of the Discovery: