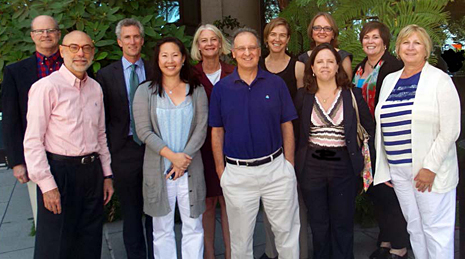 From far right (front row): Dr. Anne Comi, with NIH Program Director Dr. Jim Koenig, representatives from the Patient Advocacy Foundations, and researchers from the Brain Vascular Malformation Consortium (BVMC) at their executive committee meeting in Summer 2014
The National Institute of Health (NIH) continues to fund the Brain Vascular Malformation Consortium (BVMC). The BVMC is a collection of academic medical centers, patients support groups and clinical research resources that are dedicated to conducting clinical research on different forms of brain vascular formation including Sturge-Weber syndrome. Dr. Comi is a co-investigator for BVMC 6211 project which aims to study longitudinal data to identify biomarkers and therapeutic strategies for SWS.
Sturge-Weber Syndrome Through the Brain Vascular Malformation Consortium
Slides from a presentation by Dr. Comi. The slides are recommended for those interested in learning more about our research through BVMC, about the discovery of the SWS and Port-wine birthmark mutation, and tips on how everyone can help hasten the progress toward new treatments.