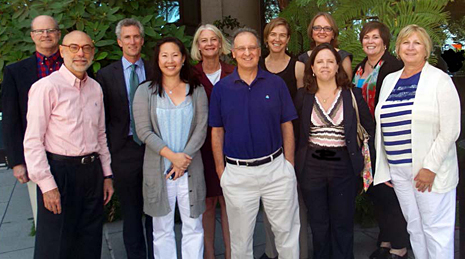 From far right (front row): Dr. Anne Comi, with NIH Program Director Dr. Jim Koenig, representatives from the Patient Advocacy Foundations, and researchers from the Brain Vascular Malformation Consortium (BVMC) at their executive committee meeting in Summer 2014
The National Institutes of Health (NIH) continues to fund the Brain Vascular Malformation Consortium (BVMC). The BVMC is a collection of academic medical centers, patient support groups and clinical research resources that are dedicated to conducting clinical research on different forms of brain vascular formations, including Sturge-Weber syndrome.
The Sturge-Weber Syndrome Project of this grant is led by Dr. Anne Comi at the Kennedy Krieger Institute. She leads a network of clinical sites and the Sturge-Weber Foundation in efforts to better understand the clinical issues in Sturge-Weber syndrome and is working to develop new tools for monitoring and treating the brain, skin and eye conditions associated with the syndrome. Her laboratory group works with her colleague Dr. Jonathan Pevsner at the Kennedy Krieger Institute and with collaborator Dr. Doug Marchuk at Duke University to determine how the somatic mutation causing Sturge-Weber syndrome results in the abnormal blood vessels in the brain and the skin. These studies to determine what molecular pathways are involved in Sturge-Weber syndrome will be crucial to efforts to design better and safer targeted treatment strategies for Sturge-Weber syndrome. Please contact Dr. Anne Comi at comi@kennedykrieger.org if you have questions or would like more information.
Sturge-Weber Syndrome Through the Brain Vascular Malformation Consortium
Slides from a presentation by Dr. Comi. The slides are recommended for those interested in learning more about our research through BVMC, about the discovery of the SWS and Port-wine birthmark mutation, and tips on how everyone can help hasten the progress toward new treatments.