By Elise Welker
The seizures that are a constant reminder of the most severe effects of Sturge-Weber syndrome (SWS) often come on without warning. In their wake, they can leave children without mobility or language, depending on the degree of resulting brain injury or paralysis.
While some children find relief with anti-convulsant medications, many cannot tolerate the sedating effect of the medications or suffer from uncontrolled, severe seizures. Notably, SWS differs from other causes of epilepsy in that decreased blood flow to the brain can result in stroke, making seizure control an important priority.
Families like the Fanecas know this reality all too well. Not once, but four times, a seizure stole their daughter Anabelle's abilities. Collectively, Anabelle has spent nearly 32 months of her childhood in rehabilitation, regaining the ability to talk, walk, read, remember math facts, ride a bike—and even tell a joke.
Determined to help their daughter and all children with SWS, the Fanecas funded a study (led by Dr. Anne Comi, director of the Hunter Nelson Sturge-Weber Syndrome Center at Kennedy Krieger Institute) to determine if a well-known herb—administered orally, in a pilot study, as Epidiolex—could hold the key to seizure control. The Fanecas look forward to when Epidiolex is clinically available for the treatment of seizures in Sturge-Weber syndrome.
"The results offer hope," Dr. Comi says, "that children with SWS may soon have a future where a new and safer treatment is available to improve their quality of life."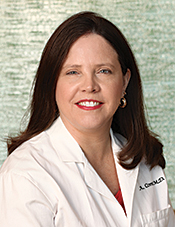 Currently only available in clinical trials, Epidiolex is a pharmaceutical formulation of cannabidiol (CBD) oil provided as part of the FDA-approved expanded-access program for pediatric epilepsy. CBD is attracting growing interest from researchers studying a variety of neurological diseases. Pre-clinical studies show that CBD can have therapeutic effects on blood vessel function and possible neuroprotective properties.
Dr. Comi and her colleagues treated five patients with SWS with Epidiolex. The patients had the common features of SWS, including abnormal blood vessels in the brain and eye and a facial port-wine birthmark.
"When we enrolled Addisyn in the study, she was on four seizure medications at maximum dosages. She was having several seizures a day and was like a zombie, barely functioning. After one dose of Epidiolex, she didn't have any seizures. Now, she's down to just one medication in addition to Epidiolex, and she's thriving."

- Krissta Ross, mom of study participant Addisyn, age 9
Three of the patients demonstrated a greater-than-50-percent reduction in seizures for more than a year, and one patient became seizure-free. These three children had previously tried—with no benefit—two to seven seizure medications each. The patients and their families reported improved quality of life, along with other positive neurologic, behavioral or mood changes.
While researchers don't know for sure how CBD works to reduce seizures, Dr. Comi hypothesizes that the drug improves blood vessel function and decreases inflammation, improving blood flow to the brain and brain function.
The study's promising results were published in June 2017 in "Pediatric Neurology," a premier journal in its field, prompting interest in the next phase of clinical study. Dr. Comi plans to pursue a multi-centered, placebo-controlled study to demonstrate the effectiveness and safety of Epidiolex for seizure treatment
in SWS.
Few are as enthusiastic about this research breakthrough as the Faneca family, who hope that future study will quickly translate to FDA approval of Epidiolex as a new clinical treatment for children with SWS-related seizures.
Watch Krissta discuss the benefits of Addisyn's participation in the study in the below video:
Visit the Hunter Nelson Sturge-Weber Syndrome Center page to learn more about SWS.
For more information about the Epidiolex study, visit the Hunter Nelson Sturge-Weber Syndrome Center Research Studies page.