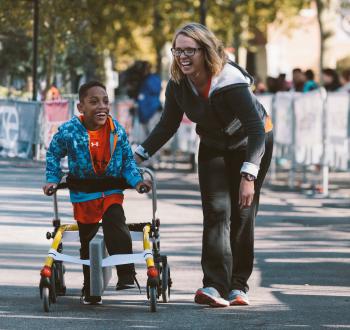 At Kennedy Krieger Institute, our commitment to lifelong health extends beyond the hospital or classroom walls. We believe that individuals of all abilities should have the opportunity to lead active, healthy, and independent lives. Participation in sports and recreational activities helps make this possible. We offer a range of programs that are both competitive and recreational to fit a range of abilities. Through these activities, we help children and adults achieve goals many thought were impossible.
All activities in the Adaptive and Rehabilitative Sports Program are supervised by experienced staff, including recreational and physical therapists, and take into account individual needs and abilities. Adaptive equipment is available when necessary.
The program is open to current and former students and patients, as well as individuals living in the community who are interested in trying out a new activity or resuming a sport or activity they previously enjoyed. Prior experience is not required to participate in any activity.
Whether through wheelchair football, ice skating, handcycling, or wheelchair lacrosse, individuals with disabilities can rebuild their strength and sense of independence while they increase body awareness, build self-confidence, learn new life skills, and make new friends