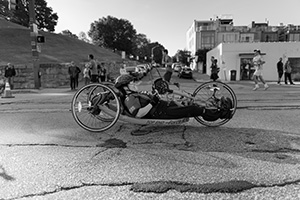 September is National Spinal Cord Injury Awareness Month! This September, we honor the 288,000 people living with a spinal cord injury in the United States, and the amazing work done at Kennedy Krieger Institute's International Center for Spinal Cord Injury. 
The center's unique and innovative treatment program is based on the philosophy that, with the right combination of therapies, patients may be able to recover some degree of sensation, movement and independence, as well as improved health and quality of life, many months or even years after their initial injury or diagnosis. The center's approach to rehabilitation includes inpatient and outpatient care, physical and occupational therapies, an aquatic therapy program, adaptive sports and more.
Sheri Slater is just one of the more than 1,000 patients seen at the spinal cord injury center this past year. Sheri was injured 18 years ago and has been coming to Kennedy Krieger for the past two years. She describes the center as "the second happiest place on earth," mainly because, as she says, no place can actually compete with Walt Disney World. 
In just two years at the center, Sheri has gained friends and confidence, and has had amazing experiences. Although the center's official motto is "Hope Through Motion," Sheri feels it's also 'Hope Through Healing.' "They may not make everyone walk again," she says, "but they help you heal—physically, emotionally and mentally." 
Involvement with Team Kennedy Krieger at the annual Baltimore Running Festival has helped Sheri learn to lead a more confident and independent lifestyle. For the past seven years, Kennedy Krieger has organized a charity team to participate in the running festival to raise money to purchase equipment that will allow more patients to run, walk or handcycle in the race, and to purchase additional therapy equipment to be used every day at the Institute. 
Sheri's first race with Team Kennedy Krieger was in 2017. She wasn't a runner before her injury, but through the encouragement of the spinal cord injury center's staff and fellow team members, Sheri committed to completing her first full marathon using a handcycle purchased with previous Team Kennedy Krieger proceeds. 
"The opportunities afforded through the funds raised during the Baltimore Running Festival have helped me become physically stronger and emotionally happier," Sheri says, "and these are things that are priceless to me!"
From patients and Institute staff members to members of the greater Baltimore community, everyone is welcome on Team Kennedy Krieger! 
The perks of joining Team Kennedy Krieger include:
•    FREE registration for the Baltimore Running Festival event of your choice. (Not applicable to those who register to be a virtual racer for Kennedy Krieger.)
•    FREE carb-loading pasta party, catered by Sabatino's, the evening before the race.
•    A participant goody bag with all kinds of cool stuff.
•    Unlimited access to the Kennedy Krieger team hospitality tent in the festival's Celebration Village to secure your belongings during the race.
•    Use of Team Kennedy Krieger's tent as a meeting place for your friends and family.
•    Morning coffee and breakfast, and post-race snacks and refreshments.
Help us honor National Spinal Cord Injury Awareness Month and create more priceless moments for patients like Sheri by registering for Team Kennedy Krieger today!