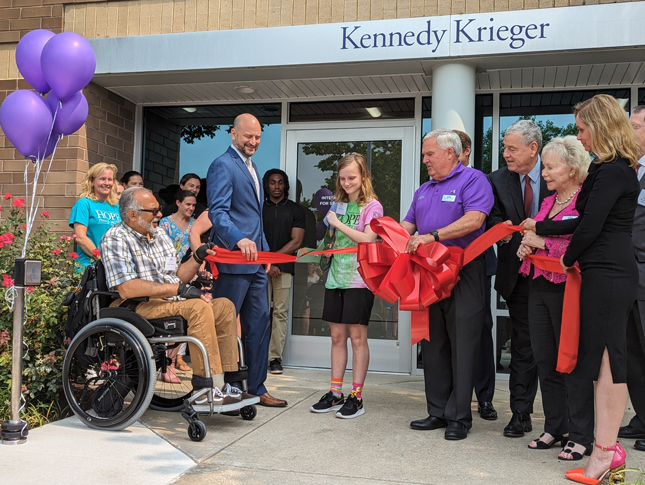 Ribbon-cutting for the new ICSCI location in White Marsh
Later this summer, Kennedy Krieger Institute will expand its Maryland special education services when it opens a new school, in St. Mary's County, to serve up to 45 students with autism spectrum disorder, ages 5 to 21.The school will be located in California, Maryland, on the University System of Maryland at Southern Maryland campus and will serve as a training site for special educators.
In July, the third location of the Institute's International Center for Spinal Cord Injury (also known as the ICSCI), will open in the White Marsh community of Greenleigh. This new location will expand the center's reach to northern Maryland as well as nearby states, and will offer the same comprehensive, one-of-a-kind medical and rehabilitative approaches as the center's other two locations.
Patients visiting this new location will find the latest in high-tech rehabilitation equipment and advanced robotic technology designed to improve functioning for those with spinal cord injuries and disorders. In addition to a medical suite and exam rooms, the new site will have a therapy pool and dedicated research space. Two ground-floor entryways will accommodate easy access and egress for patients of all mobility levels. Services will include wellness, rehabilitation and outpatient care for adults and children.
For more information about any of the three ICSCI locations, call 888-923-9222.