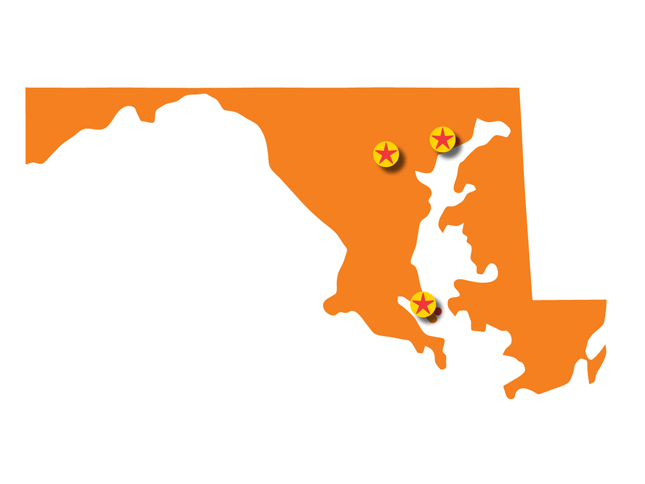 Kennedy Krieger is opening three new locations this summer: a school in Southern Maryland, an early childhood learning center in Baltimore County and a third location, in Baltimore County, of the Institute's International Center for Spinal Cord Injury.
In 2022, Kennedy Krieger Institute served more than 27,000 patients and students, and their families, at campuses across central Maryland. In 2021, that number was 26,000, and the year before that, 25,000. The Institute's reach continues to expand, transforming the lives of more patients and students each year. "Our services are vital and life-changing," says Dr. Bradley L. Schlaggar, the Institute's president and CEO. "It's part of our mission to bring our transformational care and expertise to as many people who need it as possible."
Continuing the Tradition
This summer, Kennedy Krieger opens the third outpatient location of its International Center for Spinal Cord Injury, in White Marsh, Maryland, just north of Baltimore. "The White Marsh location will continue the tradition of delivering lifelong comprehensive medical and rehabilitative care to individuals with paralysis related to spinal cord dysfunction, using trailblazing techniques and technologies," explains Dr. Cristina Sadowsky, the center's clinical director.
Like the center's other locations, the new location will offer the latest equipment and advanced robotic technologies designed to improve functioning for those with spinal cord injuries and disorders. And it'll be adjacent to a full-service hotel, an important feature for many out-of-town patients and their families. The Robert I. Schattner Foundation, which has generously supported the center since 2018, provided crucial funding for the new location.
Our services are vital and life-changing." – Dr. Bradley L. Schlaggar
New Places to Learn
Also this summer, the Institute opens its fifth school, Kennedy Krieger School: Southern Maryland Campus, in St. Mary's County, serving students ages 5 to 12 with autism. "We're thrilled to finally be able to bring our programs and services closer to home for students in southern Maryland," many of whom have been traveling long distances each day to attend school at Kennedy Krieger in central Maryland, says Dr. Linda Myers, vice president of school programs at Kennedy Krieger. All five of the Institute's schools are part of the Maryland nonpublic school community and serve publicly funded students with disabilities referred from local school systems across the state.
Kennedy Krieger will also open an innovative early childhood learning center this summer in Baltimore County, near northwest Baltimore City, providing a comprehensive, family-centered education for children ages 3 to 5. Students will learn in an inclusive environment that encompasses the classroom needs of typically developing children as well as those of children with neurodiverse needs. The center will serve as a model for educators across the nation.
The Maryland State Department of Education (MSDE) awarded the Institute $7 million to open the center. "A top priority for the MSDE is to advance equity and inclusion for young children and their families, which will lead to better learning outcomes," says Dr. Nancy Grasmick, chair of Kennedy Krieger's board of directors and a former Maryland state superintendent of education. "This completely aligns with our goals of advancing learning opportunities for as many children as we can, starting with early childhood education."