Cristina L.
Sadowsky
,
MD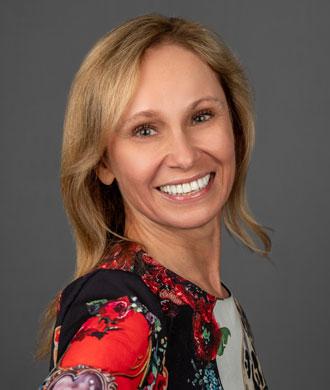 Clinical Director, International Center for Spinal Cord Injury (ICSCI)
Kennedy Krieger Institute
707 N. Broadway
Baltimore, MD 21205
United States
About
Dr. Sadowsky, Associate Professor in Physical Medicine and Rehabilitation at Johns Hopkins School of Medicine, is Clinical Director of the International Center for Spinal Cord Injury at Kennedy Krieger Institute in Baltimore. The spinal cord injury center cares for both children and adults with spinal cord related paralysis and is built on the philosophy that functional restoration is activity dependent and can be best achieved through structured medico-rehabilitative interventions. She is board certified in Physical Medicine and Rehabilitation and Spinal Cord Injury Medicine.
Dr. Sadowsky serves as the chair of the Secondary Conditions in Spinal Cord Injuries subcommittee and is an active member of the Primary Care subcommittee at ASIA, is on the planning committee of the annual conference and served as co-chair of the Pediatric Rehabilitation Networking Group at ACRM. She is a Fellow of the AAPMR and a Diplomate of the AAP. She thoroughly enjoys mentoring individuals passionate for the care of individuals with disabilities.
Dr. Sadowsky is licensed for telehealth in Virginia and Florida.
Research
Dr. Sadowsky's research interests center on prevention of complications in children and adults with paralysis related to traumatic and non-traumatic spinal cord dysfunction and the efficacy of activity based restorative therapies (ABRT) in helping individuals with long-term paralysis recover sensation, movement and independence. She has published in highly regarded specialty related peer reviewed journals, written chapters in seminal specialty books, has organized numerous courses and seminars, sits on several editorial and grant reviewing boards and has been invited to lecture in different universities, and at national and international meetings.
Related Links
Elsevier Fingerprint Engine Profile for Cristina Sadowsky
Other Publications
Review Articles
Sadowsky CL, Margherita A. The cost of spinal cord injury care, State of the Art Reviews in Spine (STARS) 1999; 13(3): 593-606.
Sadowsky CL. Electrical stimulation in spinal cord injury; NeuroRehabilitation 2001; 16(3): 164-169.
McDonald JW, Sadowsky C. Spinal cord injury Seminar, Lancet. 2002; 359: 417-425.
Sadowsky C, Volshteyn O, Schultz L, McDonald JW; Spinal Cord Injury; Disability and Rehabilitation. 2002; 24(13):680-687.
Becker D, Sadowsky C, McDonald JW. Restoring function after spinal cord injury. The Neurologist. Jan 9(1):1-15. 2003.
Sadowsky C, McDonald J. Activity Based Restorative Therapies (ABRT); concepts and applications in spinal cord injury-related neurorehabilitation. Developmental Disabilities Research Reviews 2009; (15):112-116.
Sadowsky C, Becker D, Bosques G, Dean J, McDonald J, Recio A, Frohman E. Rehabilitation in Transverse Myelitis. Continuum Lifelong Learning in Neurology 2011; 17(4)816-830.
Martin R, Sadowsky C, Obst K, Meyer B, McDonald J. Functional Electrical Stimulation in SCI: From Theory to Practice. Top Spinal Cord Inj Rehabil. 2012 Winter;18(1):28-33.
Dolbow DR, Gorgey AS, Recio AC, Stiens SA, Curry AC, Sadowsky CL, Gater DR, Martin R, McDonald JW. Activity-Based Therapies after Spinal Cord Injury: Inter-institutional conceptions and perceptions. Aging and Disease. 2015 August. Volume 6, Number 4; 254-261.​
Bosques G, Martin R, McGee L, Sadowsky C. Does therapeutic electrical stimulation improve function in children with disabilities? A comprehensive literature review. Journal of Pediatric Rehabilitation Medicine: An Interdisciplinary Approach 9 (2016);83–99
Case Reports
Rotondo K, Greenemeier S, Martin R, Sadowsky C. Aquatic locomotor training improves over-ground gait in patient with tetraplegia. The Journal of Spinal Cord Medicine. 2013: 36(5): 557-558.
Olegario-Nebel M, Sadowsky C. "Safety and Effectiveness of Functional Electrical Stimulation-Driven Stepping in Individuals with Spinal Cord Injury", presented at the AAPM&R Annual Conference, Saturday, November 17, 2012.
Book Chapters, Monographs
Trovato M, Pidcock F, Sadowsky C, Brandys E, Suskauer S, Salorio C, Christensen J. Rehabilitation of Children with Critical Illness. Spinal Cord Injury. Rogers Textbook of Pediatric Intensive Care. 4th Edition. 2006; 166-179.
Sadowsky C, Aquired Spinal Cord Dysfunction. Pasquale J (ed). Capute & Accardo's Neurodevelopmental Disabilities in Infancy and Childhood, Neurodevelopmental Diagnosis and Treatment; 2007. Third Edition. Volume I:639-650.
Sadowsky C. Into the Wilderness; trauma, hospitalization, and acute care. Palmer S, Kriegsman K, Palmer J (ed). Spinal Cord Injury; A Guide for Living. 2nd Edition. The Johns Hopkins University Press. 2008; 5-36.
McDonald J, Sadowsky C. The Next Frontier: Spinal Cord Injury Research. Palmer S, Kriegsman K, Palmer J (eds). Spinal Cord Injury; A Guide for Living. 2nd Edition. The Johns Hopkins University Press. 2008; 237-282.
McDonald J, Sadowsky C. Spasticity and spinal cord disorders. Johnston and Gross (eds). Contemporary Neurology Series. Principles of Drug Therapy in Neurology. 2nd Edition. 2008; 273-290.
McDonald J, Sadowsky C, Stampas A. The changing field of rehabilitation: Optimizing spontaneous regeneration and functional recovery. Handb Clin Neurol. 2012; 109:317-36.
Other Publications
Proceedings Reports
Sadowsky C, Whiting H, Pai J, Recio A, Becker D, Houdayer T, Al-Adawi S. Prevalence and Risk Factors for Osteoporosis in Individuals with Paralysis. Journal of Clinical Densitometry 2009; 12(3):388-389.
Sadowsky C. Activity-Based restorative Therapy in Pediatric Transverse Myelitis: A Retrospective Cohort Analysis. Topics in Spinal Cord Injury Rehabilitation. 2013; 19(2): 176-177.
Sadowsky C, Martin R, McDonald J. Effect of Activity-Based Restorative Therapies on Multiple Neurological, Day to Day and Quality of Life Outcomes in a Large Cohort of Individuals with Chronic Paralysis Related to Spinal Cord Disease. Topics in Spinal Cord Injury Rehabilitation. 2013; 19(5): 53-54.
Media Releases or Interviews
Other Media (Videos, Websites, Blogs, Social Media, etc.)