By Mike Fritschner
I
was surfing with my dad on a family vacation in Hawaii in 2006. I stood up on a wave and felt a small pop in my back, which began to hurt. I paddled in and tried to stretch my back, but it just kept hurting more. I felt my legs getting really tired. I walked a few feet and collapsed. That was the last time I was really able to feel my legs. I was 15.

I experienced a rare injury called surfer's myelopathy. While I was surfing and turning to look back at the wave, my back hyperextended, which cut the flow of blood to my spine, causing some nerves to die.

My plan had been to become a professional quarterback. I told my dad that without my athletic ability, I wasn't anything. He said that I was much more than an athlete and that we would get through this together. At that moment, I knew I would never use being in a wheelchair as an excuse not to do something or let it define who I am.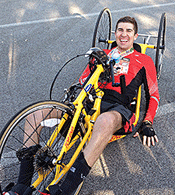 The moment I entered the International Center for Spinal Cord Injury at Kennedy Krieger, I felt such hope and such power. The team shared my belief that if I work hard every day, I will walk again. Kennedy Krieger was the perfect match for my "I can—I will" determination.
Their philosophy was: first, let's see if you can stand and walk; if you can't do that, sit down and move your legs; if you can't do that, lie down and move your legs; if you can't do that, think about moving your legs. We focused not on my limitations, but on the things I could do.
We have a choice to either focus on the things we don't have and the things we can't control, or on all the amazing things we can do. Making that choice each morning defines who we are.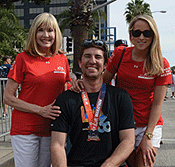 I have been challenged by Kennedy Krieger's talented therapists, encouraged by its exceptional doctors and nurses, and inspired by its other patients. After years of using the therapy techniques and technology and expertise at the Institute, I can feel and move all the way down to my mid-thigh. I can pick things up off the ground. I can do a sit up. It's amazing.
Knowing my passion for athletics, my therapist focused on getting me into an adaptive sport and loaned me the handcycle. For the first time since my injury, I felt that competitive drive again. I went on to complete the Baltimore and Los Angeles marathons as part of Team Kennedy Krieger, raising more than $20,000 to help others with spinal cord injuries.
I was honored to be able to give back, but this was nothing compared to what Kennedy Krieger has given to me and my family. Kennedy Krieger gave me hope. And you can't put a price on that.