Meet Matias, "Mati," a patient here at Kennedy Krieger. Mati was diagnosed with neuroblastoma, a rare pediatric cancer, when he was only 8-months-old. Mati had a tumor the size of a baseball growing in his abdomen at the time of his diagnosis, which pressed on his spine and caused him to become paralyzed.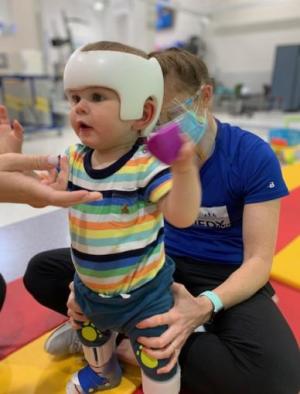 Mati received emergency surgery to remove part of the tumor, and then went through two rounds of chemotherapy to shrink the remaining tumor. Mati was fully paraplegic in the months following these procedures, and spent three weeks receiving inpatient physical therapy at Kennedy Krieger.
Mati now has an "incomplete" spinal cord injury. He's regained a lot of function, including in his thighs, quads, and calves, but has not yet recovered function in his feet, ankles, and bowel/bladder, and doesn't have sensation in his legs. Mati receives outpatient physical therapy 2-3 times a week at the International Center for Spinal Cord Injury location in Maple Lawn.
"Mati is incredibly strong-willed, which can be exhausting as a parent, but has made so many things possible for his recovery," says Rachel, Mati's mom. "He seems to be making up for lost time and uses his legs every chance he gets."
One unique thing about Mati? He has an identical twin, who Rachel says inspires his brother to push himself in therapy.
"They share 100% of their DNA, but they have completely different bodies because of everything Mati has gone through," Rachel says. "Having an identical twin brother has pushed Mati's recovery forward because he's constantly trying to keep up."
Another thing pushing Mati's recovery? His enjoyment of it!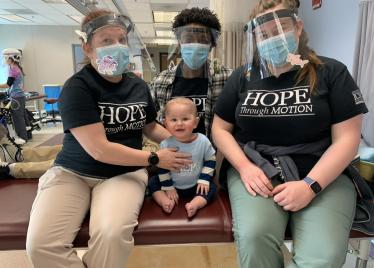 "Mati still gets excited on the days we tell him he's going to PT," Rachel says, nothing that Rachel Mertins, Mati's current therapist, does a great job of making therapy fun for young Mati, but also effective.
"There are no words to express how grateful we are to the spinal cord injury team at Kennedy Krieger," she says. "The 'Hope Through Motion' motto has helped us find the motivation to get through plateaus and hard days, and it's so special to know that Mati's team is celebrating all of his progress right alongside us."
When asked what advice Rachel has for other families navigating a similar diagnosis, Rachel mentions the importance of advocacy.
"If you find something that your child is unable to do or access – advocate unconditionally – and ask others in your community to do the same," she says. "Be that voice! It's not just for your child, but for all the other children that will come after them. Over time, our children will internalize the message that they, too, can use their voices for change.
Mati still has a small amount of tumor left that wasn't able to be removed, but the cancer cells are inactive. Mati needs three more years of clear MRI scans until his cancer is officially considered to be "in remission," but his prognosis is good.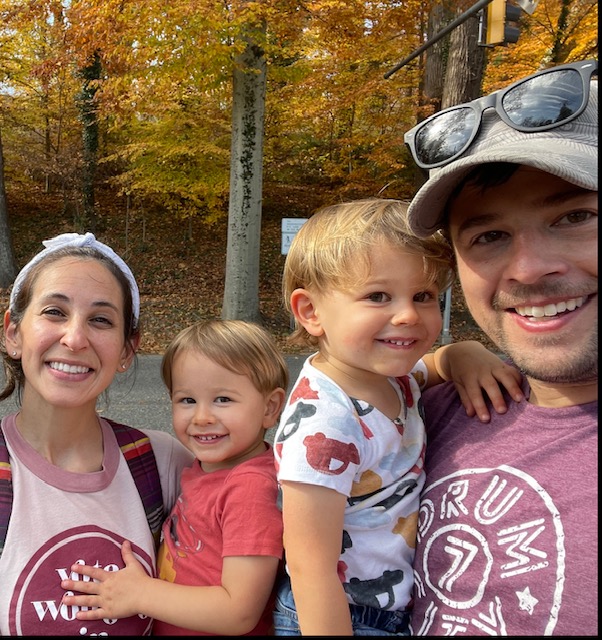 Rachel says she and her husband, Jason, don't have one specific goal for Mati's recovery, but rather, they like to focus on the smaller milestones he hits along the way. She also says she hopes Mati is able to be every bit as active and adventurous as his twin, even if it looks a bit different.
"We hope that over time, he will make meaning out of these experiences, and they will become a part of his story," Rachel says.
Kennedy Krieger is proud to be a part of Mati's story, and we commend him for the progress he's made in his recovery! To learn more about spinal cord injury treatment at Kennedy Krieger, visit the International Center for Spinal Cord Injury website.