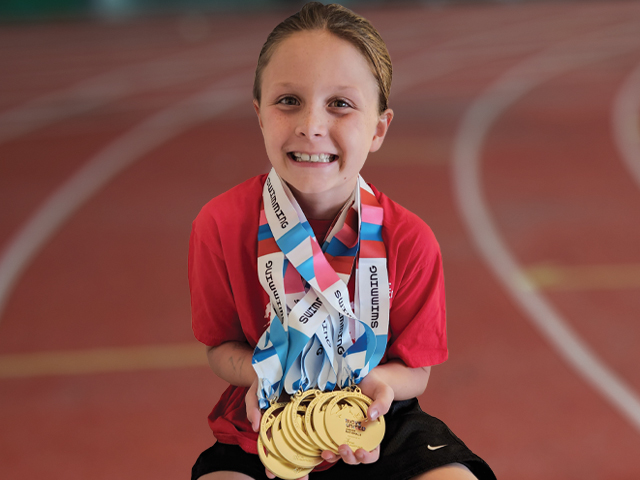 Penelope, 10, has won numerous medals while competing for the Bennett Blazers.
By Laura Thornton
Penelope, 10, loves racing. "My favorite part is feeling the wind blowing through my hair," she says.
She's good at it, too. Last July, she participated in Move United Junior Nationals, an annual multisport event organized by Move United for athletes with disabilities, 6 to 22 years old. Over the course of a week, she participated in 14 races—nine swimming and five track and field—taking home 14 medals, 13 of them gold.
Penelope is a member of the Bennett Blazers, Kennedy Krieger Institute's adaptive sports program for young athletes with physical disabilities. She joined the program when she was 7 to supplement her physical therapy. Little did she know of the incredible opportunities and friendships that awaited her.
"When Penelope came here, her world changed," says Gwena Herman, who started the Bennett Blazers program more than three decades ago with her husband, Gerry Herman. They continue running the program to this day. "She entered the gym and found that she wasn't the only kid with canes or a wheelchair. She was home."
The athletes are awesome, and the community and coaching are like no other. It's an honor and a privilege for us to be a part of the team." – Heather
An Immediate Welcome
About a week after Penelope was born, her parents noticed that her legs were moving unusually—in a frog-like way. But doctors noted nothing of concern. Eight months later, her parents found her writhing in pain in her crib, and within a couple of weeks, she was paralyzed from the waist down. An MRI scan revealed a cancerous tumor growing in Penelope's spinal canal, compressing her spinal cord. Surgery and chemotherapy got rid of the tumor, but the paralysis remained. That's when Penelope came to Kennedy Krieger.
After a couple of years of twice-weekly activity-based restorative therapies at the Institute's International Center for Spinal Cord Injury, Penelope was walking with the support of a walker. She kept up with her therapy, and within a few years, she was ready for a new challenge—sports.
"We were relatively new to the adaptive sports community, so I didn't know how it would go," says her mom, Heather. But they were welcomed immediately by the Bennett Blazers, and Penelope discovered her love for competitive sports.
"Gwena and Gerry are fantastic," Heather says. "They don't allow disability to be an excuse for not performing at one's best. They hold the kids accountable. It's very empowering."
An Incredible Opportunity
The Hermans started the Bennett Blazers, named after a former Kennedy Krieger physician, with just a few athletes. Initially, they worked with children ages 6 and up, teaching them a wide variety of adaptive sports, including basketball, soccer, swimming, tennis, and track and field. They quickly expanded the program to include children as young as 2, and added a motor skills development class to meet the needs of very young children. Today, the program serves 60 to 100 athletes ages 2 to 18 with physical disabilities each week.
Bennett Blazers athletes compete across the country, and many go on to the collegiate level, where there's a growing demand for athletes for competitive parasports teams, and the Paralympics. "When we go to junior national championships, the college coaches are there, watching the kids with an eye toward recruitment," Gwena says.
The Hermans run the program with help from parent volunteers and alums, who mentor up-and-coming athletes like Penelope. Recently, Penelope got to meet Tatyana McFadden, a Bennett Blazers alum, six-time Paralympian and champion marathoner. "I was a little scared because there was a celebrity with us," Penelope says. "I tried to keep a straight face, but I was so hyped up to meet her!"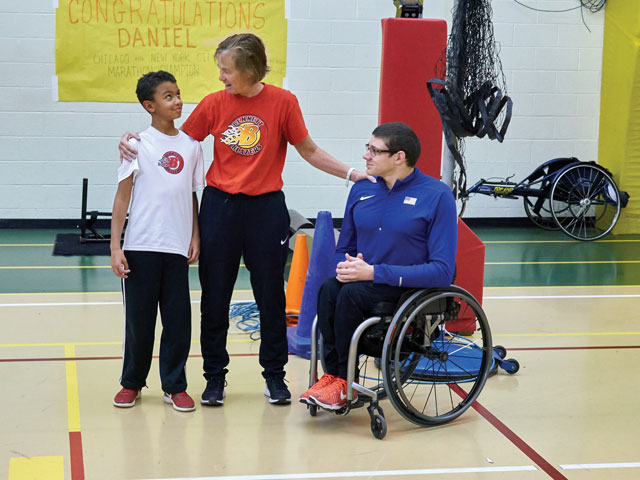 Gwena Herman (center) with Blazers athlete Landon Brown (left) and Blazers alum and Paralympian Daniel Romanchuk
A Community Like No Other
Penelope loves being part of the Bennett Blazers. "It's really fun, and I've made a lot of friends," she says. And she likes being around kids like her. "In school, people stare at me," walking with canes. "But at Bennett Blazers, everyone is like me, and it's not an issue."
When Penelope grows up, she wants to be a professional athlete. She trains year-round with the Blazers, swimming, doing track, and playing wheelchair basketball, lacrosse, softball and tennis. She also works out at home, practicing basketball and other sports in her driveway.
"Gerry and Gwena push me to be the best that I can be," she says. "They say: 'We're here to work hard and try our best.' And if we lose, they don't say: 'We lost.' They say: 'We learn.'"
While the program is competitive, its focus isn't on medals and trophies, but on using adaptive approaches so each child can make sports, including competitive sports, a part of their lives.
"The kids and their families are genuinely a community where everyone looks out for each other," Heather adds. "Everyone helps each other out. It's unlike anything I've ever seen. The athletes are awesome, and the community and coaching are like no other. It's an honor and a privilege for us to be part of the team."
Heather credits the Blazers for helping her family move on from the trauma of Penelope's diagnosis, surgery and partial paralysis. "They've helped us shift from just barely surviving and barely keeping it together, to thriving."
Now that Penelope has been with the Bennett Blazers for a few years, she's starting to take her place as one of the older kids, helping and encouraging younger teammates at practice.
To anyone thinking of trying something new and challenging, Penelope advises: "Just give it a try. If you don't like it, you can try something else. If you like it, do your best to get better."