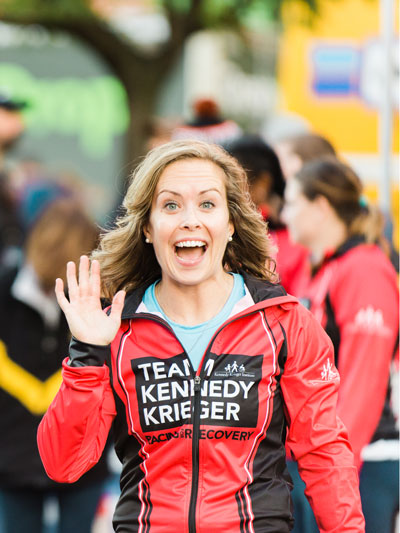 Erin Michael — Erin is the Manager of Patient Advocacy and Special Programs at the International Center for Spinal Cord Injury (ICSCI) at Kennedy Krieger Institute. She is a physical therapist specializing in spinal cord injury rehabilitation and wheeled seating and mobility (aka custom wheelchairs). She directs the Seating and Mobility Clinic at ICSCI. Erin is also the Founder and Chair of Team Kennedy Krieger.
Erin has been an athlete her whole life and believes in access to sport and fitness for all, which are the primary driving forces behind her passion for adaptive sports and recreation. Erin holds a Doctorate of Physical Therapy degree from Ithaca College. She also has Assistive Technology Professional (ATP) and Seating and Mobility Specialist (SMS) certifications from RESNA. Her specialization in custom seating proves handy for assisting with specification and fitting of sports equipment.
Katie Baldwin — Katie is the Supervisor of Adaptive Programs specializing in spinal cord injury rehabilitation at the International Center for Spinal Cord Injury (ICSCI) at Kennedy Krieger Institute. As part of ICSCI's continuum of care, Adaptive Programs such as adaptive sports offer patients the opportunity to engage in regular physical activity to help build and improve your strength, flexibility, balance, endurance, and cardiovascular health while boosting your overall well-being and confidence in a fun and social environment. Katie oversees our adaptive sports and recreational programs for adults. Katie holds a Masters in Exercise Science with a specialty in Community Physical Activity from Liberty University. In addition, Katie is also a member of Kennedy Krieger Institute Baltimore Running Festival Leadership Committee and Team Kennedy Krieger.
Jerry Sersen — Jerry started developing motor deficits in his legs as a small child. In 2007, he came to Kennedy Krieger because his walking abilities were declining. By 2012 he was not only walking better, but training for his first of three 5K walks in the Baltimore Running Festival with Team Kennedy Krieger. In 2015, due to failing knees and ankles caused by arthritis and muscle atrophy, his days of walking the 5K were behind him. But in 2016, Jerry took on the challenge of crossing the finish line in a handcycle; only this time he would be complete 26.2 miles. Jerry is now a veteran handcyclist of Team Kennedy Krieger and has completed multiple marathons throughout the eastern United States. He is also an important asset to Team Kennedy Krieger with his strong motivation to "give back" through fundraising and mentorship. He's also our "go to guy" for all things handcycling and fishing. In his free time, he enjoys fishing, serving at his church and spending time with his wife, Karen.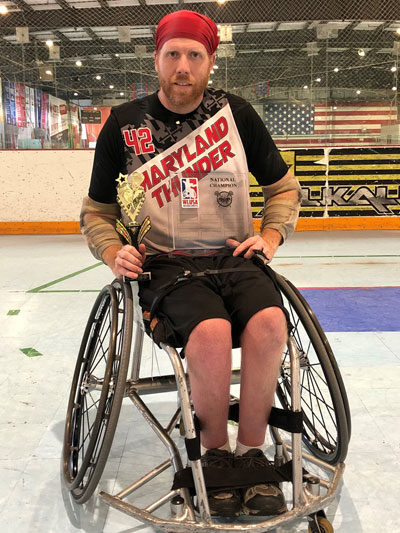 Mike Looney — Mike suffered a T12 spinal cord injury during a rock climbing accident in 2000. Mike is a founding member of the Maryland Thunder Wheelchair Lacrosse team and serves as the teams' captain and coach. The Maryland Thunder Wheelchair lacrosse team was one of the first programs to compete in wheelchair lacrosse in the United States and includes players from Maryland, DC and Virginia.
Mike is also the Vice-President of Wheelchair Lacrosse USA (WLUSA) which is the governing body of wheelchair lacrosse in the United States. The Maryland Thunder currently hold the title of WLUSA National Wheelchair Lacrosse Champions. Prior to his injury, Mike played lacrosse in high school and for his University club team. Mike continues to play other adaptive sports, while also managing family life with two young children.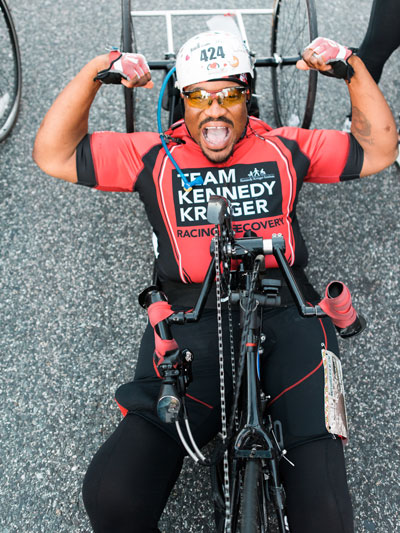 Reon Holloway — Reon was injured in 2000 and discovered Team Kennedy Krieger through a friend in 2014. Since joining Team Kennedy Krieger, Reon has participated in numerous activities, programs or events such as, handcycling, CrossFit, mountain biking, sailing, wheelchair lacrosse, canoeing and rope climbing. He remains consistently involved in handcycling and CrossFit as those are his two favorite activities we offer.

Reon feels that Team Kennedy Krieger/adapted sports is a very critical part of his wellness. In fact, he says, "this program allows me the opportunity to meet and overcome new challenges. Being a paraplegic, I'm often met with various challenges that I can't quite overcome, but participating in in adaptive sports equips me with the mental and physical tools needed to overcome those challenges later."
Our adapted sports program keeps Reon in shape, both physically and mentally. "The sense of belonging to something can really do a lot for your self-esteem post injury. The camaraderie and fellowship with individuals that you can relate to is unmatched", says Reon.