For those with disabilities, there are many adaptive sports and recreational activities that can be enjoyed for health, wellness, leisure, social and competition benefits.
At Kennedy Krieger Institute, our commitment to lifelong health extends beyond the hospital and classroom walls. We believe that individuals of all abilities should have the opportunity to lead active, healthy and independent lives. Participation in sports and recreational activities helps make this possible. We offer a variety of both competitive and recreational programs to fit a range of abilities. Through these activities, we help children and adults achieve goals many thought were impossible.
At Kennedy Krieger, we offer a wide range of activities for every level of interest and ability.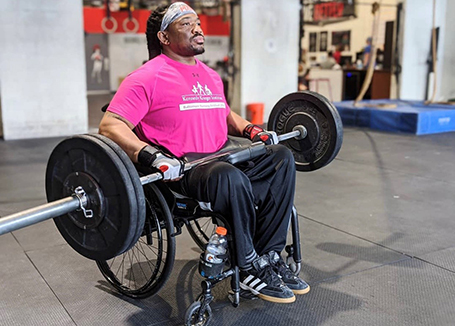 Life Through Motion Wellness Center
When you have a physical disability, the average community gym is not equipped to address your needs.  Our wellness program offers individuals the opportunity to engage in regular physical activity to help build and improve strength, flexibility, balance, endurance and cardiovascular health while boosting your overall well-being and confidence in a fun and social environment. We offer a variety of exercise options, both in person and virtually, including land-based exercise equipment, functional electrical stimulation and cardio-pulmonary activities. Additionally, we also offer an independent aquatics program, weight management program, group fitness classes and personal training. Scholarships are available by request.
We now have TWO locations for Wellness and Personal Training.  Learn more about our Wellness and Personal Training Program.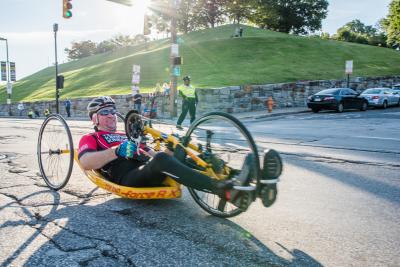 Cycling
The most common way for individuals with disabilities to cycle is with the use of modified bikes. Kennedy Krieger offers opportunities for handcycling and mountain biking.  The modified bikes allow you to pedal the cycle with your arms in a seated or reclined position. Handcycling is not just for racing. It is also for recreational riding. It allows an individual rider to participate in cycling with family and friends who may be riding conventional bikes. Many of our handcyclists have traveled to other areas around the country to participate in marathons. Kennedy Krieger has a limited number of handcycles that can be loaned out to interested individuals who would like to bike competitively.  Additionally, each summer, participants from Kennedy Krieger travel to the Adaptive Sports Center in Colorado to mountain bike in the Rocky Mountains. This experience offers beautiful scenery and the chance to experience off-road adventures. The age for participation is 16 years and older.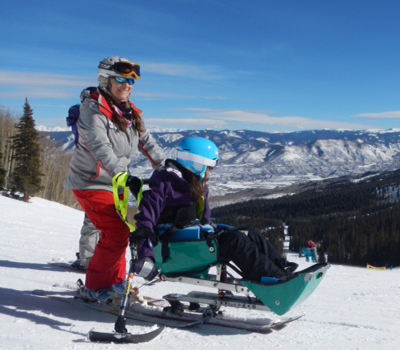 Skiing
Skiing can be performed sitting or standing, and people with all types of disabilities can enjoy skiing with the assistance of adaptive equipment. For individuals with less strength, stability, and coordination, skiing can be performed sitting in a bucket seat on one or two skis Handheld outriggers are used for stability and steering. Outriggers are mini skis on the end of poles and can also be used for stand-up skiing. Tethers and tandem skis allow you to ski with the assistance of another person steering. Each winter, a group of individuals, and trained staff from Kennedy Krieger travel to the Adaptive Sports Center in Colorado to engage in fun winter activities like skiing. For many who have participated in this experience, it is often their first time on skis or their first time on a place since their injury.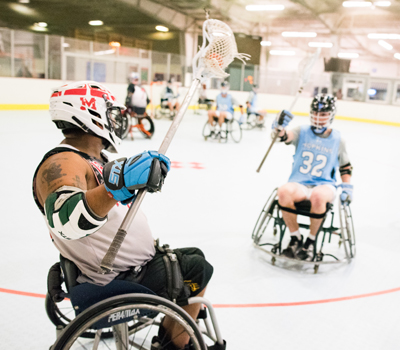 Wheelchair Lacrosse
Wheelchair lacrosse is one of the fastest growing sports in the country.  It is governed by Wheelchair Lacrosse USA and is open to all levels of play and ability.  All equipment and training can be provided, based on request and availability. Additionally, the Kennedy Krieger-sponsored wheelchair lacrosse team, the Maryland Thunder, won the national championship in 2019 and look forward to defending their title when play resumes. The age for participation is 18 years and older.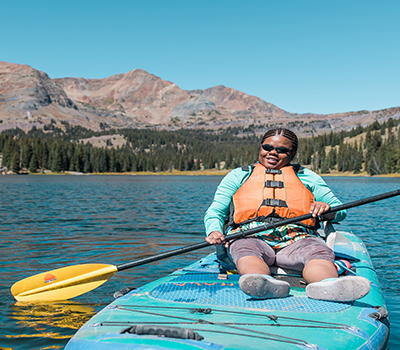 Water Activities
Water activities are easily adaptive programs with many opportunities for fun.  Kennedy Krieger offers opportunities for paddle boarding, surfing or kayaking as well as sailing around the Baltimore Inner Harbor or reeling in a big catch while fishing.