Dr. Lana Warren: Today I am joined by Dr. Erin Michael who is a physical therapy manager at the Kennedy Krieger Institute's International Center for Spinal Cord Injury.
Dr. Erin Michael: Jerry started developing motor deficits in his legs as a small child. What his parents were told definitively was that he would be in a wheel chair by age 13. Fast forward to when I met Jerry in 2008, 53 years old and still walking. He came to Kennedy Krieger because his walking abilities were declining. His wife and he were fearful that they would have to sell their beloved waterfront condo because of the two flights of stairs to the front door. Jerry was also fearful of the doctor's original prognosis about the wheelchair coming true. Fast forward again to late spring 2012, Jerry was in fact still on his feet and overheard his therapist and me talking about team Kennedy Krieger and the Baltimore Marathon 5K Race. He asked if we thought he could do it, expecting to hear a no as he had heard so many times before. However we replied nearly in unison, why not? We could at least start a training regimen and give it a try.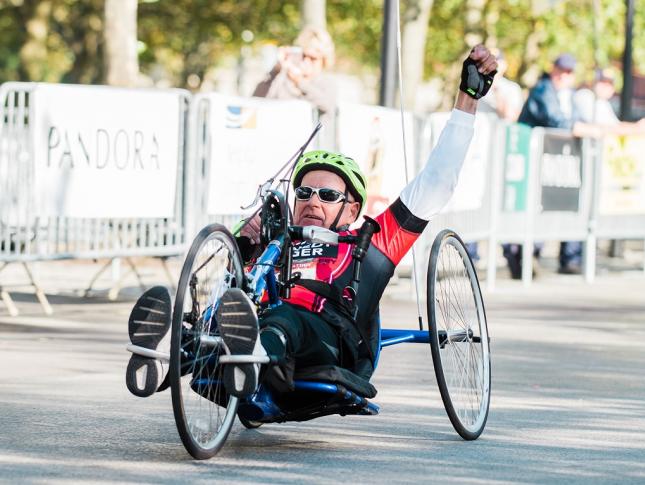 On October 14th 2012, 100 feet ahead of that 5K finish line with thousands of onlookers, Jerry threw down his walking sticks and walked across that finish line unaided, hands in the air and tears in his eyes. He went on to complete two more 5K's, but in 2015 arthritis has set in, limiting the overall distance he is able to walk. So in 2016, we threw out a new idea to Jerry. How about crossing that finish line in a handcycle? But, it will be 26.2 miles this time. Jerry was up for the challenge and became addicted almost instantly. He will go out on a training ride and two hours later, his wife will call and say "are you ever coming home?". Jerry has since completed two marathons and plans to participate in the Baltimore Marathon again this October. His current handcycling goal is to complete the Seagull Century Ride, a hundred miles. He still walks, though with braces on his ankles and often with a walking stick for balance, and yes, he and his wife are still in their beloved condo. Whenever I think of Jerry I think of determination, defying the odds and perseverance.
Dr. Lana Warren: Inspiring moments is produced for WYPR by Kennedy Krieger Institute. I am Dr. Lana Warren.