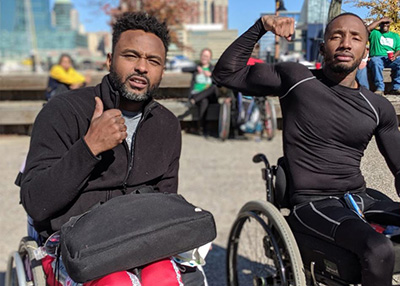 The competition was fierce. Both had trained harder than ever. Who would win this epic rivalry at the Baltimore Running Festival?
Brian Owens and Damon Walker, both handcyclists fundraising and racing for Team Kennedy Krieger, spent months preparing to race in the marathon at the Baltimore Running Festival this past October 19. When Owens joined the training team at Kennedy Krieger Institute, he quickly befriended Walker, and the two became gym buddies. They often joked with each other about who would win this year's race.
The Competitors
Contender 1: "The Newbie"
Three and a half months ago, Owens rode his first handcycle and decided to enter the marathon as a handcycle racer. He researched how professional handcyclists trained, and then trained hard, emulating their methods. He was serious and put a lot of work into his training, aiming to beat all the handcyclists on his training team.
"I'm strong like Schwarzenegger." – Brian Owens
Contender 2: "The Returning Racer"
Walker has raced in the marathon every year for the past three years. He'd always been a casual athlete, maintaining a relaxed attitude toward the marathon, until he began training alongside Owens. He started coming to training rides more frequently, and worked hard in the gym with his friend. According to those around him, Walker's one goal was to beat Owens in the race.
"I appreciate Brian pushing me and motivating me to be better, faster and stronger." – Damon Walker
And the Winner Was…
Brian Owens!
Owens finished his first marathon with a fantastic time of 2 hours, 1 minute, beating Walker by 15 minutes. After the race, "the energy between them was playful and supportive," Team Kennedy Krieger Chair Erin Michael says. "Brian was pretty confident, [and] teased Damon a little bit, but then they shook hands and all was well. They've been friends for quite some time, and Damon seemed genuinely proud of Brian."
Truth be told, everyone won at the Baltimore Running Festival. Finishing the race is a real accomplishment, and we are so grateful for the team members and their supporters—the team raised more than $100,000 this year! The proceeds will help Kennedy Krieger improve patients' and students' quality of life and further their active lifestyles through the funding of adaptive sports, scholarships, new therapy equipment and participation in marathons across the country.