By Tina Rosenau
My son, Josh, was injured in a bicycling accident in July of 2013 at age 15. Josh hit a boulder, which snapped his bike frame in half and launched him over the handlebars. His shoulders took most of the force, causing his spine to compress. The accident left Josh paralyzed from mid chest down.
When Josh was admitted to Kennedy Krieger for inpatient rehabilitation, my husband, Allen, and I were overwhelmed with emotions. We worried about what Josh's future would hold, as we watched him struggle with even the simplest of tasks. At the same time, we felt blessed and grateful that our son was still with us.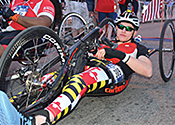 It was a scary time, but the kind and compassionate staff made it less overwhelming and helped our family prepare for the transition to life at home. A social worker told us about the Ambassador Program, which matches inpatients and families with mentors who have previously been through the inpatient rehabilitation experience. We were matched with Marshall, a former patient with a spinal cord injury, and his mother, Margaret, from Ohio. Both boys were injured at around the same age, and love cycling and the outdoors.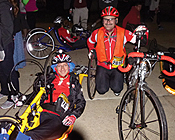 Because Margaret had been in my shoes, talking to her calmed some of my fears and helped me see that life does go on. At the same time, Marshall reassured Josh that life wasn't over just because he couldn't walk anymore. Marshall was able to answer Josh's questions about daily living with a spinal cord injury. He also told Josh about the Baltimore Running Festival, which inspired him to continue cycling using a handcycle. In October, the two met in person at the event, and both plan to participate in next year's hand cycling marathon.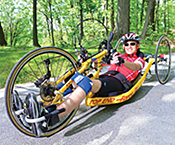 Our contact with the Garber family was meaningful in a way I am sure they don't know. Life now is a lot different, yet in many ways the same. We live slower and love more, and Josh's zest for life and busyness have not changed. He still has big aspirations and takes advantage of every opportunity. This year, Josh played percussion in his high school band, sang in the choir, and landed one of the starring roles in his school musical.
The whole experience surrounding Josh's spinal cord injury has made our family stronger and more connected, and has shown us the strength of our son. It has taught all of us not to take even the smallest thing for granted, because life can change in the blink of an eye.