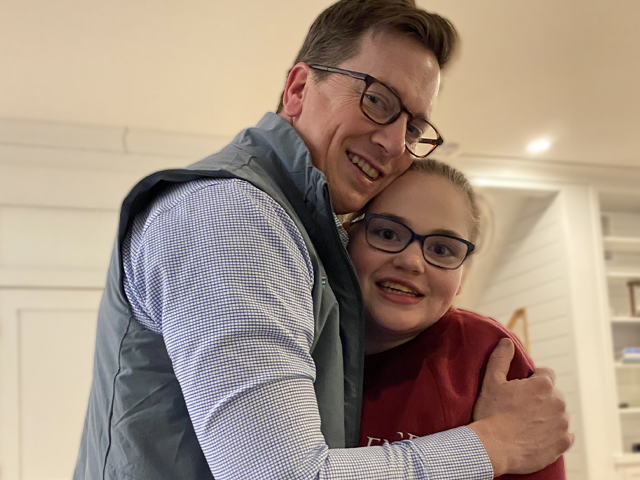 By Laura Farmer
In many ways, Catalina is a lot like other teenagers. She loves Taylor Swift. She can be sassy, rolling her eyes at her mom one minute and teasing her brother the next. She recently attended the homecoming dance at her general education high school, where she made the honor roll this past year. She loves to be active, enjoying adaptive downhill skiing, water tubing, horseback riding and even joining her family on a safari in Africa.
But in other ways, behaving like a typical teen is hard for Catalina. That's because she has Rett syndrome.
What's Rett Syndrome?
Rett syndrome is a rare genetic neurological and developmental disorder that affects the way a child's brain develops, causing a progressive loss of motor and communication skills. It primarily affects girls and women, becoming apparent sometime between 6 months and a year old.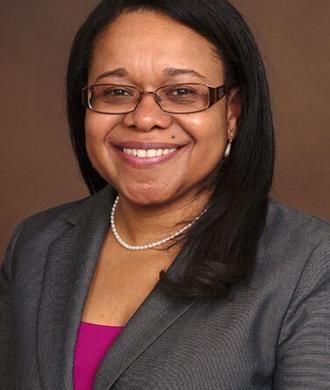 "Rett syndrome affects the simple activities that we take for granted," explains pediatric neurologist and research scientist Dr. Constance Smith-Hicks, director of Kennedy Krieger Institute's Center for Synaptic Disorders, a program that includes the Institute's Rett Syndrome and Related Disorders Center of Excellence and SYNGAP1 Center of Excellence.
"The majority of people with Rett syndrome are not able to walk," she explains. "They do not have functional hand use, and if they do, it is very limited. Speech is another area of difficulty—most individuals with Rett syndrome are nonverbal and rely on assistive communication devices. They may struggle with feeding, and many require a gastronomy tube, which delivers nutrition directly to their stomach. Epilepsy is another common trait of people with Rett syndrome."
Rett syndrome affects people differently, and each individual's journey, from their first symptom to diagnosis and treatment, is unique.
Catalina's Journey
Catalina was a typically developing baby who met all her early milestones right on schedule. But when she was a little over a year old, she started getting very quiet. Her mom, Dr. Dominique Pichard, who at the time was completing a dual residency in internal medicine and pediatrics, suspected Rett syndrome. Catalina's pediatrician found a specialist to conduct a wide range of genetic tests.
Dr. Pichard, now chief science officer for the International Rett Syndrome Foundation, vividly remembers where she was when she got the call with the results of those tests. She was four months pregnant with their second child, had just finished a long shift at the hospital and was sitting at home with Catalina.
The neurologist called, excited to have arrived at a diagnosis. Dr. Pichard recalls him saying: "Guess what? You were right! She has Rett syndrome!" She called her husband, Kevin, at work and told him the news. "He later told me he just went into a conference room and started bawling," she says.
Moving Forward With Rett Syndrome
For people with Rett syndrome, a wide range of medical and therapeutic supports can help maintain existing skills. But this requires a lot of appointments, which can be difficult for busy families.
"I would seek out the various specialists, but everyone was scattered at different health systems. So, coming to Kennedy Krieger and having all of Catalina's services in a central place was a load off my mind," Dr. Pichard says. "For a complex, multisystem disorder like Rett, where you may have appointments with lots of different subspecialists, it's so helpful that at Kennedy Krieger, everyone on Catalina's care team can see each other's notes. It really makes for better, more comprehensive care."
Catalina first came to Kennedy Krieger to meet with a speech-language pathologist, who helped her improve her communication skills through an eye-gaze communication device. She also does physical therapy at the Institute with Dr. Jennifer Brashears, who has helped her sit and stand independently, and walk up and down stairs.
"Jen has been phenomenal," Dr. Pichard says. "She has given Catalina skills that increase her independence. This builds her self-esteem. I can tell she feels more accomplished and confident, which we then see trickle into other areas of her life."
For most people with Rett syndrome, the goal is to maintain existing skills. But Catalina, remarkably, has demonstrated that it's possible for people with Rett syndrome to improve their skills. Both Dr. Pichard and Dr. Brashears theorize that Catalina's progress may be due, in part, to research advances in Rett syndrome treatment.
"She's able to hug!" – Dr. Brashears
Advances in Rett Syndrome Research
Rett syndrome is caused by mutations in the MECP2 gene—the piece of genetic code necessary for the normal functioning of the two main types of cells in the brain, Dr. Smith-Hicks says. When this gene is altered, the nerves don't "talk" to each other appropriately, impairing their functioning.
Under Dr. Smith-Hicks' leadership, Kennedy Krieger has participated in significant studies and clinical trials, including a recent multiple-site clinical trial of a new investigational drug. "But while we know this, identifying treatments that target the core features of Rett syndrome has been challenging," she adds. "but having several new drugs at different stages in development makes for an exciting time in Rett syndrome research."
A passionate advocate for advancing medicine through research, Dr. Smith-Hicks is also studying QTc prolongation—when the heart takes longer than normal to recharge between beats—a cause of sudden death for people with Rett syndrome. She's also collaborated with Dr. SakkuBai Naidu, a pediatric neurologist at Kennedy Krieger, on a clinical trial studying the effectiveness and safety of the drug dextromethorphan. Preliminary results suggest the drug may lessen core symptoms of Rett syndrome by increasing language reception and reducing seizures and behavioral hyperactivity. Other ongoing studies by researchers elsewhere look at how similar drugs may be used to treat Rett syndrome.
"Research can take the form of observations or intervention studies," Dr. Smith-Hicks says. "Both have tremendous value, the former in determining the natural progression of a disorder, and the later in identifying disease-modifying agents. It is only through research that we can be reasonably confident in the side-effects profile and effectiveness of the intervention. The potential for disease-modifying treatments to improve quality of life for children and families is highly motivating."
Caring for Catalina
Significantly for Catalina, Rett syndrome research may have helped her gain one very important skill: the ability to hug.
"For a long time, Catalina held her hands and arms close to her chest," Dr. Brashears says, speculating that "The combination of physical therapy and a treatment approach based on the latest research may have helped her better control her arm movements, so she's able to give hugs! After not seeing her grandparents in two years, due to the pandemic, she was able to give them each a hug when she finally got to see them again."