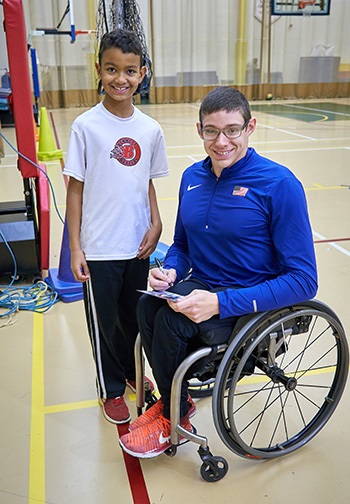 Daniel Romanchuk has a soft spot for Kennedy Krieger. He also has spina bifida, a condition that was diagnosed in utero at 17 weeks. He is unable to walk and uses a wheelchair. Daniel, at age 20, is also an incredible athlete, recently becoming the youngest first-place winner in the men's wheelchair competition at the Boston Marathon and the first American to place since 1993. Daniel followed that win by becoming a world champion at the London Marathon a month later. As with all of his races, for the latter, he had no specific goal except to do his best.
Yes, he's "on fire," as they say, and he's also extremely humble. When asked what has been difficult for him in his life, he replies, "I don't go down hills well." A few years ago, when Daniel was a test athlete for people learning how to classify athletes for the Paralympics, one of the classifiers asked Daniel how his disability affected his everyday life.
Daniel sat and sat and sat, apparently thoroughly perplexed by the question," his mom, Kim, remembers. "A couple of minutes later, he came up with, 'When things are really high, sometimes I can't reach them.' The fact that he couldn't walk didn't even enter his mind as a limitation.
His is an incredible story of determination, athletic prowess and a supremely supportive environment.
Attitude in life is everything. And Daniel's attitude is one of strength. Sometimes you can just tell that someone has been loved a lot along the way, and through his spirit and his attitude, Daniel shows that he has been loved a lot. Plus, he has a lot of love left over to give to others.
When Daniel was a child, his parents enrolled him in Kennedy Krieger Institute's Bennett Institute Physically Challenged Sports Program, an adaptive sports program that offers more than 15 therapeutic sports—plus special motor development classes—to approximately 70 children and teens a week. Daniel trained with the Bennett Blazers, the program's competition team, while he was growing up, and he routinely returns to his Bennett Blazers' roots to help mentor other young athletes with disabilities who are enrolled in the program. Daniel credits the program for embodying the philosophy of "teach children they CAN before someone tells them they CAN'T," and for emphasizing how to live independently.
Daniel was home-schooled until starting college at Parkland College in Illinois (near the University of Illinois, where Daniel trains now), and Kim could give lessons on how to provide a supportive environment for children with special needs. Here is some of her well-earned advice for those who parent children with special needs:
I think a lot of the fear that people experience when thinking about having a child with a disability is the thought that they have to be in control of everything, and that they are on their own—then imagination takes over and creates situations that are much worse than anything that normally happens.
When asked what she recommends to other parents who face similar challenges, she replies,
Just take one day, sometimes one hour, at a time. God doesn't give us strength to deal with an imaginary future. And when all else fails: naps. Naps are good. I do some of my worst imagining when I'm tired, and things seem so much brighter after a little rest.
Regardless of his continuing fame as an athlete, Daniel has made a habit of giving back to the community of children and teenagers with disabilities at Kennedy Krieger. After his recent world championship win in London, he made a mentoring visit to the Institute to inspire other athletes in the sports program. (He's pictured above with Bennett Blazer team member Landon Brown in the Kennedy Krieger High School gym.) Daniel was mentored by older athletes when he was younger, and that mentoring, he says, fuels his eagerness to mentor younger athletes now.
Gerard Herman, co-director (with his wife, Gwena Herman) of the Bennett Institute program, says that,
Daniel was involved with our track program at an early age and had several mentors, [including] Joshua George and [Paralympic champion] Tatyana McFadden (seen above mentoring a younger Daniel). Tatyana provided motivation and raised the level of expectations for all wheelchair racers across the country, as her [race] times began to surpass the boys' times—the mantra became, 'don't let Tatyana beat you…'
Daniel's current mentors are Krige Schabort and Marty Morse, wheelchair racers and coaches who've been racing for years and who, Kim says, "have really poured their time into him." Mentorship has truly heightened the overall success of athletic programs and competitions for youth with disabilities.
Four former Bennett Blazers team members—including Joshua, Tatyana and Tatyana's younger sister Hanna McFadden—have made it to the Adaptive Sports USA Junior Nationals and the Paralympics. Daniel won slots for the finals for the next Paralympics in all wheelchair racing events, won multiple world championships, set several world records and won several Grand Slam marathons (Chicago, New York, Boston and London).
When asked how he came to join the Bennett Blazers, Daniel explains that, years ago, at a Spina Bifida Association gathering, Kim was approached by Tatyana McFadden's mom, who strongly recommended that Kim enroll Daniel in the Kennedy Krieger program when he turned 2 because her own daughter had benefited greatly.
Daniel is not sure yet about what he wants to major in at Parkland College. At the moment, he is very involved with his athletic career. Travel is a part of his life and was easier when he was home-schooled. One thing he has learned along the way from his own mentors and coaches is that, "You can make a plan, but it will likely have to be adapted." And by example, that outlook is something he surely impresses upon those whom he mentors.