By Kristina Rolfes
For Beth Vester and her daughter Morgan, 12, the NICU Follow-up Clinic at Kennedy Krieger Institute has been a steady source of guidance and support over the years. Morgan was born 14 weeks early, weighing just 1 lb., 10 oz., and spent six weeks in the NICU (neonatal intensive care unit) of a nearby hospital. Morgan's pediatrician recommended follow-up care at Kennedy Krieger.
"The NICU Follow-up Clinic allows us to follow children regularly in a multidisciplinary setting," says Mary Leppert, MB, BCh, co-director of the NICU Follow-up Clinic at Kennedy Krieger. "The beauty of the team is that we all see different things when we look at a child. Together we draw a very good picture of the child's function and the child in relation to her family and community."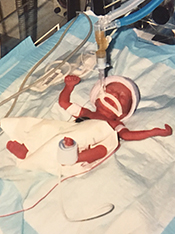 Morgan's team at Kennedy Krieger identified a motor abnormality in her left ankle very early on, which was a mild form of cerebral palsy. Dr. Leppert recommended physical therapy and further monitoring and treatment by the Institute's orthopedic specialists. She also identified through testing that Morgan was at high risk for developing problems with language-based learning and attention as she got older.
"Dr. Leppert told me that, more than likely, Morgan would develop ADHD but we would not see that until fifth grade," recalls Vester. "And that was right on point. That's exactly when we began to see her struggle with learning and comprehension."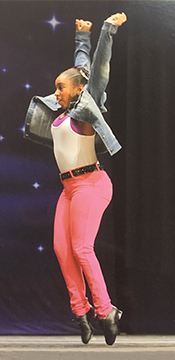 Because Morgan's mom had known the red flags to watch for, she was able to identify right away when to bring her daughter back to Kennedy Krieger, where she was evaluated at the Center for Development and Learning. Dr. Leppert's testing revealed a concern for inattentiveness and distractibility, so she referred Morgan to neuropsychologist Gwendolyn Gerner, PsyD, for further evaluation. Dr. Gerner concurred that Morgan was showing signs of ADHD.
Dr. Gerner gave Morgan's mom recommendations for an IEP (individualized education program) that would offer Morgan the assistance she needed for success in school, such as extended test time, auditory support for reading, and other accommodations for her way of learning. Vester also sought out a school with smaller class sizes where Morgan could get extra attention. "I wouldn't have known any of these things if it hadn't been for Kennedy Krieger," says Vester. "Without them, we would be lost in the public school system, struggling to get by."
The school implemented Morgan's IEP, and six months later, she was earning all As and Bs at school.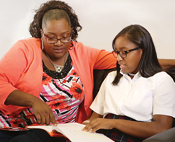 Morgan and her mom exemplify the importance of follow-up after a stay in the NICU. "It's not always apparent at the time of discharge from the NICU what a child may encounter in terms of challenges throughout life," says Dr. Gerner. "Follow-up is critical to monitor for the challenges a child may face, so we can make sure families have very tightly coordinated care, both within Kennedy Krieger and beyond."
Because Vester sought follow-up, she was able to get Morgan the help she needed. "Ms. Vester is a tremendous advocate for her daughter and always has been," notes Dr. Leppert.
Today, Morgan is doing well in school and excelling in dance. "She's shining," Vester says of her daughter. "Dr. Leppert and Kennedy Krieger have made this possible for my daughter…because I followed up. I did the things they told me to do. One day she's going to be anything she wants to because of Kennedy Krieger."
More information about the NICU Follow-Up Clinic can be found in the below video. To learn more about treatment options for developmental and behavioral disorders, visit the Center for Development and Learning page.