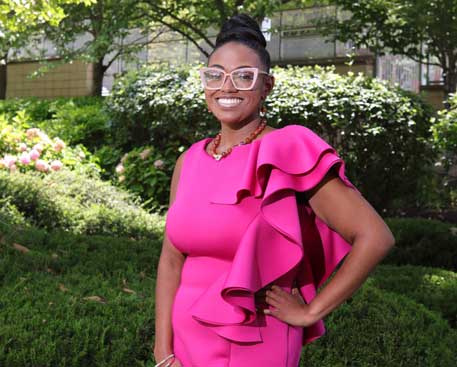 By Ariel Obioma Egbunine
The earliest moments of my life brought my family and me face to face with the limits of scientific knowledge and our understanding of the complexities of human health. I was born via cesarean section in 1999, after doctors detected I wasn't moving and was in perinatal distress while still inside my mother's womb. Unresponsive and cyanotic, I had an Apgar score of only 2 (out of 10). My father recalls whispers of brain death circulating the room.
Chest X-rays and echocardiograms revealed a hole in the wall between the upper chambers of my heart, which was dangerously enlarged and not functioning properly. I was diagnosed with persistent pulmonary hypertension and meconium aspiration and was in dire need of a venoarterial extracorporeal membrane oxygenation (VA-ECMO) machine to do the work of breathing for me.
There was no VA-ECMO machine at the hospital where I was born, but there was one at The Johns Hopkins Hospital, not too far away. I was immediately transferred to Johns Hopkins' pediatric intensive care unit, where my care team was led by Dr. Ivor Berkowitz, a former clinical director of the unit. He placed me in a medically induced coma for four days and provided me with complete cardiac and respiratory life support via the VA-ECMO machine.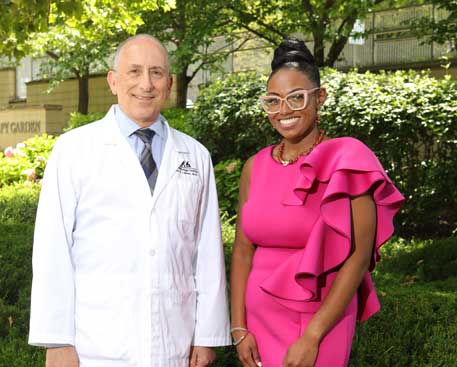 Ariel and Dr. Paul Lipkin reunite for the first time since Ariel was an infant in Dr. Lipkin's care at Kennedy Krieger.
Once stabilized, I spent the next 68 days at Kennedy Krieger Institute's inpatient rehabilitation hospital, under the care of Dr. Paul Lipkin, who now directs the Institute's medical outpatient services. That was followed by two years, seven months and four days of weekly appointments, scans and therapies, many of which took place at the Institute's outpatient center.
While early neurodevelopmental exams revealed mild delays in my gross motor skills, I was later found to be displaying age-appropriate functioning. By my first birthday, my cardiac and other medical abnormalities had self-corrected. However, we still didn't know what had happened to me in utero. Thus, I set out on a mission to find the answer to this unsolved mystery.
Reviewing my clinical notes and speaking candidly with my parents about my birth and early years instilled in me two core values: a desire to advance our medical knowledge to assist in providing resolution in the face of uncertainty, and a promise to apply that knowledge to serve those in need. Driven by these core values, I have committed my future to the study of medicine, embarking on a personal journey dedicated to servant leadership to help underserved families and populations.
While attending middle school at Roland Park Country School in Baltimore, I was invited to join the school's STEM Institute. One of the program's requirements was to complete a yearlong internship in a STEM (science, technology, engineering and math) field during my junior year. With the promise I'd made to help others at the forefront of my mind, I contacted The Johns Hopkins Hospital's ECMO team to ask about internship opportunities. The physician who embraced my passion and took time to listen to my aspirations was none other than Dr. Berkowitz. With more than a decade since our last meeting, Dr. B. was in awe as I stood before him, healthy, happy and smiling—what an unbelievable reunion!
Since graduating from the University of Maryland, Baltimore County, where I studied biochemistry and molecular biology, I've worked as the research coordinator for the Johns Hopkins Children's Center's Pediatric Anesthesiology and Critical Care Medicine team. I worked with nurses and physicians to implement various novel medical techniques into patient care regimens. In August, I began medical school at St. George's University School of Medicine, the next step on my way to becoming a pediatric anesthesiologist.
I am laser-focused on developing the skills necessary to change the life trajectory of others, just as Dr. Berkowitz and Dr. Lipkin and a host of other practitioners did for me when they answered the call. – Ariel Egbunine
I firmly believe that anyone who provides intensive care must care intensely, with passion, integrity and trust. This ethos has sustained my growth and fortified my desire to have a profound and positive impact on every life I'm fortunate to touch. The satisfaction I receive from helping others is fulfilling and invigorating. I am laser-focused on developing the skills necessary to change the life trajectory of others, just as Dr. Berkowitz and Dr. Lipkin and a host of other practitioners did for me when they answered the call. Critical care medicine, with a specialty in the field of pediatric anesthesiology, is the cornerstone of my foundation upon which I will continue to build. It's my calling—and my promise.
Learn about Kennedy Krieger's
Infant Neurodevelopment Center
, which provides medical care to infants who have been discharged from neonatal intensive care units.