Mustafa's parents had always known their son was smart. But because of his limited access to language early in his life, they had a hard time getting others to believe it.
At age 3, Mustafa's doctor in Yemen, where he was born, determined that Mustafa was deaf. Doctors fitted him with hearing aids, but the window for language acquisition—during which he might pick up Arabic, his family's native language—was quickly closing.
A few years later, his family moved to the Washington, D.C., area. Their new public school system evaluated Mustafa, determined that he was both deaf and intellectually disabled, and placed him in a program with students with similar diagnoses.
As time went on, Mustafa, now 8, seemed to learn more while at home with his family than at school. "He just wasn't in the right program," his father, Sakher, says. "We knew his learning was delayed, but we still thought he could do better."
Mustafa's parents found a new audiologist, who recommended a trip to Kennedy Krieger Institute's Deafness-Related Evaluations and More (DREAM) Clinic. Then, one day earlier this year, Mustafa and his parents traveled to Baltimore to meet with Dr. Rachael Plotkin, one of the clinic's three clinical neuropsychologists, for an evaluation that would change their lives.
'The Little Clinic That Could'
Dr. Jennifer Reesman founded the DREAM Clinic within the Institute's neuropsychology department in 2010. Although it's a small clinic, it's always had a big impact on the children and families it serves—and it's the largest of its kind in the country.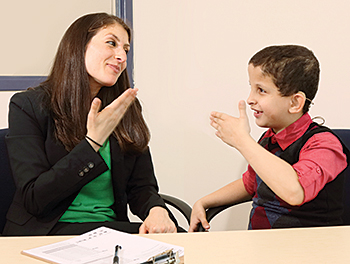 "We're the little clinic that could," says Dr. Reesman, the clinic's supervising neuropsychologist.
From the start, the clinic has given children who are deaf or hard-of-hearing the opportunity to receive a full evaluation, referrals for other services, and training on how to communicate with others—whether through American Sign Language (ASL), spoken language, assistive technology or some other form of communication.
Patients and their families fly to Baltimore from all over the country and around the world for evaluations at the clinic. Nowhere else can children receive so many services and have direct access to language, says Dr. Reesman, who, along with Dr. Plotkin, is fluent in ASL.
The clinic also collaborates with other Kennedy Krieger departments and—when appropriate—refers patients to other programs, such as the Institute's Audiology, Assistive Technology, and Speech and Language Outpatient clinics. This interdisciplinary approach ensures that patients receive the best and most inclusive care possible.
"We want to understand the unique situation of every one of our patients," Dr. Reesman says. "Our goal is to give children access to whatever they need to make their way in the world, and to ensure that they receive excellent care."
Language Opens Doors
Dr. Plotkin and her team of graduate-level trainees evaluated Mustafa in the clinic and conducted a school observation earlier this year. What they found proved his parents correct: Long-standing language difficulties masked Mustafa's strong cognitive potential. Because of inconsistent access to sound and language over the course of his childhood, Mustafa had not been able to demonstrate his learning and knowledge, and had, as a result, been misdiagnosed as having an intellectual disability.
"Ask him his age, and he couldn't answer, but give him a visual puzzle, and he'd figure it out," Dr. Plotkin says.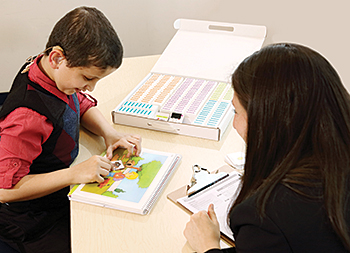 Mustafa's situation is not unique. "Many of the children we evaluate have been misdiagnosed—often with intellectual disabilities," Dr. Reesman says.
Dr. Plotkin and her team recommended that Mustafa's family and educational program focus on developing his functional communication skills via the Picture Exchange Communication System (also known as PECS), which facilitates communication through pictures. Mustafa picked it up very quickly and now uses it to communicate with his teachers, family and friends.
He's also starting to learn ASL, with Dr. Plotkin's help. "With a consistent language at home and at school," Dr. Plotkin says, "Mustafa will likely be better able to learn and demonstrate his potential even more quickly." Dr. Plotkin is also facilitating the transfer of Mustafa's schooling to the Maryland School for the Deaf by the start of the 2017–2018 school year.
Mustafa's family is excited about his progress. "Dr. Plotkin sees the potential in my son, and she's gone above and beyond to help him," Sakher says. And Mustafa's face lights up when he sees Dr. Plotkin and they start signing—talking—with one another. Language is opening up a whole new world for him.
The Right Diagnosis
While Mustafa is just beginning his journey, Julian is gearing up to start his senior year at a mainstream high school, where he participates in choir, theater and band—he plays percussion—and is president of the anime club. "He's on track to go to college," says his mother, Tiffany.
Julian has been hard of hearing since birth. He received hearing aids early on, but they seemed to have no useful effect on him. Doctors thought that was because he was hard of hearing, but his family suspected there was more to it. Every diagnosis seemed wrong to Tiffany.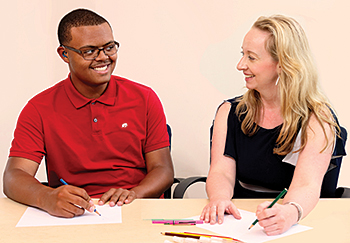 When Julian was 3, his pediatrician suggested an evaluation at Kennedy Krieger, where he received a diagnosis of autism spectrum disorder and—for the first time—the treatments he needed. Julian worked with specialists at Kennedy Krieger's Center for Autism and Related Disorders, and Dr. Reesman guided him toward a better understanding of how he learns best. She worked with Julian and his family members and teachers to develop a plan for his education that would ensure his needs were met and keep him on a path to success.
"Finding Dr. Reesman was a huge milestone for us," Tiffany says. "We'd had a hard time finding specialists who could differentiate between how Julian's hearing loss was affecting him, and how his other conditions were affecting him. Dr. Reesman was able to zoom in on exactly what we needed to do for him"—something the clinic does for its patients every day.
"All that Julian needed to be able to shine and be himself was to find the right people," she adds. "He found them at Kennedy Krieger, and they've been family for a long time."