By Christianna McCausland
Kevin DiLegge is a competitor. According to his mother, Mary, her son likes to do just about anything except sit at home. Now 26, Kevin was diagnosed with cerebral palsy as an infant. Thanks to innovative physical therapy interventions at Kennedy Krieger Institute, Kevin learned to walk for the first time with a gait trainer and began riding a bike on his own last year.
Building a Lifelong Relationship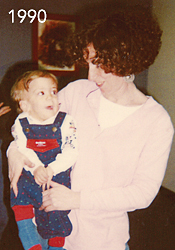 Mary can still recall when she first met Alexander Hoon, M.D., M.P.H., director of the Phelps Center for Cerebral Palsy and Neurodevelopmental Medicine at Kennedy Krieger. Mary had taken her father to an eye doctor appointment at Johns Hopkins when Dr. Hoon happened to pass by and notice Kevin, then just six months old. Dr. Hoon said if Mary ever needed help, to call him. Kevin was formally diagnosed with cerebral palsy a few months later, and Mary immediately called Dr. Hoon.
"Dr. Hoon is very outgoing and knows how to connect with people, so he made us very comfortable," she remembers.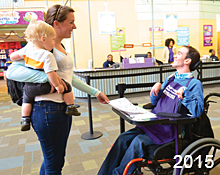 Dr. Hoon started Kevin on physical and occupational therapy at Kennedy Krieger and connected the family with resources in the community. As he got older, he received therapy and speech services through Kennedy Krieger schools. Through transition specialists at the Institute, Kevin was matched with a job at Port Discovery, where he has worked since graduating Kennedy Krieger High School. For the last six years, he has been an enthusiastic participant in Festival of Trees, raising funds for the Institute.
"As a parent of a child with a disability, [Kennedy Krieger] has provided a network of resources for guidance and suggestions of where to turn and what to do," says Mary.
Mary credits Kennedy Krieger with assisting Kevin's speech and helping him to operate his own power chair. Though he lacks the hand control to operate the chair manually, his therapists thought he could drive the chair with his head, an inspired idea that has allowed Kevin to use his wheelchair independently. "If someone thinks of something they think he can do, he's first in," says Mary. "He gets that from Kennedy [Krieger] and from their expanding of his horizons."
Releasing the Inner Competitor
As young adults with cerebral palsy like Kevin get older, they face unique challenges. There is less equipment available for adults with cerebral palsy, and for those who have been in physical therapy all their lives, it can be hard to come up with new therapies that keep them engaged. Karen Good, a physical therapist at Kennedy Krieger, started working with Kevin five years ago when he was referred for aquatic therapy. Based on her early observations, she anticipated that his movement would be limited. What she discovered in the pool was a wonderful surprise.
"Through trials of various kinds of flotation, I realized he could do reciprocal kicking and that he could swim," she remembers. "When you floated him and helped him steer, he could propel himself under his own power. That was a pivotal point for Kevin."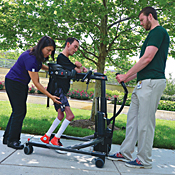 Good noticed that Kevin's movement in the pool was similar to the pattern of walking. She decided to put him on the aquatic treadmill. Sure enough, he could walk with little assistance. Kevin's advances dovetailed with the arrival of a new piece of equipment—a gait trainer with trunk support that can facilitate walking. Karen helped Kevin initiate stepping with one leg, and he was able to walk—for the first time since childhood—with little additional help.
Solo Cyclist
The more Good worked with Kevin, the more she realized his interests and his desire to try and succeed at new things were endless. Based on the pattern of his movement, she wanted Kevin to try to bicycle. Not surprisingly, Kevin was more than willing, but equipment for someone Kevin's size was not easily available. Good sought out a specialized trike sized for an adult that Kevin could use. To everyone's joy and amazement, Kevin got on the bicycle and propelled himself up and down the halls of the Institute. Good says that Kevin is a good example of how patients can benefit beyond what might be expected from a typical clinic.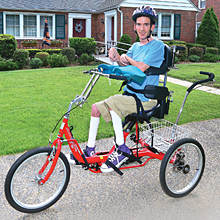 "The aquatic center is a unique resource, and the gait trainer and the trike that he used are not standard therapy equipment and not standard in most clinics," she says. "These events were made possible by having the right equipment at the right time and having the vision to try it."
Kevin received his own bicycle in the fall of 2014 and was able to pedal it around the neighborhood. During the winter, he was able to keep exercising at the Institute's wellness center. His mother says the impact Kennedy Krieger has had on Kevin is nothing short of life changing. "Kevin knows he has a disability, but he doesn't think that's going to stop him."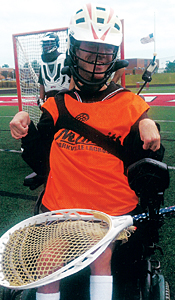 The Finish Line
Kevin's passion for sports led him to join an adaptive lacrosse team, and he participates in marathons and triathlons through Athletes Serving Athletes, an organization that pairs able-bodied athletes with athletes with disabilities. He also began adaptive sailing and plans to compete in races this summer. Kevin says what he likes best about participating in these events is the competition. "It just gets me fired up," he says, adding that "It's important for me to be physically active through PT and competitive sports because I like a challenge. I live up to it and that makes me feel good."
Kevin recently learned he qualified for next year's Boston Marathon. As for Good, she aspires to expand the biking program at the Institute. There are many more patients like Kevin who would benefit.