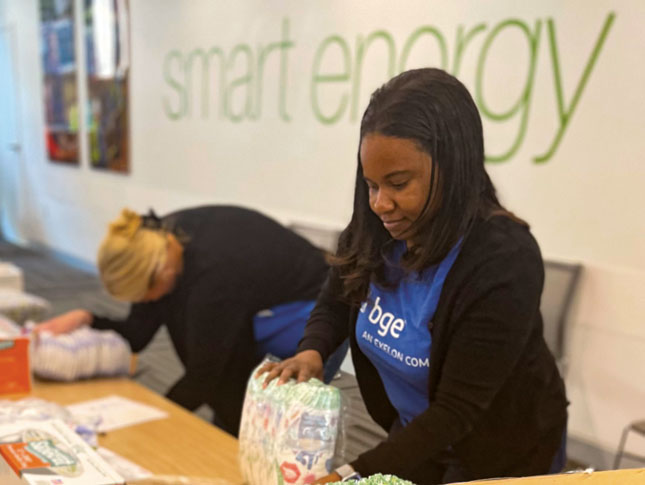 BGE employees assemble care packages for families of Kennedy Krieger's patients.
Two years ago, Tanya Terrell, director of corporate community impact for BGE, reached out to Kennedy Krieger Institute to ask: How might BGE turn its longtime support for Kennedy Krieger into a more impactful partnership with the Institute?
"At BGE, we deeply appreciate Kennedy Krieger's commitment to Baltimore," Tanya says. "The Institute isn't just placed here—it's a critical part of the community fabric in very intentional ways." So, too, is BGE, Maryland's largest electricity provider and the oldest gas utility company in the nation. With community service as their common ground, the two organizations hatched a new type of partnership, giving BGE employees opportunities to volunteer with Kennedy Krieger, and vice versa.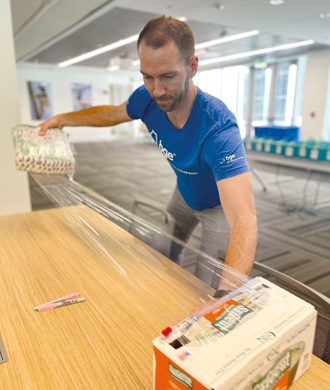 In April of 2022, a panel of Kennedy Krieger employees gave a virtual presentation to BGE's Corporate Community Impact Team on the Institute's work. Afterward, attendees assembled hundreds of diapers into care packages for families of patients at Kennedy Krieger, as a volunteer activity. Last fall, Institute psychologist Dr. Lindsay Cirincione gave a presentation to hundreds of BGE employees on youth mental health at the annual conference of ENABLED, a resource group serving employees of Exelon, BGE's parent company, with disabilities or who are caregivers for people with disabilities.
The Institute isn't just placed here—it's a critical part of the community fabric in very intentional ways." – Tanya Terrell
"We listen to our employees, and this was information they wanted to know," says ENABLED Vice President Tina Mitchell, a BGE business support manager.
BGE also sponsors the Institute's annual Hats & Horses and Festival of Trees fundraising events, and BGE employees help decorate the Institute's hospital for the holidays. In 2017, BGE sponsored a new playground for Kennedy Krieger's Fairmount Campus school. BGE employees even participated in the project's kick-off—tearing down the old equipment.
"BGE is all about serving the community," Tina explains. "It's exciting when you can get out of the office and help someone—it's very rewarding. We're grateful for the opportunity."
Interested in partnering with Kennedy Krieger?
Learn more.