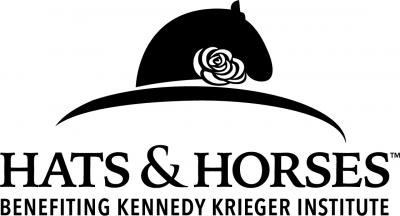 The Charles T. Bauer Charitable Foundation
Matching Gift Challenge Campaign
was held September 30 through October 7, 2021.

CHALLENGE MET! Thank you for your support!
We raised $88,205, which means we met the challenge! The Charles T. Bauer Charitable Foundation
will donate $50,000 to this effort, resulting in a grand total of $138,205 to support
Kennedy Krieger's clinical trial of PediaCORE, an innovative movement training system
designed to help children with movement disorders.
Please visit our Donor Wall to view a list of the generous supporters who made this possible.
We look forward to celebrating and acknowledging all those
who've donated to this campaign at our 6th Hats & Horses event!
Thursday, May 5, 2022 • 7 to 11 p.m.

New Location!
The Winslow at the Parker Metal Building
33 West Ostend Street, Baltimore MD 21230

Event Co-Chairs:
Cynthia Cavanaugh, Aimee Fulchino and Shari Tompkins
WIN's sixth annual Hats & Horses Benefiting Kennedy Krieger Institute will be held at a new location—The Winslow, in downtown Baltimore. Guests will enjoy expertly prepared cuisine by Linwoods, specialty cocktails, and auctions, and then dance the night away!
This year, funds raised through the event will support a clinical trial of PediaCORE, an innovative movement training system created by a design team from the Johns Hopkins University Whiting School of Engineering and mentored by Dr. Amy Bastian, Kennedy Krieger's chief science office and director of the Institute's Center for Movement Studies. Watch this brief video that will introduce you to PediaCORE and provide a high-level explanation of how this system is posed to change young lives.
Each year this event welcomes stakeholders committed to supporting Baltimore's business, retail and nonprofit communities. Over the past five years, Hats & Horses sponsors and guests have collectively raised more than $1,480,000 to support the important work of Kennedy Krieger.

Sponsor Information

Kennedy Krieger Institute reminds attendees that because the COVID-19 virus continues to circulate, all participants should exercise appropriate precautions to keep themselves and others safe. We are monitoring the situation on a regular basis and will follow current guidelines for public gatherings, and we appreciate your support. Please contact Allyson Peters at PetersA@KennedyKrieger.org If you have any questions.