There are a lot more ways to give than just by hitting the "donate" button!
Hosting your own fundraising event for Kennedy Krieger is a great way to unite friends, family, and co-workers around a single cause, and have a lot of fun doing it. Not only will you help us raise much-needed funds, but you'll also help raise awareness of our work in your community.
You can host almost any type of event you can imagine - let's get creative! They can range from a quiet dinner party with friends to a 5K run or golf tournament involving dozens (or more!) people. No event is too small or too large!
Ready to get started? Create your fundraiser here! For larger events, please fill out this form or scan the QR code.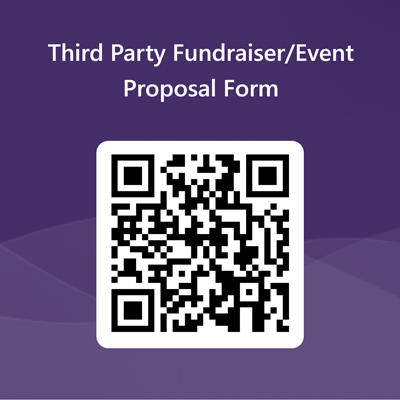 Volunteering is a wonderful way to make a difference in the life of a child. It's also a fantastic way for you to experience our work first-hand, make personal connections with our staff and the children we serve, or just have a good time helping others.
If you're interested in volunteering, here are some of the most popular ways you can help:
Individual volunteer. Volunteers typically assist staff with patient activities such as playing games, helping with crafts, or even performing a special talent. If you are interested in making a difference, contact the Patient Experience and Community Engagement department at 443-923-2640.
Group volunteer. Many groups, organizations, and companies assist us with on-site volunteer days, collecting items from our Wish List, organizing food drives, or helping a family through our Adopt-A-Family Holiday Gift Program.
Special events volunteer. Our many special events couldn't happen without the help of our enthusiastic and energetic volunteers. Check out our event calendar to see our upcoming events and learn more about their volunteer needs.  
Women's Initiative Network. The Women's Initiative Network is a membership organization dedicated to making a positive impact on families and children at Kennedy Krieger through activities, events and fundraisers.
Therapeutic Foster Care. We urgently need foster and respite parents to help care for children on a full-time or part-time basis. Please visit our Therapeutic Foster Care page for more information.
Make a difference! Get involved with us here at Kennedy Krieger! If you'd like to get started, please contact us below:
Patient Experience and Community Engagement
If you're interested in volunteering, please call us at 443.923.2640.
Special Events Volunteers
If you're interested in volunteering at one of our special events, please email Events@KennedyKrieger.org
Therapeutic Foster Care
If you're interested in becoming a foster parent, please call Stephanie King at 443.923.3238.