Meet Ashley Burton, a special education teacher at the Kennedy Krieger Fairmount School.
Ashley began working with students with disabilities in 2009, serving as an aide to summer campers with autism. Throughout her time pursuing an undergraduate degree at Morgan State University, Ashley worked as a dedicated aide at multiple public and non-public high schools. Additionally, Ashley was a member of the Morgan State University dance team, which, as fate would have it, performed for the students at the Fairmount School every winter. It was during these performances that Ashley first met the students we serve, which helped spark an interest in working in special education and she took a job as a classroom assistant at the Fairmount School.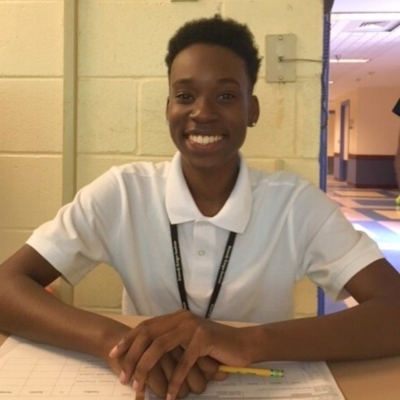 "The population of students I work with inspired me to pursue a career in education," Ashley says. "To experience being myself and connecting with students with different needs and backgrounds, and to witness their progress first-hand… it was an experience I only felt here at Kennedy Krieger."
Today Ashley is a teacher for the very same classroom that helped give her the confidence to pursue a career in special education.
When asked what her proudest accomplishment is, Ashley notes her upcoming graduation, in which she will be receiving a Master of Arts in Teaching. Additionally, Ashley prides herself on overcoming the fear of not being good enough, and proving her skeptics wrong.
This Teacher Appreciation Month, we applaud Ashley for her perseverance and commitment to the students she works with. Thank you, Ashley, for being such an asset to the Kennedy Krieger team!