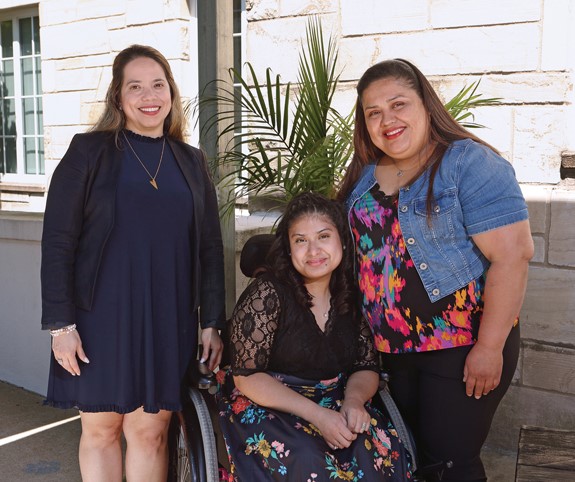 Dr. Lyda Holguin-Gaviria, Andrea and María, Andrea's mom.
Dr. Lyda Holguin-Gaviria had just returned to work from maternity leave. It was January of 2021, and she was rebuilding her patient list at Kennedy Krieger Institute's Center for Child and Family Traumatic Stress.
The center's AVANZA! Clinic, which provides trauma-informed therapy for Spanish-speaking families, had assigned her a new patient—Andrea, a teen who had experienced immigration trauma while moving with her family to the United States. Diagnosed with spina bifida, Andrea also had learning disabilities and daily medical needs. She and her mother, María, primarily spoke Spanish.
"I'd never worked with a patient with so many combined medical and learning needs before," says Dr. Holguin-Gaviria, a licensed professional counselor who offers services in Spanish as well as English. Andrea, who turns 16 this summer, was on the waiting list for the center's Horizons Clinic, for patients with medical needs, developmental disabilities and psychological trauma, but at the time, none of that clinic's providers spoke Spanish. With encouragement from her supervisor, social work manager Emily Driscoll-Roe, Dr. Holguin-Gaviria agreed to see Andrea.
Andrea needed a lot of services, but due to the language barrier, it had been hard for María to access them. And Andrea's history of trauma made it difficult for mother and daughter to put their trust in others. But as Dr. Holguin-Gaviria began working with them, she gradually earned their trust. She also went from doubting whether she was the right therapist for Andrea, to bringing a large and varied group of Kennedy Krieger clinicians, teachers, advocates and other specialists together to help Andrea.
"Working with Andrea has been an amazing experience," she says. "The collaboration has been incredible. So many people have come together to make Andrea's and María's lives better."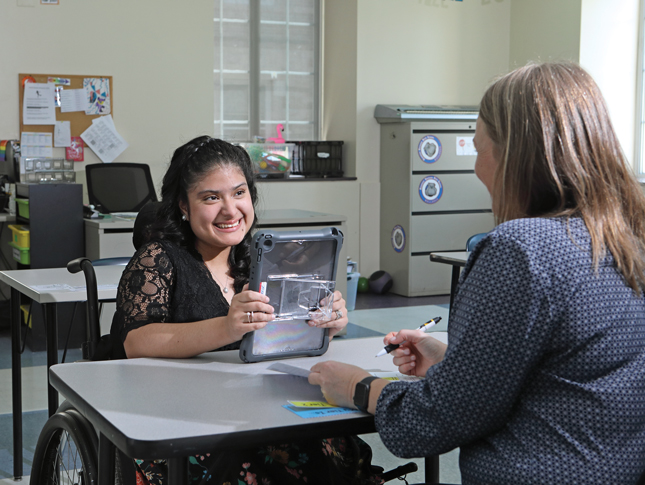 An Incredible Team
Andrea's care team comprises a variety of specialists, many from the Institute's Philip A. Keelty Center for Spina Bifida and Related Conditions. Neuropsychologist Dr. Christina Love evaluated Andrea in Spanish and English, and her report informed Andrea's care plan in a culturally responsive manner. Social worker Bridget Payne helped María get a dedicated parking space in front of her home and a placard for her car indicating a need for accessible parking. Physical therapist Megan Holzer coached Andrea in using her power wheelchair and ordered a sit-to-stand device for her to use at home. Nurse coordinator Annie Holm and nurse educators from the Institute's Specialized Health Needs Interagency Collaboration brainstormed better ways for Andrea to receive medical care at home and at school. Child life specialist Eve Lukowski is helping Andrea cope with medical procedures. Dr. Sarah Korth is Andrea's pediatric physiatrist and manages her spina bifida-related medical care.
To encourage collaboration and communication, Dr. Holguin-Gaviria started an email thread for the group. "The immediate response was incredible," she says. "The email thread helped everyone work together to support each other in achieving good outcomes for Andrea."
She also reached out to attorney Mallory Legg, director of the Institute's Project HEAL (Health, Education, Advocacy, and Law), which provides comprehensive advocacy and civil legal services for patients and their families at Kennedy Krieger. Andrea's school, which served students with extremely complex needs, was not a good fit for her—neither academically nor socially.
"Andrea wanted to be somewhere where she could be more social," explains Legg, who secured funding from a private donor to cover a portion of Project HEAL's sliding-scale fee for legal services. She met multiple times with representatives of Baltimore City Public Schools. Her advocacy secured Andrea a spot at Kennedy Krieger High School, where she enrolled in early 2023.
Kennedy Krieger significa esperanza." – María
A New Start
Andrea is thriving at Kennedy Krieger High School. She loves talking with classmates and playing the card game Uno® with them at the end of the school day. "I like that there are nice people at school," she says. Her favorite class is art, and she wants to be a nurse.
"She's on-board with everything and always tries hard," says her teacher, Gabriela Bandi. "She considers this a restart—a refresh. Every day, she enters the classroom smiling and waving to everyone."
María is very thankful. "Kennedy Krieger significa esperanza," she says—"Kennedy Krieger means hope."
Now that Andrea's immediate needs are being met, Dr. Holguin-Gaviria is helping her cope with the trauma she has experienced. And while Dr. Holguin-Gaviria once doubted her ability to help Andrea, she now has a better sense of just how much she's capable of doing—more than she ever thought possible. She recently joined the Horizons Clinic staff and has become a strong advocate for people with disabilities.
She's grateful for the opportunity to work with Andrea and others like her. "I get to see the other side of the trauma, when people overcome their trauma and realize it doesn't define them, that they can achieve their goals and become even stronger," she says. "It's a powerful thing."