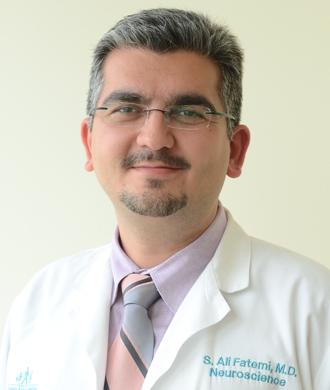 Chief Medical Officer
Kennedy Krieger Institute
707 N. Broadway, 500V
Baltimore, MD 21205
United States
About
Ali Fatemi, MD, is the Chief Medical Officer at Kennedy Krieger Institute, a pediatric neurologist and the director of the Division of Neurogenetics and the Moser Center for Leukodystrophies, an investigator at the Hugo W. Moser Research Institute at Kennedy Krieger Institute and holds the Blum-Moser Chair for Pediatric Neurology. Dr. Fatemi is also professor of neurology and pediatrics at Johns Hopkins University.
Education
Dr. Fatemi received his medical degree from the Medical University of Vienna, Austria in 1999. After graduation, he served as a researcher and lecturer at the Institute for Medical Chemistry in Vienna and completed an internship in pediatrics at the Vienna General Hospital. He was recruited by Dr. Hugo W. Moser as a post-doctoral fellow in neurogenetics and neuroimaging research at Kennedy Krieger Institute in 2001. During this initial period at Kennedy Krieger Institute, Dr. Fatemi collaborated with a team of scientists and developed new imaging methods in patients with leukodystrophies, a group of rare genetic diseases that affect the brain's white matter and coordinated an internet-2 based imaging network for these diseases. He then left Kennedy Krieger Institute to train in general pediatrics and then completed a child neurology residency at the Massachusetts General Hospital, an affiliate of Harvard Medical School, in Boston. Dr. Fatemi has returned to the Kennedy Krieger Institute in 2008 as a faculty member and founded the Moser Center for Leukodystrophies in 2013.
He is a member of the Child Neurology Society, the International Child Neurology Association, the Society for Neuroscience, the American Academy of Neurology and the American Society of Neurochemistry. He has served as ad hoc reviewer for numerous scientific journals and grant study sections. He also serves as a member of the Scientific Advisory Board of the United Leukodystrophy Foundation, the Board of Directors of ALDConnect, a non-profit international consortium, and as a member of Drug Safety and Monitoring Board (DSMB) of several clinical trials.
At the Kennedy Krieger outpatient center, Dr. Fatemi evaluates children with a variety of neurologic problems. His greatest interest is in genetic and acquired conditions that affect the brain's white matter and in genetic causes of neurodevelopmental disabilities.
Research
The brain's white matter consists of axons, the "cables" that build up a complex network of connections between different neurons, these axons are wrapped by oligodendrocytes, cells that produce a thick membrane, referred to as myelin, which is important for the isolation and protection of axons. Another group of cells, referred to as astrocytes, are also important constituents of white matter and serve as gatekeepers for nutrients that enter the brain and play a role in brain metabolism. Disorders of white matter can either affect the axon, the oligodendrocyte, or the astroycte.
Dr. Fatemi's research encompasses bench and clinical research. His laboratory focuses on oligodendroglial biology, cell-based therapies, and nano-medicine therapies in disorders of myelination. His clinical research focuses on X-linked adrenoleukodystrophy, and genetic causes of cerebral palsy.
In the laboratory Dr. Fatemi's group has shown that a specific precursor cell type, called glial restricted precursors, when transplanted into the brain, can restore white matter injury in mice, and one arm of research is currently focusing on identifying the factors that these cells release that result in this improvement. In collaboration with nanomedicine experts, his group is currently exploring the utilization of nanodendrimer devices as a therapeutic strategy in white matter injury. A third arm of research is currently exploring the disease mechanisms in adrenoleukodystrophy.
In terms of clinical research, Dr. Fatemi's group has utilized genomics techniques in patients with neurodevelopmental disabilities and shown that identifying a molecular diagnosis in these patients affects management. The study, published in 2014 in the Annals of Neurology, was recognized by Neurology Today as among the three most-noteworthy neurogenetics research findings of the year. Dr. Fatemi also heads the translational and clinical research program at the Moser Center for Leukodystrophies which focuses on adrenoleukodystrophies.
Related Links
Srivastava S, Desai S, Cohen J, Smith-Hicks C, Barañano K, Fatemi A, Naidu S (2018). Monogenic disorders that mimic the phenotype of Rett syndrome. Neurogenetics. 19(1), 41-47.
Poretti A, Meoded A, Fatemi A (2016). Diffusion tensor imaging: A biomarker of outcome in Krabbe's disease. J Neurosci Res. 94(11), 1108-15.
Rodan LH, Cohen J, Fatemi A, Gillis T, Lucente D, Gusella J, Picker JD (2016). A novel neurodevelopmental disorder associated with compound heterozygous variants in the huntingtin gene. Eur J Hum Genet. , .
Massaro AN, Evangelou I, Brown J, Fatemi A, Vezina G, McCarter R, Glass P, Limperopoulos C (2015). Neonatal neurobehavior after therapeutic hypothermia for hypoxic ischemic encephalopathy. Early Hum Dev. 91(10), 593-9.
Paciorkowski AR, Traylor RN, Rosenfeld JA, Hoover JM, Harris CJ, Winter S, Lacassie Y, Bialer M, Lamb AN, Schultz RA, Berry-Kravis E, Porter BE, Falk M, Venkat A, Vanzo RJ, Cohen JS, Fatemi A, Dobyns WB, Shaffer LG, Ballif BC, Marsh ED (2013). MEF2C Haploinsufficiency features consistent hyperkinesis, variable epilepsy, and has a role in dorsal and ventral neuronal developmental pathways. Neurogenetics. 14(2), 99-111.
Verina T, Fatemi A, Johnston MV, Comi AM (2013). Pluripotent possibilities: human umbilical cord blood cell treatment after neonatal brain injury. Pediatr Neurol. 48(5), 346-54.
Phillips AW, Johnston MV, Fatemi A (2013). The potential for cell-based therapy in perinatal brain injuries. Transl Stroke Res. 4(2), 137-48.
Lee RW, Bodurtha J, Cohen J, Fatemi A, Batista D (2013). Deletion 12p12 involving SOX5 in two children with developmental delay and dysmorphic features. Pediatr Neurol. 48(4), 317-20.
Poretti A, Blaser SI, Lequin MH, Fatemi A, Meoded A, Northington FJ, Boltshauser E, Huisman TA (2013). Neonatal neuroimaging findings in inborn errors of metabolism. J Magn Reson Imaging. 37(2), 294-312.
Falahati S, Breu M, Waickman AT, Phillips AW, Arauz EJ, Snyder S, Porambo M, Goeral K, Comi AM, Wilson MA, Johnston MV, Fatemi A (2013). Ischemia-induced neuroinflammation is associated with disrupted development of oligodendrocyte progenitors in a model of periventricular leukomalacia. Dev Neurosci. 35(2-3), 182-96.
Phillips AW, Falahati S, DeSilva R, Shats I, Marx J, Arauz E, Kerr DA, Rothstein JD, Johnston MV, Fatemi A (2012). Derivation of glial restricted precursors from E13 mice. J Vis Exp. (64), .Fatemi A, Wilson MA, Phillips AW, McMahon MT, Zhang J, Smith SA, Arauz EJ, Falahati S, Gummadavelli A, Bodagala H, Mori S, Johnston MV (2011). In vivo magnetization transfer MRI shows dysmyelination in an ischemic mouse model of periventricular leukomalacia.J Cereb Blood Flow Metab. 31(10), 2009-18.
Johnston MV, Fatemi A, Wilson MA, Northington F (2011). Treatment advances in neonatal neuroprotection and neurointensive care. Lancet Neurol. 10(4), 372-82.
Fatemi A, Wilson MA, Johnston MV (2009). Hypoxic-ischemic encephalopathy in the term infant. Clin Perinatol. 36(4), 835-58, vii.
Smith SA, Golay X, Fatemi A, Mahmood A, Raymond GV, Moser HW, van Zijl PC, Stanisz GJ(2009). Quantitative magnetization transfer characteristics of the human cervical spinal cord in vivo: application to adrenomyeloneuropathy. Magn Reson Med. 61(1), 22-7.
Dubey P, Fatemi A, Huang H, Nagae-Poetscher L, Wakana S, Barker PB, van Zijl P, Moser HW, Mori S, Raymond GV (2005). Diffusion tensor-based imaging reveals occult abnormalities in adrenomyeloneuropathy. Ann Neurol. 58(5), 758-66.
Smith SA, Golay X, Fatemi A, Jones CK, Raymond GV, Moser HW, van Zijl PC (2005). Magnetization transfer weighted imaging in the upper cervical spinal cord using cerebrospinal fluid as intersubject normalization reference (MTCSF imaging). Magn Reson Med. 54(1), 201-6.
Fatemi A, Smith SA, Dubey P, Zackowski KM, Bastian AJ, van Zijl PC, Moser HW, Raymond GV, Golay X (2005). Magnetization transfer MRI demonstrates spinal cord abnormalities in adrenomyeloneuropathy. Neurology. 64(10), 1739-45.
Dubey P, Fatemi A, Barker PB, Degaonkar M, Troeger M, Zackowski K, Bastian A, Smith SA, Pomper MG, Moser HW, Raymond GV (2005). Spectroscopic evidence of cerebral axonopathy in patients with "pure" adrenomyeloneuropathy. Neurology. 64(2), 304-10.
Nagae-Poetscher LM, McMahon M, Braverman N, Lawrie WT Jr, Fatemi A, Degaonkar M, Horská A, Pomper MG, Chacko VP, Barker PB (2004). Metabolites in ventricular cerebrospinal fluid detected by proton magnetic resonance spectroscopic imaging. J Magn Reson Imaging. 20(3), 496-500.
Moser H, Dubey P, Fatemi A (2004). Progress in X-linked adrenoleukodystrophy. Curr Opin Neurol. 17(3), 263-9.
Moser HW, Fatemi A, Zackowski K, Smith S, Golay X, Muenz L, Raymond G (2004). Evaluation of therapy of X-linked adrenoleukodystrophy. Neurochem Res. 29(5), 1003-16.
Nagae-Poetscher LM, Bibat G, Philippart M, Rosemberg S, Fatemi A, Lacerda MT, Costa MO, Kok F, Costa Leite C, Horská A, Barker PB, Naidu S (2004). Leukoencephalopathy, cerebral calcifications, and cysts: new observations. Neurology. 62(7), 1206-9.
Steinberg SJ, Moser AB, Raymond GV, Pagon RA, Adam MP, Ardinger HH, Wallace SE, Amemiya A, Bean LJH, Bird TD, Fong CT, Mefford HC, Smith RJH, Stephens K (2000). X-Linked Adrenoleukodystrophy . , .