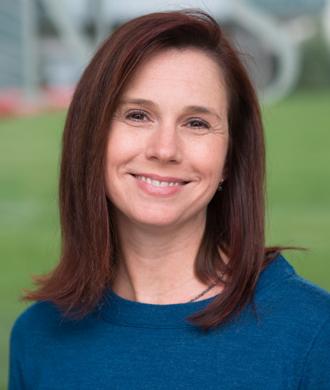 Chief Science Officer and Director, Center for Movement Studies
Kennedy Krieger Institute
707 N. Broadway
Baltimore, MD 21205
United States
About
Dr. Amy Bastian is the chief science officer at Kennedy Krieger Institute, a role in which she identifies and promotes new directions for breakthrough research into the developing brain, spinal cord, and musculoskeletal system. She is also director of the Center for Movement Studies that studies the neural control of human movement. Dr. Bastian is a professor of neuroscience and neurology at the Johns Hopkins University School of Medicine.
Education
After completing her undergraduate degree in physical therapy at the University of Oklahoma, Dr. Bastian completed her doctoral degree in movement science at Washington University in 1995, and a post-doctoral fellowship in neuroscience at Washington University under Dr. W.T. Thach. Dr. Bastian came to Kennedy Krieger Institute in Summer 2001. Prior to that, she was an assistant professor in physical therapy in the Department of Anatomy and Neurobiology at the Washington University School of Medicine in St. Louis.
Awards and Honors
2023 election to the National Academy Of Sciences.
Dr. Bastian is the first person at Kennedy Krieger to be named to this prestigious list of scientists.
The National Academy of Sciences (NAS) is a private, non-profit society of distinguished scholars. Established by an Act of Congress, signed by President Abraham Lincoln in 1863, the NAS is charged with providing independent, objective advice to the nation on matters related to science and technology. Scientists are elected by their peers to membership in the NAS for outstanding contributions to research. The NAS is committed to furthering science in America, and its members are active contributors to the international scientific community. Approximately 500 current and deceased members of the NAS have won Nobel Prizes, and the Proceedings of the National Academy of Sciences, founded in 1914, is today one of the premier international journals publishing the results of original research.
Research
Dr. Bastian's research uses computerized movement tracking techniques, non-invasive brain stimulation, novel devices and robotics to control walking and reaching movements. She studies how people with and without neurological damage control movement and learn new patterns. Some of her recent accomplishments include a series of papers on learning new walking patterns using a novel 'split-belt' treadmill published in the Journal of Neuroscience, Brain, and Nature Neuroscience. She has coauthored over 100 scientific papers and numerous book chapters and served as chair of the Musculoskeletal Rehabilitation Study Section at the National Institutes of Health (NIH). Dr. Bastian has given many named lectures, including a special lecture at the Society for Neuroscience meeting in 2014. She is currently the primary investigator on two R01 grants from the NIH, one of which recently received a prestigious Javits award from the National Institute of Neurological Disorders and Stroke (NINDS). Dr. Bastian has served on many national neuroscience and rehabilitation committees.
Related Links
Elsevier Fingerprint Engine Profile for Amy Bastian