BALTIMORE, May 30, 2023 – Amy Bastian, PhD, PT, chief science officer at Kennedy Krieger Institute and director of the  Institute's Center for Movement Studies, was elected to the prestigious National Academy of Sciences (NAS), a private, nonprofit community of esteemed scientists committed to furthering science and scientific research within the U.S. Dr. Bastian joins approximately 2,400 fellow U.S. scientists and is the first NAS member from Kennedy Krieger.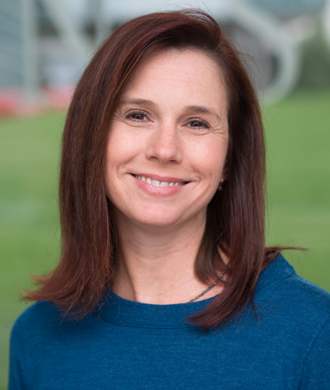 "Dr. Amy Bastian is not only a brilliant scientist, she is an extraordinary mentor, colleague and leader," said Brad Schlaggar, MD, PhD, president and CEO of Kennedy Krieger Institute. "All of us at Kennedy Krieger are celebrating Dr. Bastian's well-deserved election into this most prestigious society whose members include the most influential and respected scientists in the U.S. and beyond."
NAS membership is recognized as one of the highest honors bestowed upon scientists in the U.S. Dr. Bastian's appointment is a testament to her extensive research focusing on the neural mechanisms underlying movement and her development of innovative strategies to understand how patients learn new patterns after experiencing neurological damage.
"I am grateful to NAS for this incredible honor and proud that my team's work is being recognized. We see this as an opportunity to further advance our work at Kennedy Krieger to expand our understanding of movement and the brain to  improve treatments for individuals affected by movement disorders," Dr. Bastian said. "I also want to extend my appreciation to my colleagues at Kennedy Krieger, as the Institute's dedication to interdisciplinary collaboration and patient-centered research and care have been instrumental in fostering an environment where groundbreaking discoveries can thrive."
For more information on the NAS, visit: https://www.nasonline.org/.
To learn more about Dr. Amy Bastian and her work at Kennedy Krieger, visit https://www.kennedykrieger.org/patient-care/faculty-staff/amy-bastian.
About Kennedy Krieger Institute:
Kennedy Krieger Institute, an internationally known nonprofit organization located in the greater Baltimore-Washington, D.C., region, transforms the lives of more than 27,000 individuals a year through inpatient and outpatient medical, behavioral health and wellness therapies; home and community services; school-based programs; training and education for professionals; and advocacy. Kennedy Krieger provides a wide range of services for children, adolescents and adults with diseases, disorders and injuries that impact the nervous system, ranging from mild to severe, and those who are typically-developing. The Institute is home to a team of investigators who contribute to the understanding of how disorders develop, while at the same time pioneering new interventions and methods of early diagnosis, prevention and treatment. Visit KennedyKrieger.org for more information about Kennedy Krieger.   
MEDIA CONTACT:
Jessica Gregg
Greggj@KennedyKrieger.org
443-823-9811 (cell)
Carson Rehfield
PROFILES
Carson@ProfilesPr.com
443-641-3371 (cell)