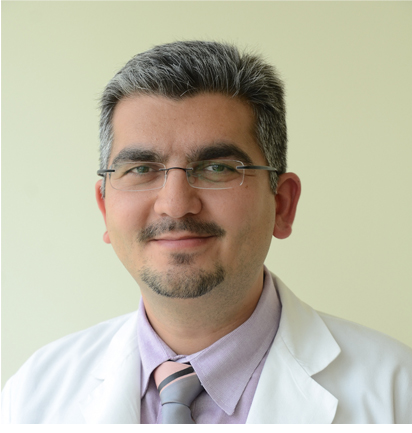 Ali Fatemi, MD, MBA, chief medical officer, is the Blum-Moser Chair for Pediatric Neurology at Kennedy Krieger Institute. The Chair was first awarded in 2009 to Michael V. Johnston, MD, Kennedy Krieger Institute's long-time chief medical officer. Dr. Fatemi is the second recipient and was awarded the chair in July 2022.
In addition to his role as chief medical officer, Dr. Fatemi is also a pediatric neurologist and the director of the Division of Neurogenetics and the Moser Center for Leukodystrophies, and an investigator at the Hugo W. Moser Research Institute at Kennedy Krieger Institute. He holds a full professor faculty position in neurology and pediatrics at Johns Hopkins University.
Research: The brain's white matter consists of axons, the "cables" that build up a complex network of connections between different neurons, these axons are wrapped by oligodendrocytes, cells that produce a thick membrane, referred to as myelin, which is important for the isolation and protection of axons. Another group of cells, referred to as astrocytes, are also important constituents of white matter and serve as gatekeepers for nutrients that enter the brain and play a role in brain metabolism. Disorders of white matter can either affect the axon, the oligodendrocyte, or the astroycte.
Dr. Fatemi's research encompasses bench and clinical research. His laboratory team focuses on oligodendroglial biology, cell-based therapies, and nano-medicine therapies in disorders of myelination. His clinical research focuses on X-linked adrenoleukodystrophy, and genetic causes of cerebral palsy.
In the laboratory Dr. Fatemi's group has shown that a specific precursor cell type, called glial restricted precursors, when transplanted into the brain, can restore white matter injury in mice, and one arm of research is currently focusing on identifying the factors that these cells release that result in this improvement. In collaboration with nanomedicine experts, his group is currently exploring the utilization of nanodendrimer devices as a therapeutic strategy in white matter injury. A third arm of research is currently exploring the disease mechanisms in adrenoleukodystrophy.
In terms of clinical research, Dr. Fatemi's group has utilized genomics techniques in patients with neurodevelopmental disabilities and shown that identifying a molecular diagnosis in these patients affects management. The study, published in 2014 in the Annals of Neurology, was recognized by Neurology Today as among the three most-noteworthy neurogenetics research findings of the year. Dr. Fatemi also heads the translational and clinical research program at the Moser Center for Leukodystrophies which focuses on adrenoleukodystrophies.
Background: Dr. Fatemi received his medical degree from the Medical University of Vienna, Austria in 1999. After graduation, he served as a researcher and lecturer at the Institute for Medical Chemistry in Vienna and completed an internship in pediatrics at the Vienna General Hospital. He was recruited by Dr. Hugo W. Moser as a post-doctoral fellow in neurogenetics and neuroimaging research at Kennedy Krieger Institute in 2001. During this initial period at Kennedy Krieger Institute, Dr. Fatemi collaborated with a team of scientists and developed new imaging methods in patients with leukodystrophies, a group of rare genetic diseases that affect the brain's white matter and coordinated an internet-2 based imaging network for these diseases. He then left Kennedy Krieger Institute to train in general pediatrics and then completed a child neurology residency at the Massachusetts General Hospital, an affiliate of Harvard Medical School, in Boston. Dr. Fatemi returned to Kennedy Krieger Institute in 2008 as a faculty member and founded the Moser Center for Leukodystrophies in 2013.
He is a member of the Child Neurology Society, the International Child Neurology Association, the Society for Neuroscience, the American Academy of Neurology and the American Society of Neurochemistry. He has served as ad hoc reviewer for numerous scientific journals and grant study sections. He also serves as a member of the Scientific Advisory Board of the United Leukodystrophy Foundation, the Board of Directors of ALDConnect, a non-profit international consortium, and as a member of Drug Safety and Monitoring Board (DSMB) of several clinical trials.
At the Kennedy Krieger outpatient center, Dr. Fatemi evaluates children with a variety of neurologic problems. His greatest interest is in genetic and acquired conditions that affect the brain's white matter and in genetic causes of neurodevelopmental disabilities.
Dr. Fatemi's Google Scholar Profile
About the donor(s): The Blum-Moser Chair for Pediatric Neurology is funded by Marc and Leonor Blum, and their sons Alex Blum and Ari Blum. We are grateful for their support. The Chair was first awarded to Dr. Michael V. Johnston, MD in 2009.