The goal of The Maryland Center for Developmental Disabilities (MCDD)is to minimize health care disparities, enhance childcare and educational opportunities, develop work skills, and enrich daily quality of living.
We partner with many agencies and Kennedy Krieger Institute departments to provide community services and supports to people with disabilities and their families by working together with professionals, paraprofessionals, students, self-advocates, policymakers and interested community members.
Agencies and departments include
Project HEAL (Health, Education, Advocacy, Law)
In September 2005, Maryland Volunteer Lawyers Service (MVLS) partnered with Kennedy Krieger Institute to create Project HEAL. The project serves as a bridge bewtween advocates, attorneys, doctors, social workers, educators and health care advocates, enabling them to work together for the benefit of children and adolescents needing both legal and medical assistance. Learn More>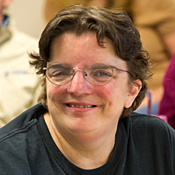 People On The Go of Maryland
MCDD is proud to partner with the self-advocates and policy development analysts at People On The Go of Maryland. People On The Go is a statewide self-advocacy group with membership consisting of individuals with developmental disabilities.

Self-advocacy skills help people stand up for what is important to them and bring people together to advocate for common issues. There is always power in numbers. The MCDD will work with the Coalition to develop and sustain funding for the continuation of this self-advocacy work across Maryland. View Brochure
Resource Finder
The goal of Resource Finder is to inform individuals with disabilities, families and professionals about community services, trainings, research and other information on intellectual and developmental disabilities and related disorders across the lifespan.  This is accomplished in ways that would best suit the customer, such as telephone, email, conferences, printed materials and other methods. Learn more.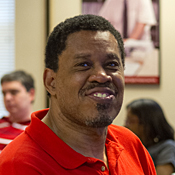 Maryland Centers for Independent Living
The MCDD partners with the Centers for Independent Living across the state to enhance capacity to provide long-term support services to the community.

The CILs are key to independent community living as long-term community supports and services continue to grow and improve for Marylanders across all ages, income levels and disabilities. Read more.
Act Early: AMCHP Early Screening
The Maryland Early Intervention and Screening Consortium is Maryland's statewide partnership for early screening. The Consortium is deeply committed to its goals of developing and sustaining statewide partnerships that improve collaboration, develop and disseminate information, and improve collaborative funding for early intervention and screening as well as collaborating with national leaders in the area of early screening for autism spectrum disorder.
Maryland Early Intervention and Screening Consortium Act Early Proposal Outcomes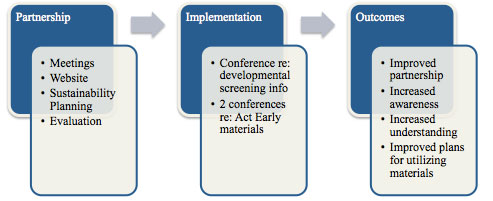 For more information visit www.marylandearlyscreening.com