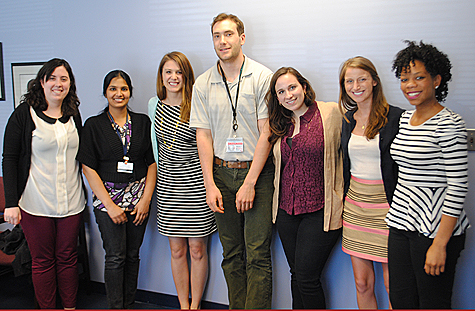 Hilary Tebeleff
Area of Study: Law
School: University of Maryland Carey School of Law, year 1
Degree Program: JD
Working with Project HEAL at the Maryland Center for Developmental Disabilities (MCDD) has been an invaluable opportunity. After leaving the teaching field for law school, I wanted to have an experience that would help connect my interests in law and education. At Project HEAL, I completed client intakes over the phone, drafted correspondence to opposing counsel and state complaints, assisted in representation for clients in Individualized Education Program (IEP) meetings, and attended training sessions on best practices for advocating for children with disabilities. This gratifying experience has broadened my writing, communication, and advocacy skills, as well as reinforced my commitment to improving the educational opportunities for a vulnerable population --- low-income children with disabilities.  Lastly, this experience has taught me how different disciplines such as law, medicine, and education can effectively work together to holistically help a child. After working at Project HEAL for two semesters, I know that I want to continue volunteering for Project HEAL as well as ultimately pursue a career in child advocacy.
---
Julia Baller
Area of Study:  Health Policy
School: Johns Hopkins Bloomberg School of Public Health
Degree Program: Ph.D.  (December 2014)
 
My experience with Maryland Center for Developmental Disabilities (MCDD) has enabled me to get a much better sense of the policies in place the both help and impede families from getting the services that they need by interacting with people with disabilities, meeting families, physicians, researchers, advocates, and lawyers in the field. It has helped shape my dissertation research, and I have no doubt will continue to affect my future endeavors. One of the greatest opportunities at Maryland Center for Developmental Disabilities are the multitudes of meetings, webinars, grand rounds, and other resources that enable trainees to hear about a diverse set of experiences and meet people from around the state and country that are committed to a similar set of issues. It may seem overwhelming, but taking advantage of the opportunities will greatly enrich your experience. More than anything else, I now know that Maryland has an extremely knowledge, dedicated work force committed to improving the lives of individuals with disabilities.
---
Viola Woolums
Area of Study:  Law
School: University of Maryland Francis King Carey School of Law
Degree Program: J.D.
 
My work at the Maryland Center for Developmental Disabilities (MCDD) has given me a variety of enriching experiences. My legislative activities taught me to more fully appreciate disability and education policies and the effects they have on individuals, children, and families living with disabilities. I gained a greater understanding of the wide variety of issues that affect individuals with disabilities and what a favorable outcome could look like for them. One of the best things was collaborating with self-advocates and other individuals who are very directly affected by our work. The whole experience was enlightening and educational. This experience allowed me to put my problem-solving and critical thinking skills to the test to determine what our next course of action should be in Annapolis. My work was very hands-on, and there is nothing more beneficial to a student than learning by doing. I appreciate the opportunities that the MCDD has given me to make a positive impact on the lives of individuals with  intellectual and developmental disabilities in Maryland.
---
Amanda Wylie
Area of Study: Department of Population, Family, and Reproductive Health
School: JHSPH
Degree Program: MPH
I am a second year MSPH student in the department of Population, Family, and Reproductive Health at JHSPH, focusing in child health and development. I am interested in working with children with special health care needs by studying the predictors of child development and disability and interventions that target early childhood. I previously earned a Bachelor of Science degree in biobehavioral health at Penn State University with a minor in health and human development. Prior to this internship, I worked as a student trainee in the Epidemiology branch of the NICHD, and I am concurrently working as a research assistant for the PICS Study at JHSPH.
I am very excited for the opportunity to work for the Maryland Center for Developmental Disabilities (MCDD) at Kennedy Krieger because I am afforded the opportunity to gain an understanding of the trials and triumphs of individuals with disabilities and their families, and learn and work alongside professionals who are making lasting contributions to the field. I am grateful for the welcoming atmosphere that the MCDD has created for student trainees and I am already inspired by the determination of the faculty and friends of the MCDD.
---
Eric Rubenstein
Area of Study:  Epidemiology
School: Johns Hopkins Bloomberg School of Public Health
Degree Program: ScM (May 2014)
Training at the Maryland Center for Developmental Disabilities (MCDD) has given me practical experience and a real world perspective of the developmental disability research field. Through my coursework, I have learned a great deal about research methods and approaches, but not until training at the Center had I gotten the opportunity to use my skills in real world applications. The opportunity to work on a grant, from idea formation to submission, was a great experience that engrained lessons that will follow me through my career. Additionally, seeing how the staff at the Center goes about their projects was a great example of leadership and management that I will like to replicate one day.