By Kristina Rolfes
E

llie McGinn is an adorably sweet and charming third-grader from Arlington, Va., who has a progressive neurological disease known as LBSL. Although there is currently no cure or long-term treatment, researchers at Kennedy Krieger are working with her family to find the key to curing Ellie, while keeping her symptoms at bay.

When Ellie was a toddler, she began falling down and suffering from pain and fatigue. Her parents, Michael and Beth McGinn, took her to multiple specialists to find out what was wrong. Neurologists were perplexed—none had seen a case like Ellie's. Over the next six months, Ellie's ability to walk deteriorated. When a doctor finally diagnosed her, the news was grim. Ellie had a rare, neurodegenerative disorder known as LBSL (short for leukoencephalopathy with brainstem and spinal cord involvement and lactate elevation).

Doctors gave the family little hope. There was no treatment, they were told, and children with this disorder rarely live into adulthood. LBSL, a type of leukodystrophy, affects the function of mitochondria in the brain—which can be thought of as the 'energy factories' in our cells—and damages the white matter in the central nervous system. Ellie would need a walker by age 8, and by the time she was a teenager she would be in a wheelchair. "I just remember sobbing and pleading with the doctor to please tell me there is something we can do," recalls Beth. "She just kept shaking her head no, 'I'm sorry, there is nothing we can do.'"
Hope
Doing nothing was not an option for the McGinns. The family began researching, and found Kennedy Krieger Institute, where they brought Ellie for a consultation. The McGinns soon realized they were in a place unlike any other. While other doctors told the McGinns nothing could be done to help their little girl, doctors at Kennedy Krieger said they were willing to try.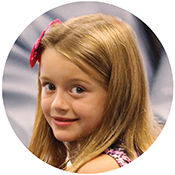 The family met with a team of Kennedy Krieger doctors, including a mitochondrial specialist, as well as neurologist SakkuBai Naidu, MD, and geneticist Hilary Vernon, MD, PhD. They told the McGinns that while they couldn't fix Ellie's genetic disorder, they believed they could help. After a genetic workup, they prescribed a tailor-made "cocktail" of vitamins and antioxidants targeted to the dysfunction in Ellie's mitochondria.
The treatment seemed to work. Within weeks, her appetite and energy improved. After several months her walking improved, and within 18 months her leg spasms, wobbly knees, and falling down mostly disappeared. Ellie went from not being able to walk across the room without falling to being able to walk everywhere.
It felt like nothing less than a miracle to the McGinns. "I can't even put into words how grateful I am to Kennedy Krieger … for seeing how they could improve Ellie's life and give her the best chance," says Beth. Five years later, Ellie's problems have not returned. But although the treatment is working, it is not a cure, and doctors know little about the effectiveness of this therapy in the long term.
Rallying Together
There are less than 100 known cases of LBSL worldwide. With rare diseases like Ellie's, it is nearly impossible to garner interest in research funding from government or pharmaceutical companies. So as Ellie's health stabilized, the McGinns began shifting their focus to raising money for research. Family, friends, and the community rallied to help, donating their time, energy, and support. The McGinns started a foundation, A Cure for Ellie, and began sharing their story with the media, holding fundraisers, and launching social media efforts. Through the foundation's website, Beth connected with families of children diagnosed with LBSL in other countries who were interested in joining forces. She also told them about the mitochondrial cocktail that was helping Ellie, and connected them with doctors. There are now kids all over the world who are on this cocktail, and their families say it is helping. Families who were told there was no hope are now finding power in numbers and strength in each other. And it all started with Ellie.
With some initial funds raised, the McGinns needed a place to put it. Inspired by Ellie and the determination of the McGinn family, Kennedy Krieger neurogenetic specialist and researcher Ali Fatemi, MD, director of the Moser Center for Leukodystrophies, agreed to take on the search for Ellie's cure. "The McGinns are an exceptionally committed family," says Dr. Fatemi. "They are not giving up."
Dr. Fatemi has devised a research plan that involves some of the most pioneering techniques in neuroscience, from nanomedicine to stem cell therapy and gene editing. He is collaborating with colleagues here and at the Johns Hopkins Center for Nanomedicine at the Wilmer Eye Institute, as well as experts from around the world. The plan involves first developing animal models with Ellie's disease, creating and experimenting with stem cell derived brain cells in a culture dish, and ultimately conducting a clinical trial. It will take at least three to five years of research, conducted in several milestones, and will require more than two million dollars in funding. But each milestone reached will be one step closer to a cure for children like Ellie.
"To have someone of Dr. Fatemi's caliber take an interest in Ellie, and all the other children with LBSL, is like a dream come true," says Beth. "I feel lucky—incredibly lucky—to have him on our side. …We have so much hope for the future."
For Beth, it's hard to reconcile the pain of knowing her child has a degenerative disease with the knowledge that, because of this disease, Ellie is giving hope to so many others. "I believe 100 percent that this happened to Ellie so that she can save other children…she already is. And while I wish I could take it away from her, I believe that everything that has happened up until this point is meant to be."
Targeting the Damaged Cells
Dr. Fatemi is an expert in neurogenetic disorders and leukodystrophies, and has focused much of his work on a type of leukodystrophy known as adrenoleukodystrophy, or ALD. Although ALD and LBSL are not the same disease, they are related, and Dr. Fatemi believes that finding a treatment for one may lead to the treatment for the other.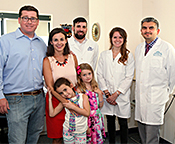 He and his colleagues are investigating whether the key to curing both disorders may lie in solving the same problem—delivering medication through the blood-brain barrier and into targeted cells in the brain. Researchers have found that an antioxidant compound has been shown to protect cells from the damage to white matter in the brain in animal models. However, in humans, very little of the medication can make it into the brain because it is unable to pass through the blood-brain barrier.
To bypass this problem, researchers are investigating whether a tiny spherical molecule with many branches, known as a dendrimer, could deliver the right dose of medication selectively to the affected cells in the nervous system. "Imagine a tiny Christmas tree with many branches, and the drug is put on the surface like ornaments," says Dr. Fatemi. These nanoparticles are designed in a way that allows them to bypass most organs in the body and go selectively to cells that are injured by oxidative stress, which is a major culprit in mitochondrial diseases, and deliver medication that could protect or even reverse the cell damage in a targeted fashion.
This type of targeted nanotherapy has the potential to be used in other leukodystrophies and neurological disorders, among many other diseases. In addition to delivering medications, this technique could potentially one day be used to bring in "gene editing molecules" that could correct gene defects like the one that Ellie has. These are exciting possibilities, but a long way off. And in order to investigate potential cures like this, the McGinns and others who care about rare diseases need to raise enough money to fund the research.
A Race Against Time
Ellie's worst symptoms have not returned and she is living a near normal life. If you met her, you might never guess that anything was wrong. She goes to school like every other child, and loves swimming, drawing, and above all, animals. But no one can predict how long her symptoms can be kept at bay. As children with LBSL grow, especially during the teen years, their disease progresses. Time is of the essence to raise money for research.
The McGinns are hopeful that Dr. Fatemi's research will lead to a breakthrough during Ellie's childhood. But they are prepared that it might not. No matter what happens, they will always be grateful to Kennedy Krieger for being willing to try.
A Tireless Advocate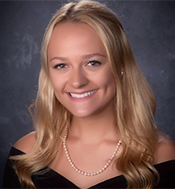 Like the McGinns, Taylor Kane, 17, and her family are also fundraising for leukodystrophy research, albeit a different type. Taylor's father, John Kane, passed away from an inherited brain disease known as adrenoleukodystrophy (ALD) in 2003. Every year, the family holds a fundraiser to benefit ALD research at Kennedy Krieger.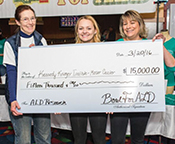 Taylor has testified before legislators to implement ALD screening for newborns, a test that was developed by Kennedy Krieger Institute and recently recommended by the U.S. Department of Health and Human Services to be added to newborn screening nationally. Newborn screening for ALD could save hundreds of lives every year by identifying the disease before symptoms develop. Taylor also advocates for female carriers of ALD, who deal with a unique set of concerns such as the knowledge that they may pass the disease to their children, which is fatal in boys. "A lot of people involved with ALD say 'save the boys,'" Taylor says, "but I think it's important to also remember the girls." At 16, she founded the organization Young ALD Carriers (YAC), an online forum where female ALD carriers can meet each other, ask questions, share information, and find support. It includes more than 80 members from all over the world.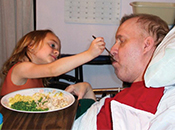 Taylor found out that she was a carrier of ALD when she was 12, and she's grateful she found out when she did. Taylor went through genetic counseling at Kennedy Krieger when she was in seventh grade, and worked with a counselor who knew her dad from when he was a patient there.
Although Taylor was too young to remember much about her father before he was sick, those who knew him say she is a lot like him. "He loved helping people, and he could never see a problem and not try to help," says Taylor. Taylor plans to study political communications at George Washington University, and her goal is to one day head an international nonprofit. "My ultimate hope would be to help find a cure for ALD so no other families will have to be torn apart by this disease."
To learn more about leukodystrophy research at Kennedy Krieger Institute, visit the Moser Center for Leukodystrophies page.