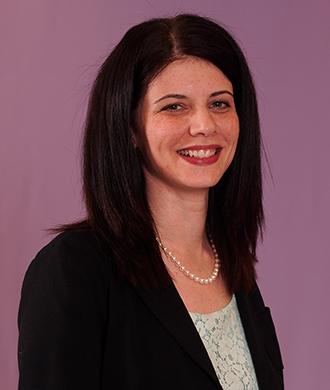 Attending Physician, Kennedy Krieger Institute
Kennedy Krieger Institute
707 N. Broadway
Baltimore, MD 21205
United States
About

Dr. Hilary Vernon is an attending physician at Kennedy Krieger Institute and an assistant professor of pediatrics at Johns Hopkins University. She joined the Institute's faculty in 2011, and is board certified in pediatrics, clinical genetics, and clinical biochemical laboratory genetics.
Education
Dr. Vernon received her B.A. in biochemistry at the University of Pennsylvania, her M.D. at Robert Wood Johnson Medical School/UMDNJ and her Ph.D. at Rutgers University. She completed a combined residency in pediatrics and clinical genetics and a fellowship in clinical laboratory biochemical genetics at Johns Hopkins University. Dr. Vernon is board certified in pediatrics, clinical genetics, and clinical biochemical laboratory genetics. She joined the faculty at the Kennedy Krieger Institute and at Johns Hopkins University in 2011.
Research
Dr. Vernon's current area of study is in inborn errors of metabolism which cause disturbances of mitochondrial function, including several different organic acidemias and Barth Syndrome. These are rare disorders, each with an approximate incidence of 1/50,000-1/250,000. They have an onset in childhood and a devastating effect on health and quality of life.
Barth syndrome is a rare, X-linked recessive disorder of lipid metabolism. Patients with Barth syndrome have low muscle tone, dilated cardiomyopathy, immune deficiency due to neutropenia, muscle weakness, and short stature. Barth Syndrome is caused by mutations in the TAZ gene, which leads to decreased production of an enzyme required for the synthesis of cardiolipin, a structural mitochondrial lipid. There is currently no specific treatment for Barth syndrome.
Organic acidemias are individually rare, but collectively have a large impact on childhood health. Three such diseases of amino acid metabolism, glutaric aciduria type 1, methylmalonic aciduria and propionic acidemia generally cause severe morbidity and mortality from complications such as brain infarction most often located in the basal ganglia and pancreatitis. While the primary biochemical defects underlying these diseases are understood, the molecular events leading to acute clinical events are not known, and there have been few novel advances in treatment in the past several years.
Dr. Vernon's lab uses a mass spectrometry based metabolomics approach to create metabolic profiles of these disorders and select promising analytes from these profiles as potential treatment targets for further study. She is also using cell culture and animal-based models in identifying molecular and metabolic markers.
In addition to her research pursuits, Dr. Vernon is also a clinical biochemical geneticist at the Kennedy Krieger Biochemical Genetics Laboratory and at the Kennedy Krieger Metabolism Clinic.
Related Links 
Elsevier Fingerprint Engine Profile for Hilary Vernon
Research Publications
Zarate YA, Smith-Hicks CL, Greene C, Abbott MA, Siu VM, Calhoun ARUL, Pandya A, Li C, Sellars EA, Kaylor J, Bosanko K, Kalsner L, Basinger A, Slavotinek AM, Perry H, Saenz M, Szybowska M, Wilson LC, Kumar A, Brain C, Balasubramanian M, Dubbs H, Ortiz-Gonzalez XR, Zackai E, Stein Q, Powell CM, Schrier Vergano S, Britt A, Sun A, Smith W, Bebin EM, Picker J, Kirby A, Pinz H, Bombei H, Mahida S, Cohen JS, Fatemi A, Vernon HJ, McClellan R, Fleming LR, Knyszek B, Steinraths M, Velasco Gonzalez C, Beck AE, Golden-Grant KL, Egense A, Parikh A, Raimondi C, Angle B, Allen W, Schott S, Algrabli A, Robin NH, Ray JW, Everman DB, Gambello MJ, Chung WK (2018). Natural history and genotype-phenotype correlations in 72 individuals with SATB2-associated syndrome. Am J Med Genet A. 176(4), 925-935.
Sandlers Y, Mercier K, Pathmasiri W, Carlson J, McRitchie S, Sumner S, Vernon HJ (2016). Metabolomics Reveals New Mechanisms for Pathogenesis in Barth Syndrome and Introduces Novel Roles for Cardiolipin in Cellular Function. PLoS One. 11(3), e0151802.
DeSanto C, D'Aco K, Araujo GC, Shannon N, DDD Study, Vernon H, Rahrig A, Monaghan KG, Niu Z, Vitazka P, Dodd J, Tang S, Manwaring L, Martir-Negron A, Schnur RE, Juusola J, Schroeder A, Pan V, Helbig KL, Friedman B, Shinawi M (2015). WAC loss-of-function mutations cause a recognisable syndrome characterised by dysmorphic features, developmental delay and hypotonia and recapitulate 10p11.23 microdeletion syndrome.J Med Genet. 52(11), 754-61
Other Publications
Vernon, H. "Dysmorphology". Oski's Pediatric Certification and Recertification Board Review. Eds. Coombs and Kirk. Lippincott Williams & Wilkins. 2010.
Vernon, H. "Metabolism". Oski's Pediatric Certification and Recertification Board Review. Eds. Coombs and Kirk. Lippincott Williams & Wilkins. 2010.
Tinkel-Vernon, H. "Allergy and Immunology". The Harriet Lane Handbook, 18th ed. Eds. Rau and Custer. Philadelphia, PA. 2009.
Tinkel-Vernon, H. "Human Genetics and Development". First Aid for the Pediatric Boards, 2nd ed. Eds: Le, Shroeder, Lam, Vera, Rabizadeh. New York, NY 2009.